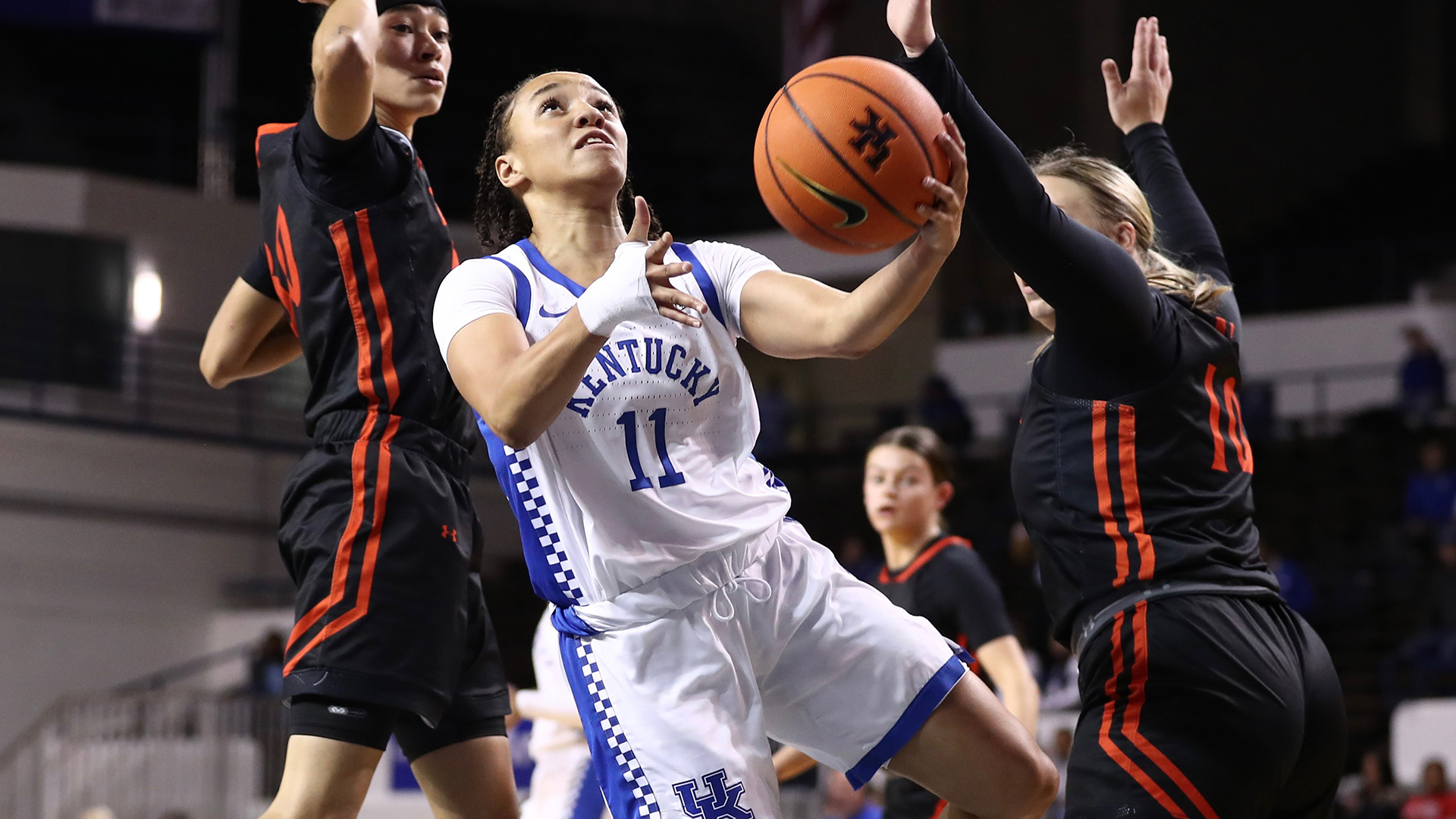 November 2, 2022 - 10:27 PM
Kentucky-Pikeville Postgame Quotes
Kentucky Women's Basketball Quotes
Kentucky vs Pikeville
Memorial Coliseum – Lexington, Ky.
Nov. 2, 2022
Kentucky Head Coach Kyra Elzy
Opening Statement… 
"First, thank you guys. I want to really thank Pikeville today – they bussed here today. They didn't come last night, and they gave us some great competition. Also, they have our total support for what they have been through this year. So happy that they could come here today and be with us. Excited about this team. This team has an opportunity to be really good. I thought we did some really good things today. We have a bench full of players, so I have the opportunity to look at a couple of different rotations which we wanted to do. And how about Ade (Adebola Adeyeye) with those 15 boards. Maddie Scherr makes us different. She has that "it" factor about her and I'm glad to see that some of things that we have practiced come to life. Excited about the possibilities." 
On the different rotations…  
"Absolutely. One of the things that we wanted to do was force 20 plus turnovers, we had 25. We've talked about in order for us to be our best we need to score, have three to four people in double figure scoring which we had four. Ade, we had role meetings this week and one of the things that I talked to her about (was) we need to be tenacious on the board and I need you to be an unbelievable screener. And I don't know if you all saw it, things that don't show up in the headlines of the paper, but she set some unbelievable screens and her ability to rebound the basketball. I thought Ajae Petty was solid for us tonight, her ability to score inside. Great to have Blair Green back on the floor, it's tough she's been out for a whole year just practicing the shots that she was able to get tonight she will knock those down. Thought she pressed early but excited about where she is in her progression back and she makes our team different.   
On Maddie having the "it" factor – what is "it" and how does it make her and those around her better… 
"When I say she has 'it', she's tough as nails, she is a competitor to the 'nth' degree, and she has a high basketball IQ so she has a great feel. She knows when to push, she knows when to create for others, she knows when it's time to take over and score but just her competitive spirit is different."  
On having a full bench in comparison to last season's bench…  
"Do you see my smile? Do you see how happy I am that I can look down the bench and I had a whole row of people. But I love our versatility and it'll take us a couple of games to find the right combinations and it really depends on the opponent and what we're looking for, but I like that we have options but our versatility. We have several players that can play the one through the four which helps us offensively as well and defensively."

Kentucky Women's Basketball Quotes
Kentucky vs Pikeville
Memorial Coliseum – Lexington, Ky.
Nov. 2, 2022
#22 Maddie Scherr, Jr., G
On the feeling of putting on the UK uniform …
"It was great. Obviously, I'm a hometown girl, so just being able to wear Kentucky across my chest was great. Getting to play under the lights with the fans and stuff. It was just great feeling and super fun."
On her great performance tonight …
"I think we all did really well. Coming into this, you know we scouted them really well and took them seriously. We just wanted to really work on things together and figure things out from top to bottom with my teammates. My teammates made it really easy for me to be honest."
On how she wanted to address the game and the turnout …
"We wanted to keep our defense intensity throughout the entire game, which you know can be difficult. We got up pretty quick in the beginning but I think we did a good job with reminders to just be intense because we want to push the ball in transition. That's another thing, we got the ball up the floor. A good majority of our points were layups and that's from just from pushing the ball in transition and that's definitely how we want to play."
On the speed they wanted to have in their offense…
"I think we've still got more work to do. There's a balance of getting the ball off the floor, but also knowing when to slow it down. You know, I think that's one of my jobs as a point guard to know when to push it in transition, know when to pull it out and calm everybody down. I think there was a little bit of forced shots in some scenarios where we could have just moved the ball around a little bit more but you know that's first game under the lights just get everybody's jacked up. So, you know it's obvious that it's going to come but I think we did great in that ballpark."
On if there was anything she learned different after playing a game with her team…
"It definitely is different. You know, I think for the freshmen, I know there was some butterflies, you know, even for the older girls, it's definitely a little bit different, but I think everybody stepped up to the challenge and did really well. Everybody performed and did their best. So, I'm just proud that everybody you know, really wanted to be out there and wanted to play you know, nobody ever gave up and you know we're kind of just like, 'oh, let's get this one over with'. This seems like everybody fought till the end. Which I thought was a great."
On the importance of the experience of meshing with new and old players…
"Very important. That's one of the things meaning Coach (Kyra) Elzy and I have talked about a lot is just being able to build that relationship with the returning girls but also the newer girls. I think we've done a really good job at just meshing and getting to know each other, trusting each other. That kind of gets brought up the fact that we had 10 new players, but, you know, I don't think that's a factor anymore with this team. I think that's going to show throughout the year even more."
On the depth of the team …
"Oh, yeah. Like you said, we had a lot of players in double digits. And you know, that's definitely what we want. We shared the ball really well, I thought. You know, everybody knew when their shot was coming and we pushed the ball in transition.  Nobody, I think, took shots that they weren't supposed to take and, obviously the coaches are good and people know their roles here. That's really important. Like I said, we just shared the ball really well, moved the ball around and, in transition, everybody's getting out. As a point guard, my favorite thing is seeing players run the [down the] side and post runs down the floor. So, I think we did a great job with that tonight, which led to the scoring distribution."
On realizing that she was actually playing for Kentucky …
"It actually was in the beginning of the game. I remember, like when we were announcing the starting lineups, I was like 'wow, I get to wear Kentucky across my chest this time.' So, it's just a great feeling.
On if the team is ready for Monday's season opener…
"I do. I think we're in a good spot. [We] definitely have things to work on. We're going to watch film, break things down and work on what we need to do better. But, overall, I think we did a good job tonight. We're just going to learn from it and keep getting better. So do you know anything about Radford anything?
On playing with Jada Walker …
"I love playing with Jada. Playing with somebody like Jada is great for me. I think she's, obviously, super quick. She's just in and out of all the people and she gets her open layups when she can. Sometimes you need to reel her back in and say 'Okay, let's slow down, bring the ball in' but that comes from just experience. She obviously does great there, attacking the basket and finding open players.  She's really fun person to play with."