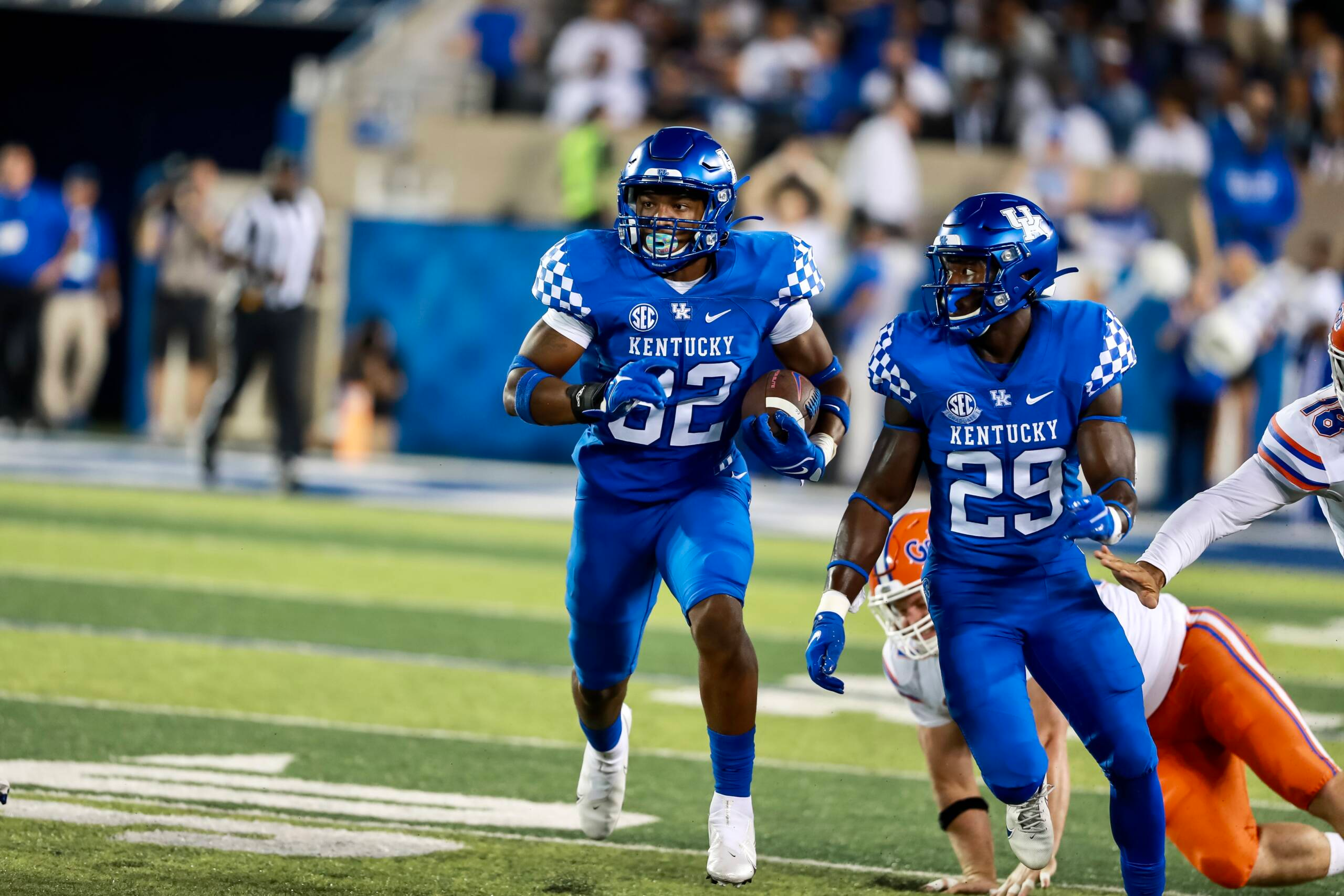 Kentucky linebackers D'Eryk Jackson and Trevin Wallace could not be more opposite. Yet the two have become best friends both on and off the field.
Jackson, a junior from Dublin, Georgia, is quiet and reserved and lets his play do the talking. Wallace, a sophomore from Jesup, Georgia, is the bigger talker of the two.
"I've got a big mouth," Wallace said after practice on Wednesday. "I'm going to talk regardless. If somebody's down, I'm going to get them to smile."
That friendship and camaraderie will come into play even more now that both Jackson and Wallace are starters for the Cats due to injuries to Jacquez Jones and DeAndre Square. Jackson knows that having his best friend on the field with him is huge.
"I think it helps us a lot because we know how to communicate with each other," Jackson said. "We know what gets each other going, we know what makes each other tick."
Naturally, Wallace agrees with that assessment.
"It helps us a lot. Like a whole bunch," Wallace said. "You want someone you are cool with off the field because you can be comfortable with them on the field. It feels great having him on my side when I have a best friend off the field, too."
UK defensive coordinator Brad White knows that Jackson and Wallace work together to make each other better.
"They're a good pairing because they keep each other up," White said. "Trevin has a jovial personality and he keeps D'Eryk loose and D'Eryk plays his best when he's loose. I think they can bring the best out of each other."
Both Jackson and Wallace think that the reps they are getting now will be beneficial down the road, especially next season when they will likely be starting, together, for the Cats.
"It's been good," Jackson said of playing next to his friend. "That's who it's going to next year, me and him. So it's good to get a lot of reps in."
"I'm sorry that (DeAndre) Square got hurt but I feel good because, like D-Jack said, it's going to be me and him next year," Wallace said. "So, it's going to make me grow up more and be a leader."
Playing two linebackers who don't have a ton of experience is not ideal in the Southeastern Conference. But White will take the good and the bad that come with it.
"What you lose in experience, you gain in youthful exuberance," White said. "But you have to understand there's going to be mistakes and some other guys are going to have to fix those mistakes that they make."
Having experienced players around them also makes White and the defensive staff feel better.
"Everybody needs to handle their own business but it happens to have a guy like Ty Ajian behind (them)," White said. "He's seen a lot, he's played a lot."
The future is now for Jackson and Wallace, who will lead the defense into a key SEC East showdown against Missouri on Saturday.