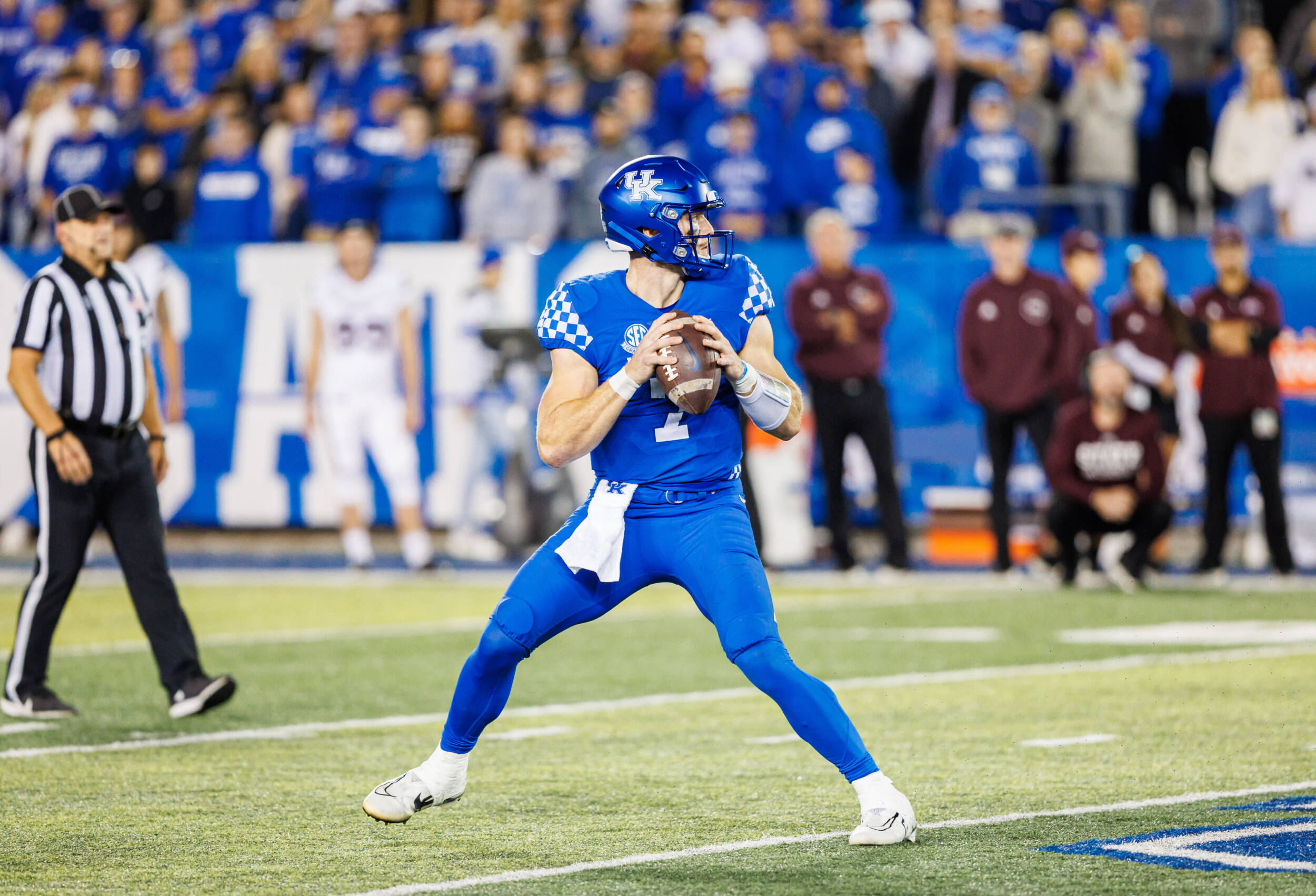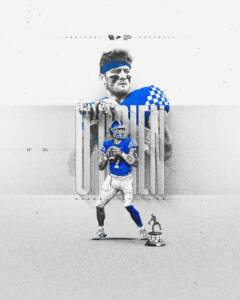 University of Kentucky senior quarterback Will Levis has been named to the Davey O'Brien Quarterback Class of 2022, announced by the Davey O'Brien Foundation.
Levis is now eligible to be voted one of 16 semifinalists for the Davey O'Brien National Quarterback Award. For the third straight year, fans can vote via @DaveyOBrien Instagram, Twitter and Facebook accounts. The top five vote getters on each of the three social media platforms will receive bonus committee votes which will be added to the ballots cast by the National Selection Committee.
To participate in the Fan Vote, fans must like the original Davey O'Brien Award post highlighting their quarterback. The first round is open now until Friday, Nov. 11, at 1 p.m. ET. The 16 semifinalists will be named on Tuesday, Nov. 15. Three finalists will be tabbed on Tuesday, Nov. 29, while the winner will be announced live on Thursday, Dec. 8, on The Home Depot College Football Awards on ESPN.
To vote, like the posts on the following links on social media platforms:
Twitter – @daveyobrien
Facebook – @daveyobrien
Instagram – @daveyobrien
Levis, who was also named to the Davey O'Brien Class of 2021, is in his second season as the starting signal caller in Lexington. The 6-foot-3, 232-pound senior from Madison, Connecticut, has compiled a 15-5 record in his career, including a 5-2 mark this season (he was unavailable vs. South Carolina).
In seven games, Levis has completed 68.1 percent of his passes for 1,733 yards and 13 touchdowns. He ranks 11th nationally in passing yards per attempt (9.07) and 23rd in passing efficiency (158.4).
Levis has 37 career touchdown passes, which ranks sixth in school history and his 4,506 passing yards ranks seventh.
Off the field, graduated in May of 2021 from Penn State's Smeal College of Business with a degree in finance. He is currently working on a master's degree in finance from UK's Gatton School of Business and Economics.
Levis is also on the watch lists for the Johnny Unitas Golden Arm, Manning Award, the Walter Camp Player of the Year, the Maxwell Award, the CFPA National Performer of the Year and the Reese's Senior Bowl.
The Davey O'Brien Foundation was created in 1977, and the National Quarterback Award, the oldest and most prestigious college quarterback award, was first issued in 1981. Over its time, the Davey O'Brien Foundation has given away more than $1.2 million in scholarships and university grants to help high school and college athletes transform leadership on the field into leadership in life.
For more information on the Davey O'Brien Award, go here.