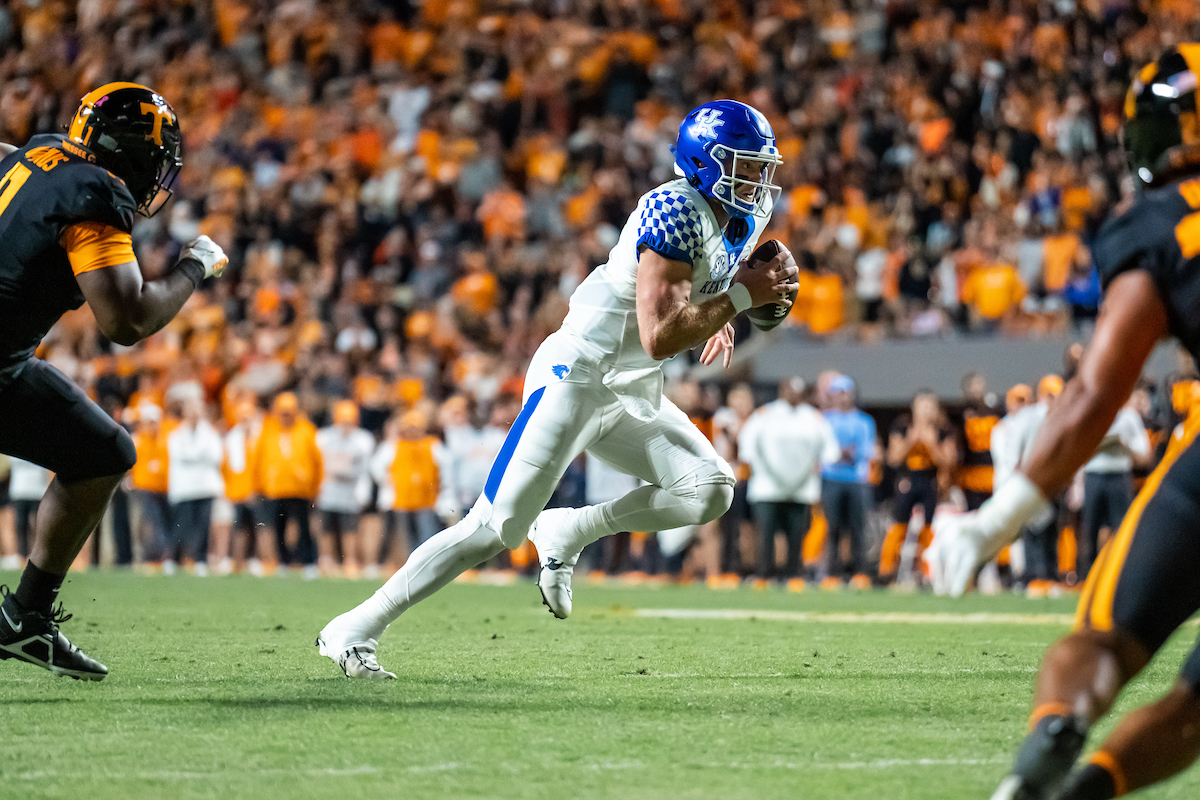 The Kentucky offense had its worst game of the season on Saturday in the Cats' loss to Tennessee. It seemed that, no matter what UK wanted to do, it didn't work, either due to Kentucky miscues, Tennessee defensive plays or both.
On Tuesday, UK offensive coordinator Rich Scangarello was asked what his unit needs to do differently this week against Missouri.
"Be more efficient, score a lot of points and take care of the football," Scangarello said. "You can't overreact to one game but it hasn't been good enough. It needs to be tighter. We've got to be better staying on the field but more importantly, we've got to take care of the ball and make explosive plays."
The theme of taking care of the ball was mentioned multiple times on Tuesday. That's obviously a point of interest after the Cats committed three turnovers in Saturday's game.
"We've got to take care of the ball. We should have had three scoring drives in the first half. That doesn't excuse it, it is what it is."
The three turnovers were interceptions thrown by UK quarterback Will Levis, who suffered through perhaps his worst game as a Cat. But Scangarello knows that Levis will learn from his mistakes and be better this week.
"The one thing I love about Will, he's very critical of himself, he's very honest, he'll tell you the truth," Scangarello said. "He will learn probably more from that game than any game to this point in his career and it will help him tremendously in the future. He's got grit. I know he'll bounce back and play great this week."
While the result was not what anyone wearing blue was hoping for, Scangarello did find at least one silver lining in the game.
"There's a lot of things that go into something that happened the way it went down," he said. "Our guys played hard, I was proud of their effort. I was proud of how hard they played."
As for adjustments, Scangarello knows that the best teams are always looking at ways to make themselves better.
"You can't knee jerk but you've got to self-evaluate constantly. And you've got to make adjustments," he said. "There are a number of things that need to be tightened up. Right now, it's about being confident, playing fearless and attacking every day."
Things do not get any easier for Kentucky this week. The Cats travel to Missouri to face a Tigers team that just beat No. 25 South Carolina on Saturday. Scangarello knows that his unit will face yet another challenge.
"They're good. It doesn't get easier, this is the SEC," he said. "They've got pass rushers, they've got cover guys. Georgia went three quarters without a touchdown. This defense will get to you if you let them. It will be a dogfight. We will have to be at our best, take care of the football and win some one-on-ones."
Taking care of the ball and making the necessary adjustments will be key for Kentucky this weekend at Missouri. Scangarello is confident that his team can do both and bounce back in the process.