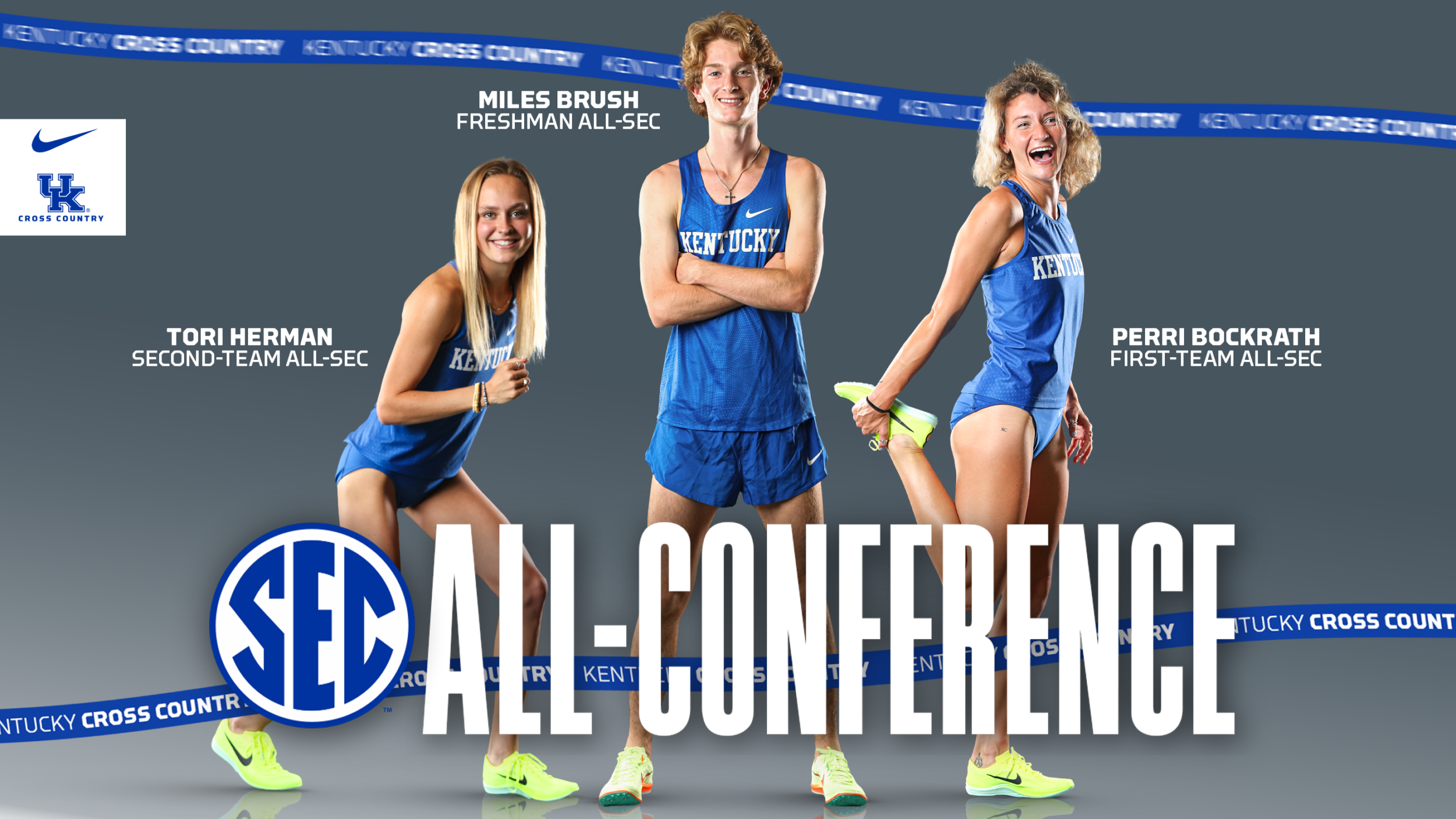 November 1, 2022 - 11:48 AM
Bockrath, Herman, Brush Earn All-SEC Honors
Following their performances at the Southeastern Conference Championships, University of Kentucky cross country athletes Perri Bockrath, Tori Herman and Miles Brush have earned All-SEC honors, the league office announced Tuesday.
Bockrath was named first-team All-SEC, Herman landed on the second team and Brush is Freshman All-SEC on the basis of their efforts at Friday's league championship event.
Held at The Ole Miss Golf Course in Oxford, Mississippi, Bockrath finished sixth in the women's race by covering the 6,000 meters in a personal-best 19:19.21.  The top seven runners were designated first-team All-SEC.  The All-SEC honor continues a season of accomplishment and accolades for the senior from Centerville, Ohio:
She won the North Alabama Showcase with a 5K time of 16:24.34 and was named SEC Co-Runner of the Week.
She earned SEC Co-Runner of the Week again by placing eighth in one of the nation's most high-profile events, the Cowboy Jamboree (Stillwater, Oklahoma), with a 6K time of 20:33.6.
She won the Panorama Farms Invitational (Earlysville, Virginia) with a 5K personal best of 16:23.1.
This was Bockrath's second All-SEC honor, as she was a second-team honoree in 2021.
Runners who finished 8th through 14th at the SEC Championships were named second-team All-SEC, which Herman received this year by placing ninth with a personal-best time of 19:38.37.  It was her second year in a row to get conference recognition, as she was first-team All-SEC in the 2021 event via a fifth-place finish.
The top seven freshmen are named Freshman All-SEC, which Brush earned by being the fourth-place freshman runner (48th place overall).  In the men's 10K race, he traversed the terrain in 24:42.11.  It was his second league recognition of the season, as he was named SEC Freshman of the Week for a 25:17.1 clocking at the Cowboy Jamboree.
The UK cross country teams return to action Oct. 11 at the NCAA Southeast Regional, which will be held at E.P. "Tom" Sawyer State Park in Louisville.