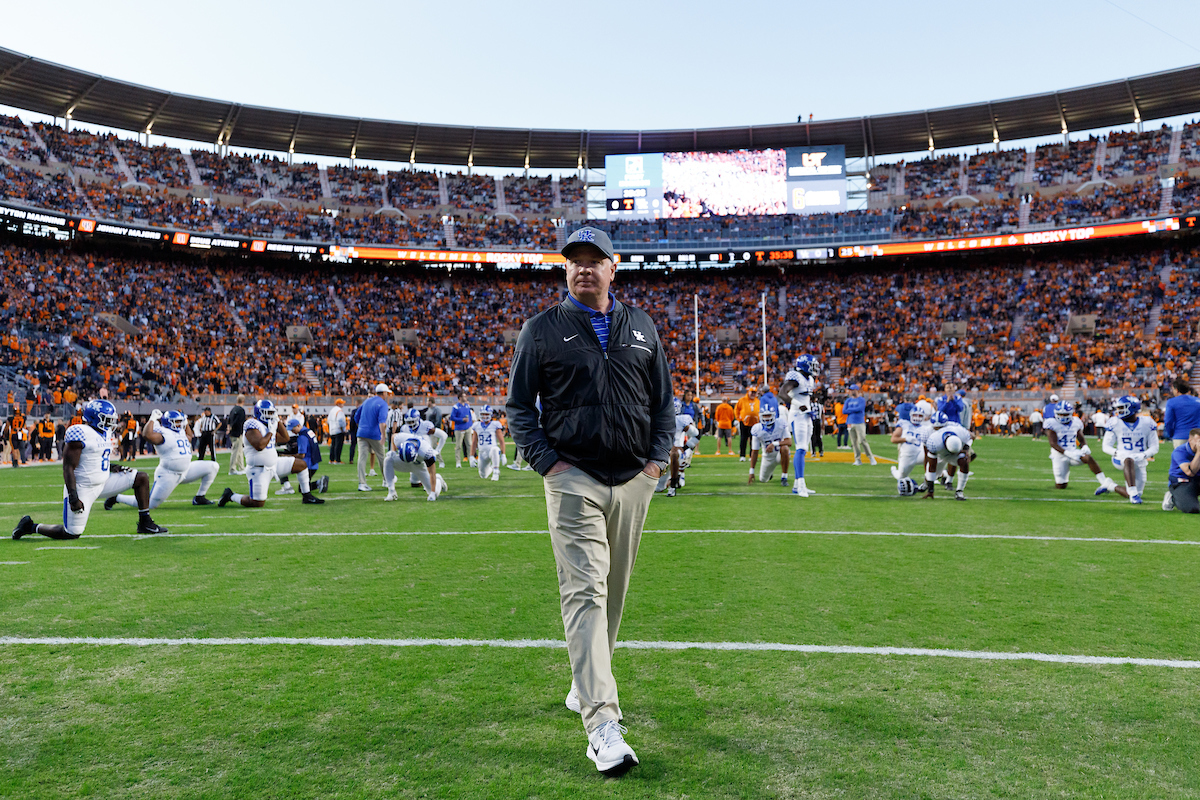 This past weekend was not the best one that Kentucky head coach Mark Stoops has ever had. Stoops saw his team go to Knoxville and get run over, to the tune of 44-6.
Stoops and the team made the bus ride home late Saturday night and the UK head coach was at work all day Sunday. Admittedly bleary-eyed and exhausted while still working in his office on Sunday night, Stoops had an unexpected visitor – one that put him in a much better mood.
"I've got to give (UK President) Dr. (Eli) Capilouto part of (the credit) because I was exhausted, tired, worked all day, didn't sleep and late last night, I think 'Doc' was coming in from out of town and stopped in my office about 9 o'clock," Stoops said. "(He) just wanted to say get back in the fight. And I appreciate that."
The result of Dr. Capilouto's visit was an invigorated Stoops, who is ready to meet with his team on Monday and get back to the things that have made the Cats successful so far this season. Stoops found himself amped up for Monday's meetings and practice.
"I feel surprisingly jacked up and great. Why? Because I have to be," Stoops said. "Yeah, I felt like crap all night Saturday night and all day Sunday. But today, I'm freakin' jacked up, ready to go."
Moving ahead and preparing for Missouri can also help the Cats move past what happened in Knoxville on Saturday night.
"Really excited about this opportunity, to be honest with you. Any time you take a butt kicking like that, you get into work on Sunday after that long bus ride home," Stoops said. "And Sunday, it's not fun. But we have to face the facts. We have to take a good look at ourselves, see the areas where we're falling short and address them."
After scoring just six points on Saturday, the UK staff will take a look at the offensive plan and personnel and make some adjustments, without throwing out all of the good things the team has accomplished this season.
"Obviously, you're not very pleased with that result," Stoops said. "You have to always look at things and see where you're falling short. You better look at it, address it, and get it fixed. But we're not going to do anything drastic. We are constantly looking at things and striving to be better. We've got to look at why and where we're spending our time. All those things we have to look at to put our players in a position to be successful."
This week, Kentucky visits Missouri for another SEC East matchup. The Tigers are 4-4 but could have won three of the four times they lost. That includes against top-ranked Georgia, a team that the Tigers led for most of the game before falling late. Stoops has been impressed with what he's seen from Missouri.
"I think they're playing extremely hard," Stoops said. "They always have some guys up front who are disruptive and play very physical. They're playing very good as a team."
As for the Cats, Stoops returned to his mantra of getting back to work this week. It's a formula that has worked before and one that Kentucky will return to as the Cats prepare for the Tigers. And a surprise visit from the UK President has given the UK coach another boost as Kentucky prepares for Missouri.