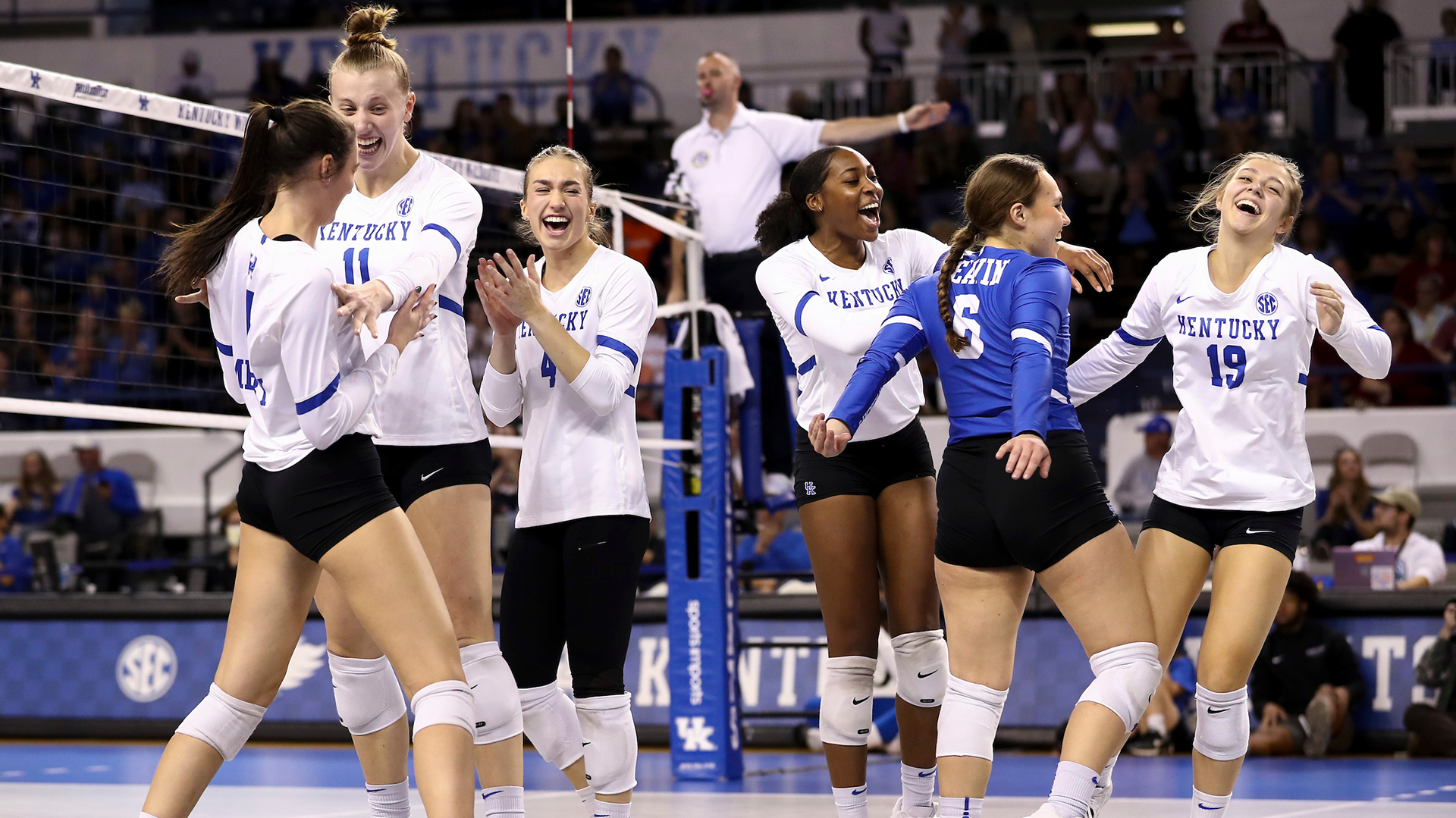 October 30, 2022 - 03:11 PM
Healthy, Deep Cats Make Quick Work of Auburn
The litany of injuries suffered by the Kentucky volleyball team this season reads like the old children's song – head, shoulders, knees and toes (knees and toes). However, now that those injuries are getting better, there are a couple of positive implications for the Cats.
First, the Cats are finally starting to get healthy. Key players in the UK lineup, including Erin Lamb, Adanna Rollins, Reagan Rutherford and Azhani Tealer, have all missed time this season while dealing with injuries. But the majority of those injuries appear to be healed now and the Cats appeared to be at close to full strength on Sunday, sweeping Auburn 3-0 inside Memorial Coliseum for the second consecutive day.
UK head coach Craig Skinner likes how his team has responded, and adapted, to the injury situation this season.
"You can look at it a couple of ways. You can feel sorry for yourself (because) you have injuries. Or you can look at is as an opportunity for someone else and an opportunity to build depth," Skinner said. "We've never felt sorry for ourselves. It's like we recruited you here for a reason. You're on this roster to play and compete and now's your chance."
Each member of the team knows that their number could be called at any time, so they must be ready.
"I think that's why our players feel comfortable when they go in, they know that the opportunity is coming," Skinner said. "Every day in practice is a chance to prove themselves. Definitely been pleasing, some of the efforts we've had when we've had people banged up or out."
In Sunday's win over Auburn, the Cats had four players reach double digits in kills, including three who have missed time due to injuries this season. Rollins led the Cats with 12 kills, Tealer had 11, while Rutherford and Elise Goetzinger each had 10.
The injuries have had a second positive impact for the Cats this season. While players were out of action dealing with the injuries, younger players were forced to fill those spots in the lineup. That gave players like freshmen Haley Melby and Audrey Whitworth a chance to play. And a chance to shine, which both have done.
"They just don't seem to be scared of the moment," Skinner said. "They're very comfortable competing. They don't fear what's happening, they just play. Sometimes, that's just the beauty of freshmen, they don't really know what they don't know. Both of them seem very comfortable with whatever role we've given them. We've gradually gotten them more opportunities as the season has gone on. They've done a really nice job."
On Sunday, Melby had five kills and a block assist, while Whitworth had six digs and an assist.
The postseason is right around the corner and Kentucky appears to be peaking, and getting healthy, at exactly the right time. The depth created by injuries earlier this season could be beneficial for the Cats in a postseason run.