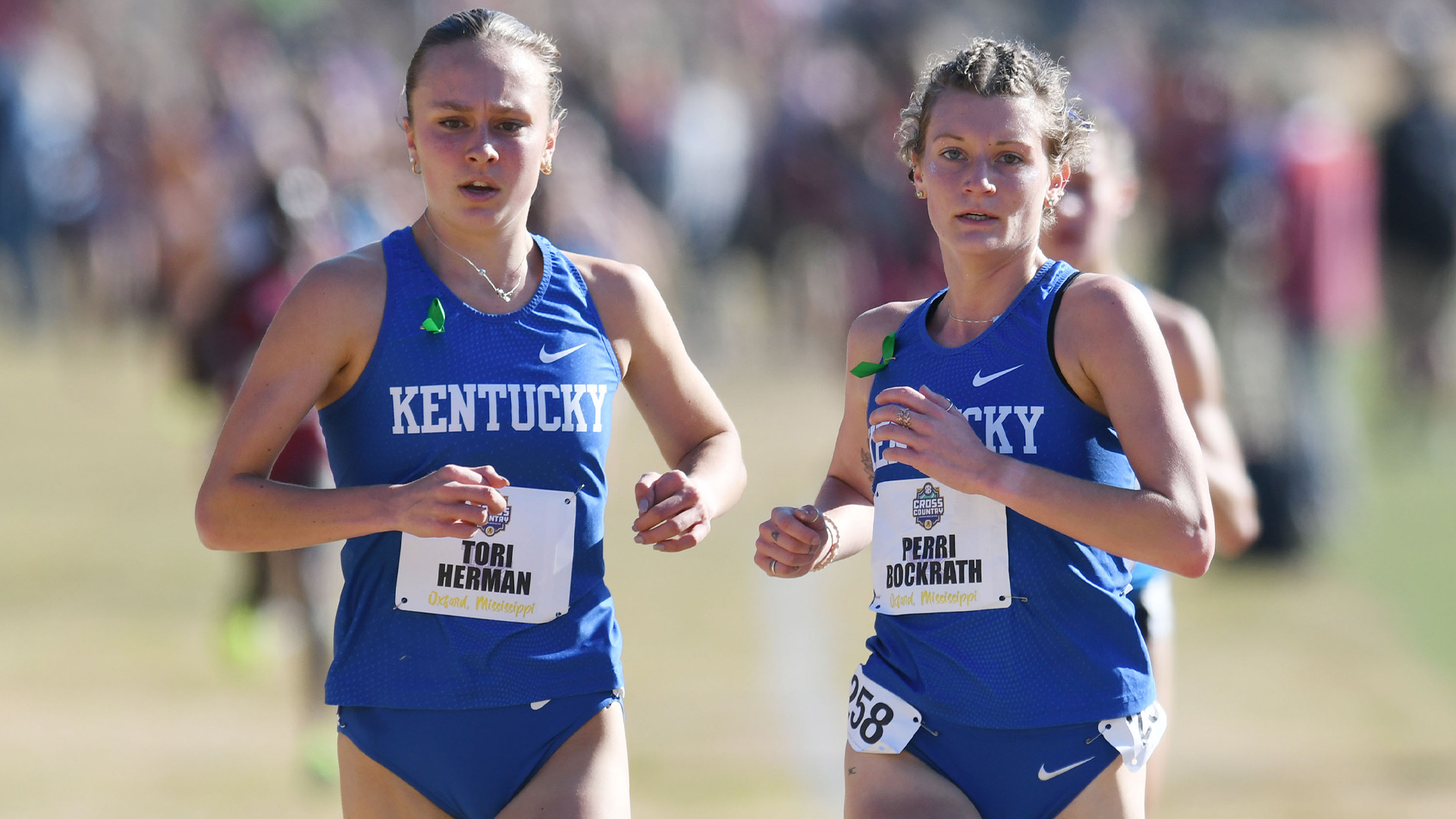 October 28, 2022 - 02:55 PM
Women Fourth, Men Sixth at SEC Cross Country Championships
OXFORD, Mississippi. – With Perri Bockrath and Tori Herman each notching top-10 individual finishes, the Kentucky women's cross country team finished in fourth place and the men's team landed in sixth place at the Southeastern Conference Championships on Friday in Oxford, Mississippi.
Held at The Ole Miss Golf Course, Bockrath covered the 6,000 meters in a personal-best 19:19.21 to finish in sixth place.  It was her second-consecutive top-15 finish in the SEC meet, as she finished 13th a year ago.  Herman was close behind in ninth place with a clocking of 19:38.37, also a personal best. It was her second-consecutive top-10 finish at the league event following her fifth-place slot last year.
Rounding out the five Wildcats who hit the scoreboard were Sydney Steely in 30th place (20:40.81), Kaylie Kenne in 35th (20:51.27) and Ally Kruger in 44th (21:02.89).  Steely and Kruger each notched personal bests.
"We faced great competition today and to have two finish in the top 10 in an elite conference like the SEC is a job well done," said assistant coach Hakon DeVries, who guides the UK cross country and distance runners.
The men's race was an 8k jaunt, and as they have all season, Jake Allen and Dylan Allen led the way – Jake in 26th place (24:09.72) and Dylan in 38th (24:30.61).  Joining them on the scoreboard were Jackson Watts in 40th (24:32.38), Aaron Withrow in 43rd (24:34.94) and Miles Brush in 48th (24:42.11).
"The men competed well and pack ran well," DeVries said.  "Collectively, when you look at how the team scoring went, I was pleased with our team finishes. We are out to continue to get better as we get ready for regionals."
The Kentucky teams continue postseason action in two weeks as the Wildcats compete at the NCAA Southeast Regional on Nov. 11 in Louisville.
Southeastern Conference Championships, Oct. 28 at The Ole Miss Golf Course
UKXC Women's Team: 4th, 122 points (first five finishers count toward team scoring total)
UK 6k individual results, 148 total runners
6. Perri Bockrath, 19:19.21
9. Tori Herman, 19:38.37
30. Sydney Steely, 20:20.81
35. Kaylie Kenne, 20:51.27
44. Ally Kruger, 21:02.89
60. Jenna Schwinghamer, 21:17.87
68. DeAnna Martin, 21:30,41
85. Julz Williams, 21:43.67
96. Bryanna Lucas, 21:55.06
99. Mollie Roden, 21:55.97
107. Natalie Molotky, 22:10.60
UKXC Men's Team: 6th, 190 points (first five finishers count toward team scoring total)
UK 8k individual results; 109 total runners
26. Jake Allen, 24:09.72
38. Dylan Allen, 24:30.61
40. Jackson Watts, 24:32.38
43. Aaron Withrow, 24:34.94
48. Miles Brush, 24:42.11
57. McLean Griffin, 24:57.82
62. Jonah Mitchell, 25:10.26
70. Alex Justus, 25:19.79
71. Harper Moore, 25:22.63
92. Cade Byer, 26:25.89
The Alabama men and women swept the team championships.  The individual titlists were Victor Kiprop of Alabama (22:38.94) for the men and Parker Valby for the women (18:25.87).