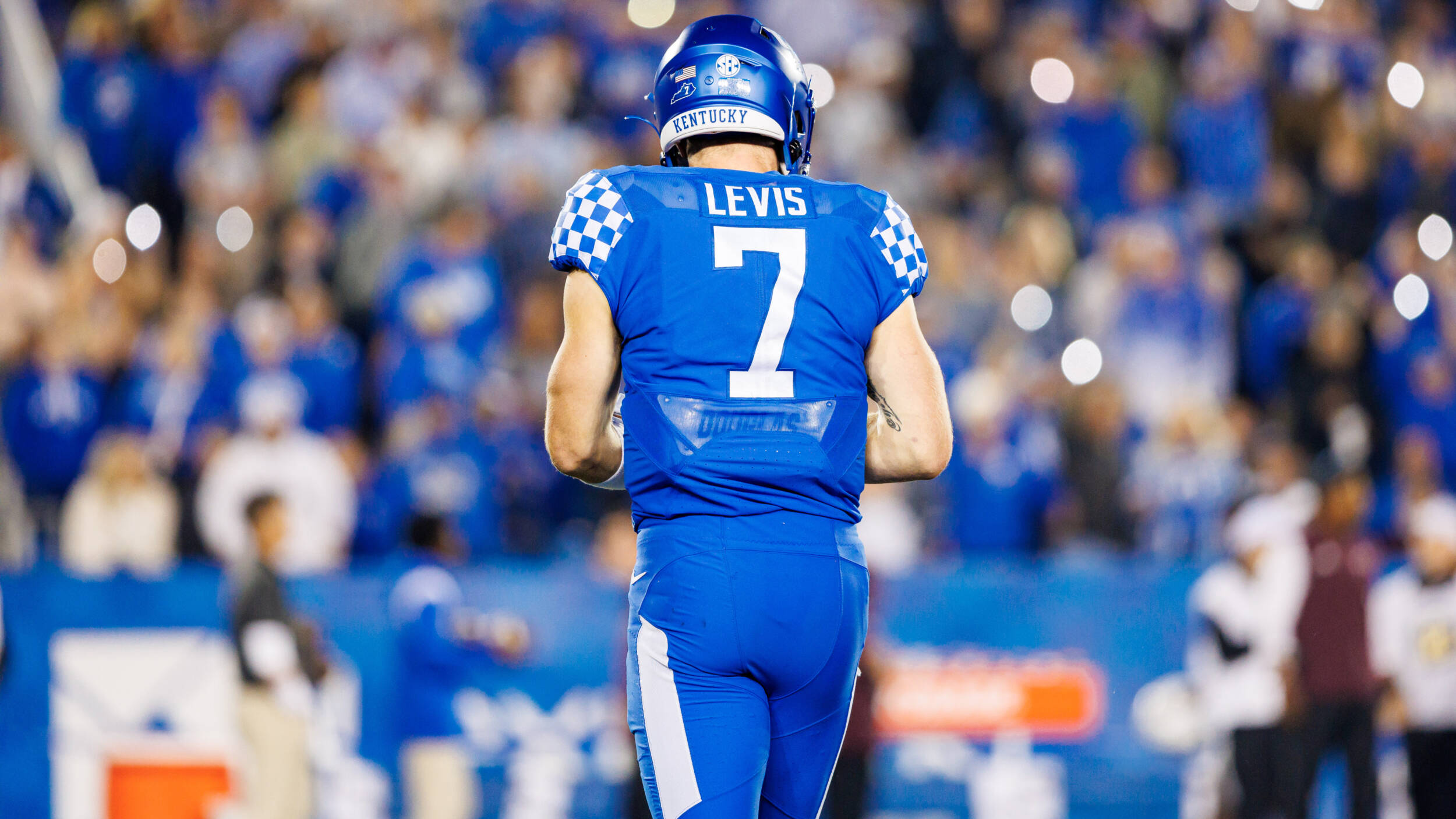 LEXINGTON, Ky. – University of Kentucky senior quarterback Will Levis has been named to the 2022 Johnny Unitas Golden Arm Award Top 10, it was announced Friday by the Johnny Unitas Golden Arm Educational Foundation, Inc. along with presenting sponsor A. O. Smith Corporation.  
The candidates are selected by the distinguished Johnny Unitas Golden Arm Selection Committee, a group of prominent college football journalists, commentators, announcers, and former players. The award annually recognizes the top senior or upperclassman quarterback set to graduate with their class.  
Candidates are chosen based on player performance on-and-off the field. 
Levis is in his second season as the starting signal caller in Lexington. The 6-foot-3, 232-pound senior from Madison, Connecticut, has compiled a 15-4 record in his career, including a 5-1 mark this season (he was unavailable vs. South Carolina). 
In six games, Levis has completed 69.5 percent of his passes for 1,635 yards and 13 touchdowns. With the combination of his ability to make strong throws and the elusiveness of UK receivers, Levis ranks in the top 25 nationally in several offensive categories, including ranking fourth in passing yards per attempt (9.97), seventh in passing efficiency (173.3), 11th in passing yards per competition (14.34) and 17th in completion percentage (.695). 
In his debut season in 2021, he threw for 2,827 yards and 24 scores, while also rushing for 376 yards and nine touchdowns. His 24 touchdown passes were the most since Andre' Woodson had 40 in 2007. Levis totaled 3,203 yards of total offense, the seventh player in school history to reach 3,000 yards of total offense in a season. 
He helped lead the program to 10 wins for the fourth time in school history last season, joining the 1950 (11-1), 1977 (10-1) and 2018 (10-3) teams. It also marked the first time UK had at least eight total victories (including bowls) three times in a four-year span since 1949-52. 
All totaled, Levis has 37 touchdown passes, which ranks sixth in school history, and is the 11th player in UK history to throw for at least 4,000 yards with 4,462 passing yards.  
Levis graduated in May of 2021 from Penn State's Smeal College of Business with a degree in finance. He is currently working on a master's degree in finance from UK's Gatton School of Business and Economics. 
Levis is also on the Manning Award Watch List, the Walter Camp Player of the Year Watch List, the Davey O'Brien Award Watch List, the Maxwell Award Watch List, the CFPA National Performer of the Year Watch List and the Reese's Senior Bowl Watch List.
The 2022 award winner will be presented the Golden Arm Award trophy by The Johnny Unitas Educational Foundation President, John Unitas, Jr., at the Golden Arm Award banquet and celebration at the Four Seasons Hotel in Baltimore, Maryland on Wednesday, December 7, 2022. 
No. 19/17 Kentucky travels to No. 3/3 Tennessee Saturday, Oct. 29 for its annual border battle with the Volunteers. The nationally-televised game will kickoff in Neyland Stadium at 7 p.m. EDT. It also will air on the Touchdown Radio Network and the UK Sports Network.