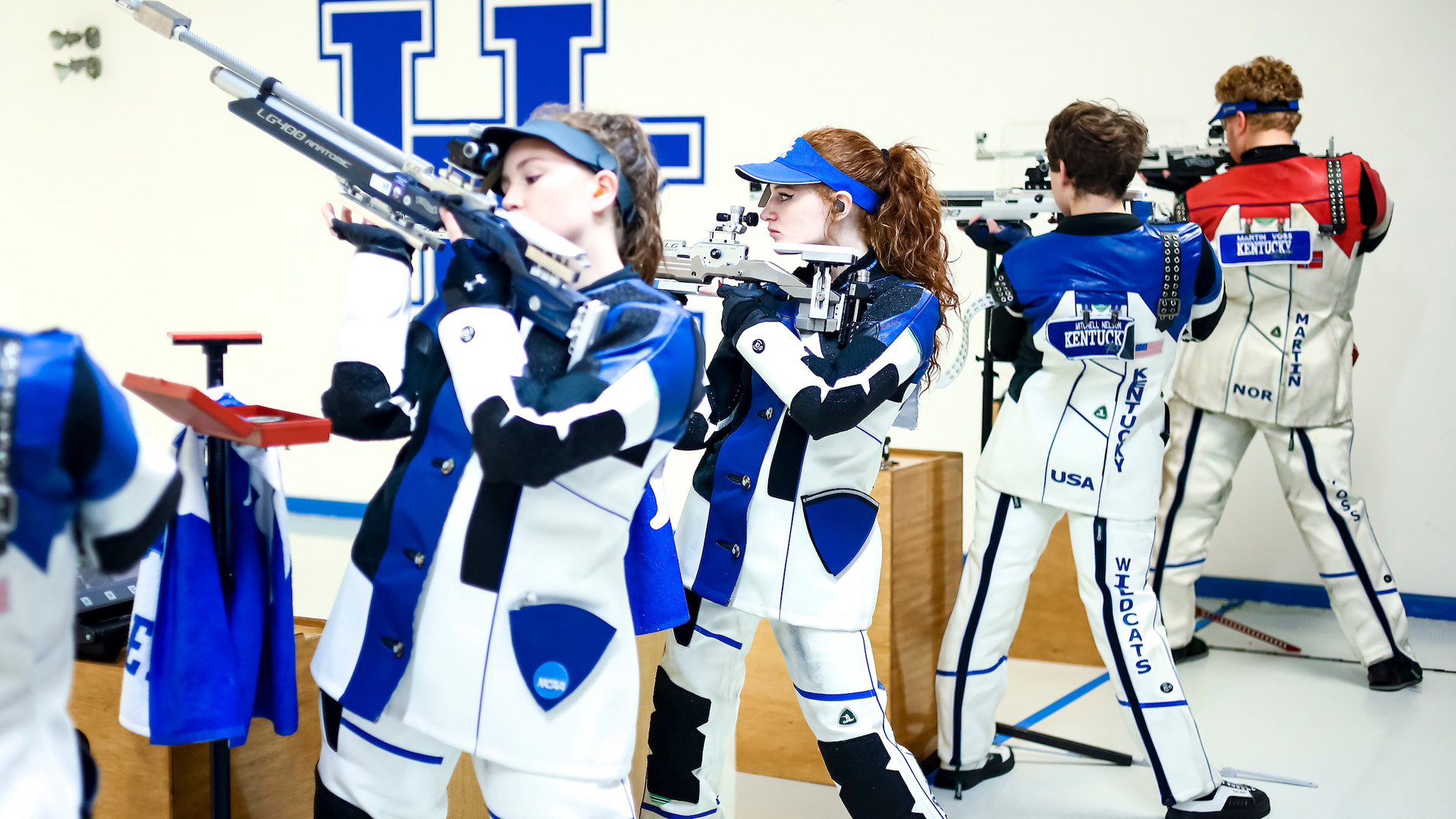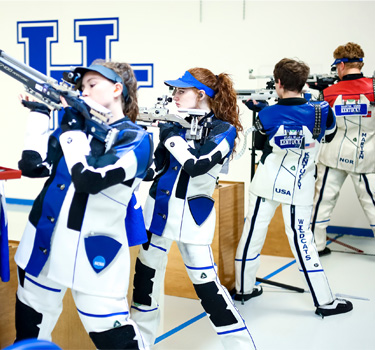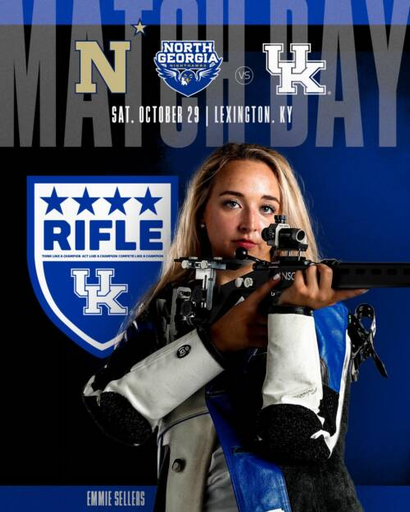 LEXINGTON, Ky. – After two wins to start the season and a week off to work on some of the fine details, the University of Kentucky rifle team returns to action Saturday by hosting a tri-match with Navy and North Georgia inside Barker Hall and the UK Rifle Range.
The three teams will compete throughout two relays with sights and prep for smallbore starting at 8 a.m. ET. Spectators are invited to watch smallbore scores up in Barker Hall and enjoy free breakfast during the first part of the relay. The range will be open to spectators for air rifle. Admission is free.
"We have had some good practices and I'm excited to see how we transfer some of the things we have been working on into competition this weekend," UK head coach Harry Mullins said. "I am very excited for the team to be together in the home range for the first time this season. We missed Will and Sofia during the home opener and this group's team chemistry is so strong I think it will mean a lot to have everyone here this weekend. I hope Big Blue Nation will come out and support us and hopefully we put together a good performance."
Kentucky started the season with a victory at Akron in early October and followed with a win vs. NC State at home. In two matches this season, UK is averaging 2322.50 in smallbore, 2376.50 and air rifle and a 4699 total aggregate. Freshman Sofia Ceccarello and super senior Will Shaner led the Wildcats in the first match of the season before traveling overseas to compete internationally during UK's second match of the season. Ceccarello led all performers in the match at Akron, shooting 1182 overall, while Shaner finished just behind her with a 1178. Sophomore Allison Buesseler has performed well this season with an aggregate average of 1177. Super senior Richard Clark and sophomore Kayla Kalenza are each averaging a 1175.5 aggregate this season.
Seniors Jaden Thompson and Emmie Sellers have put together strong starts to their seasons with a 1171 and 1168 aggregate averages, respectively. Freshman Martin Voss is also averaging a 1168 aggregate this season, while super senior Mitchell Nelson is earning a 1167.5. Sophomore Tori Kopelen is earning a 1148.5, while freshman AJ Hotko is posting a 1145 and senior Mason Hamilton a 1144.
Navy enters the match coming off a win vs. Memphis on Oct. 2. In its first match of the season, Navy finished second behind TCU in a quad-match with the horned frogs and VMI's men's and women's teams. Navy is averaging 2316 in smallbore, 2364.5 in air rifle and an aggregate of 4680.5.
This will be North Georgia's fifth match of the season already with wins over VMI's men's and women's teams and Wofford. UNG lost dual matches to Georgia Southern and Morehead State. On the season, they are averaging a 2276.25 in smallbore, 2343.50 in air rifle and an aggregate of 4619.75.
For more information on the Kentucky rifle team, visit UKathletics.com or follow UKRifle on Twitter, Instagram and Facebook.