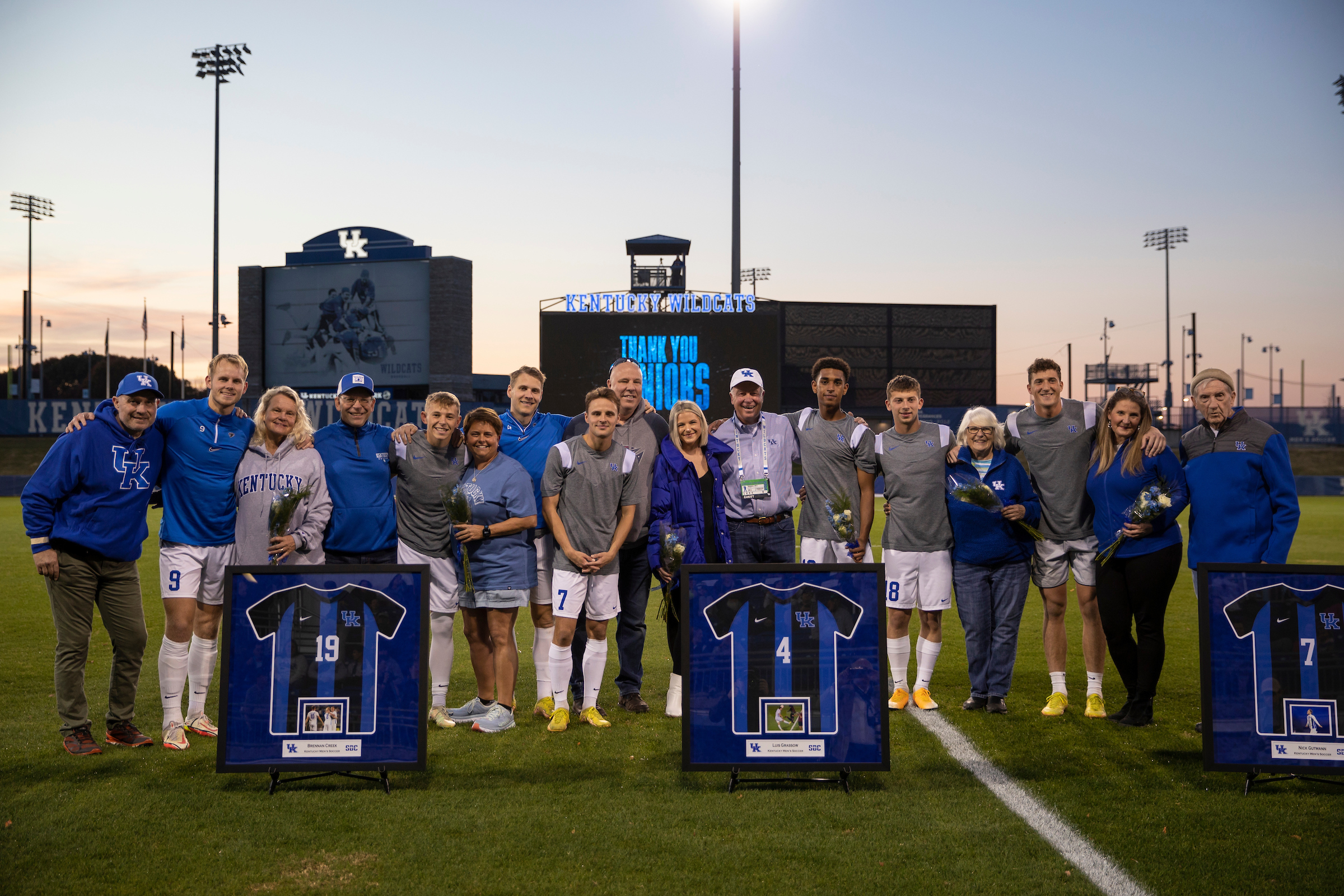 October 28, 2022 - 10:45 PM
Men's Soccer to Host Leg of Conference Tournament Following Senior Night Victory
LEXINGTON, Ky. – The No. 2 Kentucky men's soccer team (10-0-5, 4-0-3 Sun Belt) clinched a share of the Sun Belt Conference regular season title and opportunity to host the first two rounds of the conference tournament with Friday's 2-0 Senior Night victory over Old Dominion (6-6-2, 3-3-1 Sun Belt) at The Wendell & Vickie Bell Soccer Complex.
The triumph concluded the regular season home schedule for Kentucky as its six seniors, Eythor Bjorgolfsson, Brennan Creek, Luis Grassow, Nick Gutmann, Justin Scharf and Isaac Walker, were celebrated by friends, family, and 1,488 members of Big Blue Nation.
Kentucky started off the match quickly with Casper Grening nearly scoring in the first 10 seconds of regulation. However, he did get one in the net in minute 15 putting the Cats on the scoreboard with an impressive header into the top left of the goal. He was assisted by Robert Screen and Gutmann who had two incredibly executed passes to get to the sophomore.
Gutmann recorded his second assist of the night with a cross to Bjorgolfsson who slid the ball past ODU's keeper to seal the deal for the Cats in the 55th minute. The senior tallied his eighth goal of the season and 22nd of his collegiate career. The goal puts Bjorgolfsson in the top 10 all-time goal scorers for the program. Fellow senior, Gutmann's two assists put him at a total of 11. Prior to tonight's match, he ranked T3 nationally for total assists and fifth for assists per game.
The 2-0 victory tallied the seventh clean sheet of the season with true freshman Casper Mols earning the shutout improving his record in the goal, 6-0-4.
Kentucky is one of three NCAA Division I men's soccer programs still undefeated in the nation. UK is joined by Washington and Duke on the list. The Wildcats look to finish the regular season undefeated next week breaking a program record of 15 unbeaten matches which was set last season.
UK will host the first two rounds of the conference tournament Nov. 6-7. More information will come from the Sun Belt Conference at the conclusion of the regular season on Tuesday.
The Wildcats close out the 2022 campaign at South Carolina on Tuesday for a 7 p.m. EST matchup before setting sights on postseason competition.
For the latest on Kentucky Men's Soccer, follow @UKMensSoccer on Twitter, Facebook and Instagram, as well as on the web at UKAthletics.com.