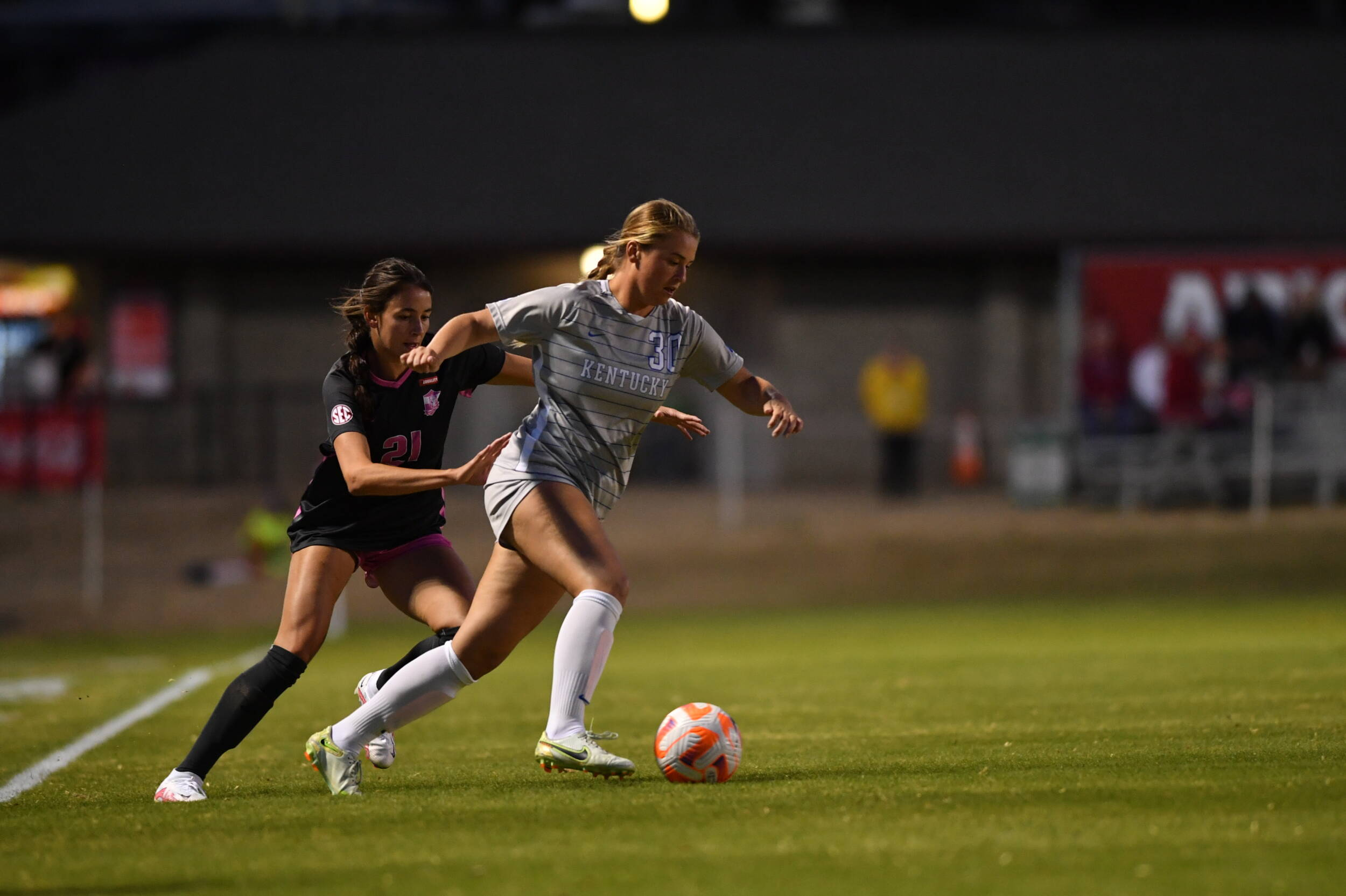 October 27, 2022 - 09:58 PM
Kentucky Ends 2022 Campaign with 6-0 Loss at Arkansas
FAYETTEVILLE, Ark. – Kentucky women's soccer (7-9-2, 0-8-2 SEC) suffered a 6-0 defeat in its final match of the 2022 season, falling at Razorback Soccer Field to No. 9 Arkansas (11-3-3, 6-2-2 SEC).
The home team tallied four goals in the opening 13 minutes of action to take early command of the match. First it was freshman Makenzie Malham capitalizing on an Arkansas' corner kick in the second minute. Junior forward Ava Tankersley scored her seventh goal of the season just over two minutes later, before Zoe Susi (eighth minute) and Anna Podojil (13th minute) added on to bring the score to 4-0.
Kentucky's two best offensive chances in the first half were both generated by senior Hannah Richardson. The senior swung in a cross from the right wing in the 21st minute which was one-timed out of the air by Anna Young wide left of the target.
In the 27th minute, Richardson dashed upfield with the ball at her feet before hitting a long-range shot from nearly 30-yards out narrowly over the crossbar.
Coming out of the half, the speedy Richardson got behind the Arkansas' defense in the 47th minute, but was unable to gain an angle from the right side of the goal.
The Wildcats nearly got on the board in the 53rd minute when a well-played corner from Richardson found the head of freshman Mallory Glass for an attempt which rang off the crossbar.
Arkansas scored the first of two second-half goals in the 56th minute when Jessica De Filippo finished with her right foot off an assist from Malham.
Looking to get one back for Kentucky, Richardson again made a promising run in the 59th minute, getting past her marker and directing a low shot on frame which was stopped by Razorbacks' goalkeeper Grace Barbara.
Tankersley netted her second of the night for the Razorbacks in the 65th minute, concluding the night's scoring.
Senior Steph Stull made her first start of the season in goal for UK, while Maddie Eastman drew the first start of collegiate career at defense. A total of 23 Cats saw action on the night.
The Wildcats managed nine shots in the match, four of which were on target. Shots favored Arkansas 17-9 but were even at six apiece in the second half.
For the latest on UK Women's Soccer, follow the Wildcats on Twitter and Instagram at @UKWomensSoccer, on Facebook and on the web at UKathletics.com.