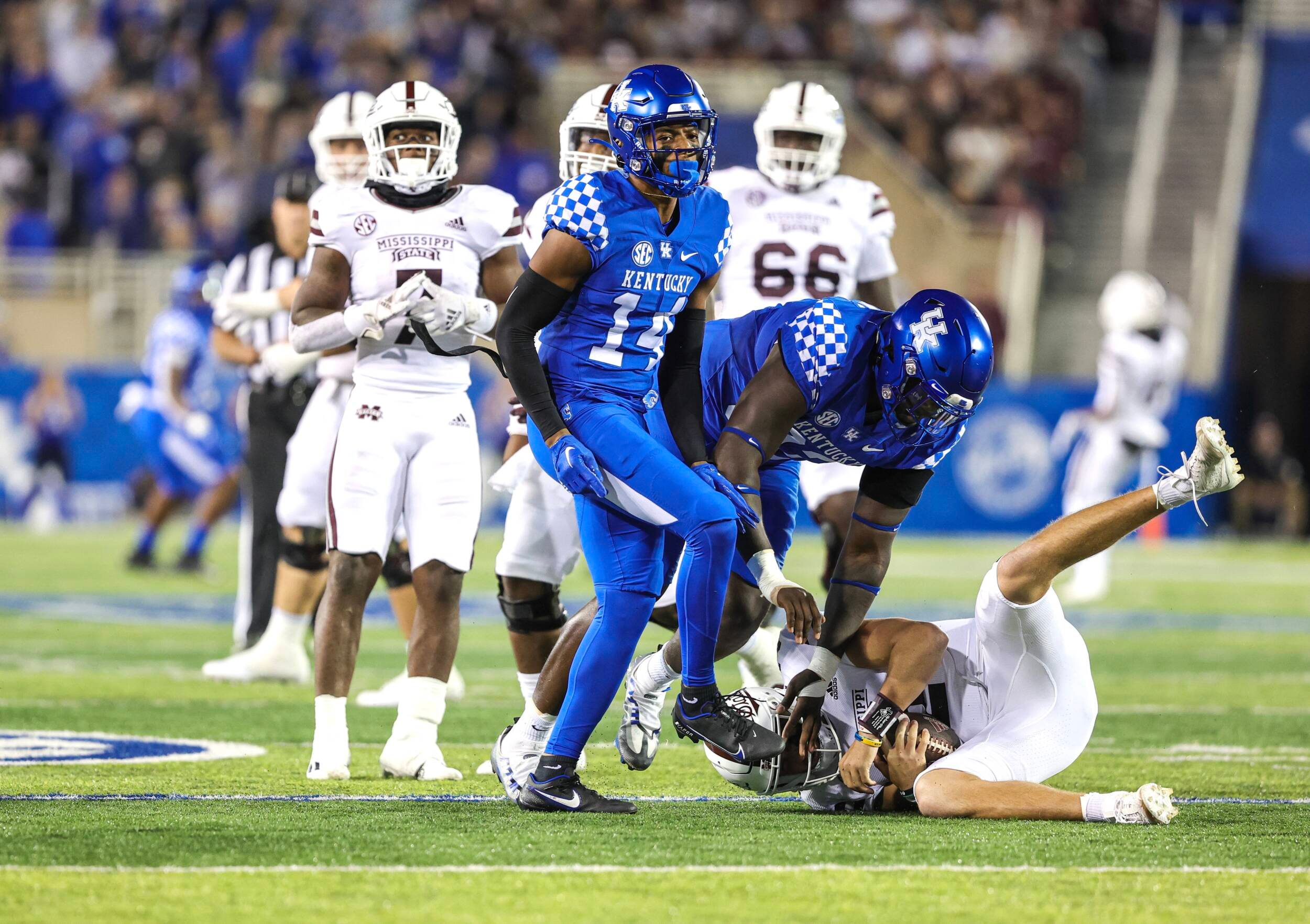 When Kentucky and Tennessee met last season at Kroger Field, things did not start well for the Cats. In fact, the early portion of the game could not have been much worse, especially for the UK defense.
Tennessee took the opening kickoff and, on it's first play from scrimmage, scored on a 75-yard pass from Hendon Hooker to JaVonta Payton. The Vols led 7-0 just 11 seconds into the game.
After Kentucky tied the game on a Kavoisey Smoke touchdown run, the Vols struck quickly again. This time, it took UT three plays to cover 75 yards, the final 72 coming on a pass from Hooker to Velus Jones. Tennessee had scored 14 points in four plays and a total of 37 seconds off the clock.
Kentucky defensive coordinator Brad White summed it up succinctly.
"It was sort of the opposite of starting fast," White said matter-of-factly.
Getting off to a better start is paramount if No. 19 Kentucky is to hang with third-ranked Tennessee on Saturday (7 p.m., ESPN). White and his defense know that hanging tough early will be crucial.
"You try to absorb those early blows," White said. "We'd like to be better than we were (this season) against Ole Miss. We've got to try to have a little bit faster start down there."
The challenge for the Kentucky defense on Saturday is enormous. White and his unit will have a number of things going against them. Those include:
1. Facing the team that leads the nation in scoring
2. Facing the team that leads the nation in total offense
3. Facing a quarterback (Hooker) who is the current favorite for the Heisman Trophy
4. Doing all of this in front of a crowd of more than 100,000 people
White and his unit understand the task at hand, but they are not scared by the proposition.
"I think our guys are ready for the challenge," White said. "They've prepped for it. They understand the quality of the opponent that we're about to play. They understand the task that we have ahead. But they are not afraid."
White thinks that the players who played against UT last season will have an idea of what they are getting into heading to Knoxville.
"They guys that were around last year understand what kind of speed you're about to face and the intensity you have to play with every snap," White said. "You've got to get off the ground, get the signal, reset your feet and get ready to go again. There's nothing you can do to simulate it."
White also knows that it will be important for the UK defense to not get down on themselves if the Vols make explosive plays.
"They're going to make their plays," White said. "You've got to try to minimize the length, the distance, the sting of those. When they make them, you can't put your head down. It's going to be like a heavyweight bout. It's going to keep going back and forth. We're going to have to punch until the end and see what happens."
Two other things will be important for the UK defense to be able to slow down the Vols on Saturday. One, the Cats must win in one-on-one situations all over the field. And two, getting a pass rush on Hooker will be imperative.
"Guys are going to have to win one-on-ones," White said. "We're going to have to win up front. A lot of this game is going to be determined in the trenches."
Getting heat on Hooker can disrupt the timing of the Vols' high-powered offense.
"You need to be able to affect the quarterback," White said. "Some of these routes are deeper developing routes, it takes a little bit of time. They're going to need to affect that pocket. If it's just a clean pocket and it turns into a seven-on-seven game, I don't know if there's any secondary in the country that can just sit there and hang with that. It's going to be a big onus on them to limit the run, stop the run. Then, what Hooker has done so well is create plays off schedule. His scrambles have created some really big momentum shifters. So they're going to have to do a good job of understanding where he is in the pocket and how he moves around and, if he escapes, we've got to get him to the ground so that a five-yard scramble isn't 42 yards."
The UK defense will have its hands full on Saturday inside Neyland Stadium. While the challenge is large, the Cats are not afraid of what lies ahead of them and are looking forward to attempting to slow down the high-octane Vols.