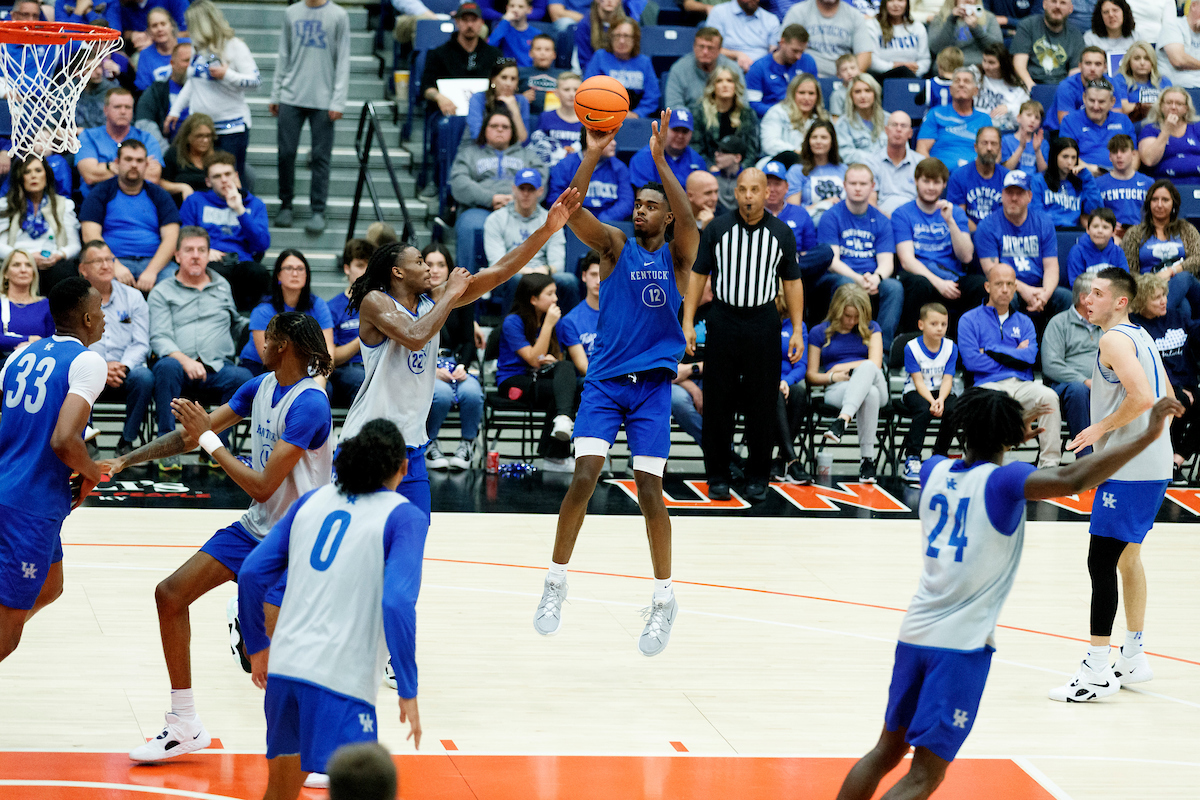 October 25, 2022 - 03:21 PM
Veterans Help Kentucky Men's Basketball Team's Learning Curve
Kentucky basketball head coach John Calipari is embarking on his 14th season at the helm of the UK program. Calipari has had tremendous success in Lexington, making it to four Final Fours and wining the 2012 NCAA Tournament title.
Calipari knows what it takes to win it all. His most successful teams at UK have had a nice mix of veterans and talented newcomers, something he sees in this year's team.
Additionally, Calipari's teams have fared well after taking a foreign trip in the summer. This year's team did just that, winning four games in the Bahamas in August. Calipari thinks those two factors have this team ahead of the game at this point in the preseason.
"The two things are, Bahamas and veterans," Calipari said. So, the way I coach when I have veteran teams it's, here's the drill, watch them, now go and do it. You don't have to break the whole thing down. You're watching. We are ahead offensively and we're behind defensively, and we, you saw it in that game. I mean, we played together, low turnovers. We did it. We're ahead offensively."
Calipari is a bit concerned about his team's defense at this point.
"We just played that scrimmage (Blue-White Game)," Calipari said. "I watched the tape. We stink defensively. What do you think we did yesterday the whole practice? Wow. What do you think we're doing today and tomorrow? Defense."
One thing that should give Calipari a sense of relief is the veteran depth on this year's team. At Tuesday's men's basketball media day, Calipari was asked about a number of his more experienced players before he was asked about Oscar Tshiebwe, the defending National Player of the Year. Calipari likes that in this group.
"I will tell you, we have a great group of guys who are great teammates that pick each other up, that challenge each other," Calipari said. "And let me say this, that gives you a chance. "
Among his comments on the veterans:
On Jacob Toppin: "He's become the gym rat. And every time I've had a guy like that, that guy breaks through. Now his thing is going to be physical play. If you avoid everything and you flip balls, I mean, you're going to play, but you can't be a significant guy, and he, rebounding in traffic, playing defense off the ball, all the stuff, you're not hiding."
On CJ Fredrick: He did good. He did good. I had to stop him about 10 days ago because it seemed like he was pressing. And I said, All right, guys, when he shoots it, how many of you think it's going in? The whole team raised their hand. I said, So are you hearing this? Like we're all good with you.
"But you haven't played for a year and a half. It's going to take time. Just talked to Jamal Murray. Don't expect this to happen overnight. You've been out a year. So now when you start playing it may take a month. So what? And hopefully that lightened the load for him. Because he shot the ball in the scrimmage.
"And I'll tell you what else he does. He's an unbelievable teammate to lead. Telling guys, Pass the ball. Just pass it. We'll get it back to you. Move the ball. And he does it in a good way."
On Antonio Reeves – "We brought him in to make baskets. Kind of like we did with Kellan (Grady). And he shoots it. And he can make baskets. He used to mess with the ball and now it's downhill running. It's driving through catches and getting in the lane. He bodies instead of try to avoid everything and flip and throw.
"He's gotten so much better. And he doesn't say a whole lot. He talks on the court, but he's a quiet kid. He doesn't get my jokes yet. So sometimes he's looking, you know, I say something funny and he's like, I don't know, am I supposed to laugh here? I don't know if I want to laugh.
"But he's a great kid. He really is. And he's, it's nice coaching some older guys. But also you got Cason and Chris who may be young, but they're physically advanced. They both are. Both been doing real good too."
On Sahvir Wheeler – "When you pick up and you're disruptive in the full court and we give you space to be disruptive in the pick-and-roll, all of a sudden — and your speed — and now all of a sudden you're shooting the ball better?
"I told him, You got to be guarded. You can't be a player out there that's not being guarded or you won't be in. So you got to be guarded. They got to respect you and your shot.
"And he knows that. And he's in the gym. I just looked today, he was in there shooting and getting a workout in. The guys, we got guys spending time in the gym, I can say that."
Calipari did touch on Tshiebwe and his recovery from a recent medical procedure.
"I don't know, but he's moving pretty good. He's moving around," Calipari said. "He's got to stay off his feet. So when he trains it may swell a little bit but it will go away. It will swell a little bit, it will go away. But he's telling me, he says, I feel really good, my leg feels good. I don't have the same pain, the pain that was there. He said it wasn't much, but there's nothing now."
As a whole, Calipari likes his team and is looking forward to getting the regular season underway.
"I like the group. I like the guard play. I like the wing play. I like the big guys. We're doing it without Oscar right now. You put Oscar in it makes it a little bit different.