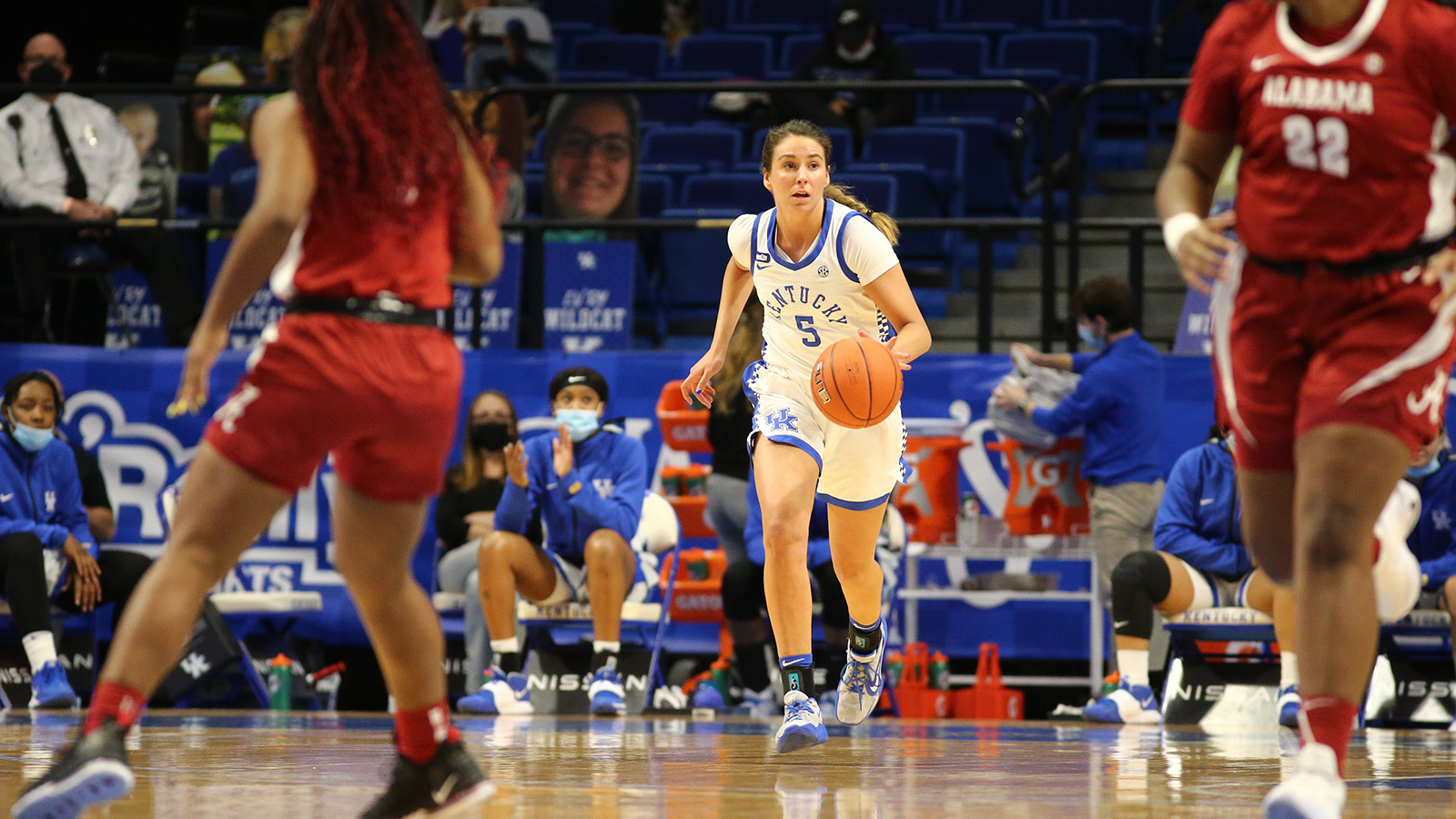 October 20, 2022 - 12:30 PM
Blair Green, aka 'B Sniper' Ready for Final Season as a Cat
As the Kentucky women's basketball team prepares to get the 2022-23 season underway, head coach Kyra Elzy is still carrying the momentum from last season's SEC Tournament championship. Elzy is hoping that the core group of players who return this season can take the lessons learned in a championship run last season and make a new set of memories this year.
Among the group of five who return this season is senior (actually fifth year) Blair Green, who is coming off a torn Achilles tendon that forced her to miss last season. Elzy is thrilled to have Green back for another season in blue.
"I am so happy to have her back," Elzy said. "She has worked extremely hard to the point where we must kick her out of the gym and remind her an off day is actually a day off. Get out of the gym!"
Green has been shooting the ball exceptionally well during the preseason. In fact, Elzy has tagged Green with a nickname.
"She is a great asset to the team and has an impressive ability to shoot the basketball," Elzy said. "I called her a sniper in practice and someone was like how do I get that label? I told them shoot like Blair."
As the most experienced player on this year's team, Green is expected to assume a leadership role. Actually, that role was assigned to her by her head coach.
"I've appointed Blair Green as the leader of this team," Elzy said. "She has been with us the whole time and she understands what we are looking for. She is the epitome of what I want every Kentucky wildcat to be as for her work ethic and how she approaches the game."
As Green returns from injury for her final season at UK, she looked back at last season how she has gained a new perspective on the game from watching on the sidelines.
"I have grown and matured into a leader, and I really got to step up and act as another coach for my teammates," Green said. "I saw a completely different side by helping with film, setting up scouting reports, and just seeing the game from the bench."
Green realizes she has big shoes to fill when taking over the leadership role of Rhyne Howard, but she is confident in her personal growth that she can impact the team this season.
"I have to step up more vocally which I have learned from my journey of being out," Green said. "Leadership comes natural to me. My coaches have helped push me out of my comfort zone to prepare me for this moment."
Green knows that the dynamic for this year's team will be much different than last year. With Howard and three other major contributors gone, Kentucky will look a lot different. That includes six freshman and 10 new players total. Despite this, Green thinks that the team chemistry on this year's group is very good.
"We try to always look at the positives and the bright side," Green said. "We always pick each other up and push each other to get better."
Although Green is cleared to play for her final season as a Wildcat, she still has some recovery to do.
"It's going to take some time to get me back to the pace of the game and through my fatigue, but I feel more like 100 percent every day," Green said. "I just have to be patient and take it day by day."
Big Blue Nation will get to enjoy one more season of Green wearing at UK uniform. And Green plans to soak in her final season in Blue and White, while serving as a leader for the younger players on the team.