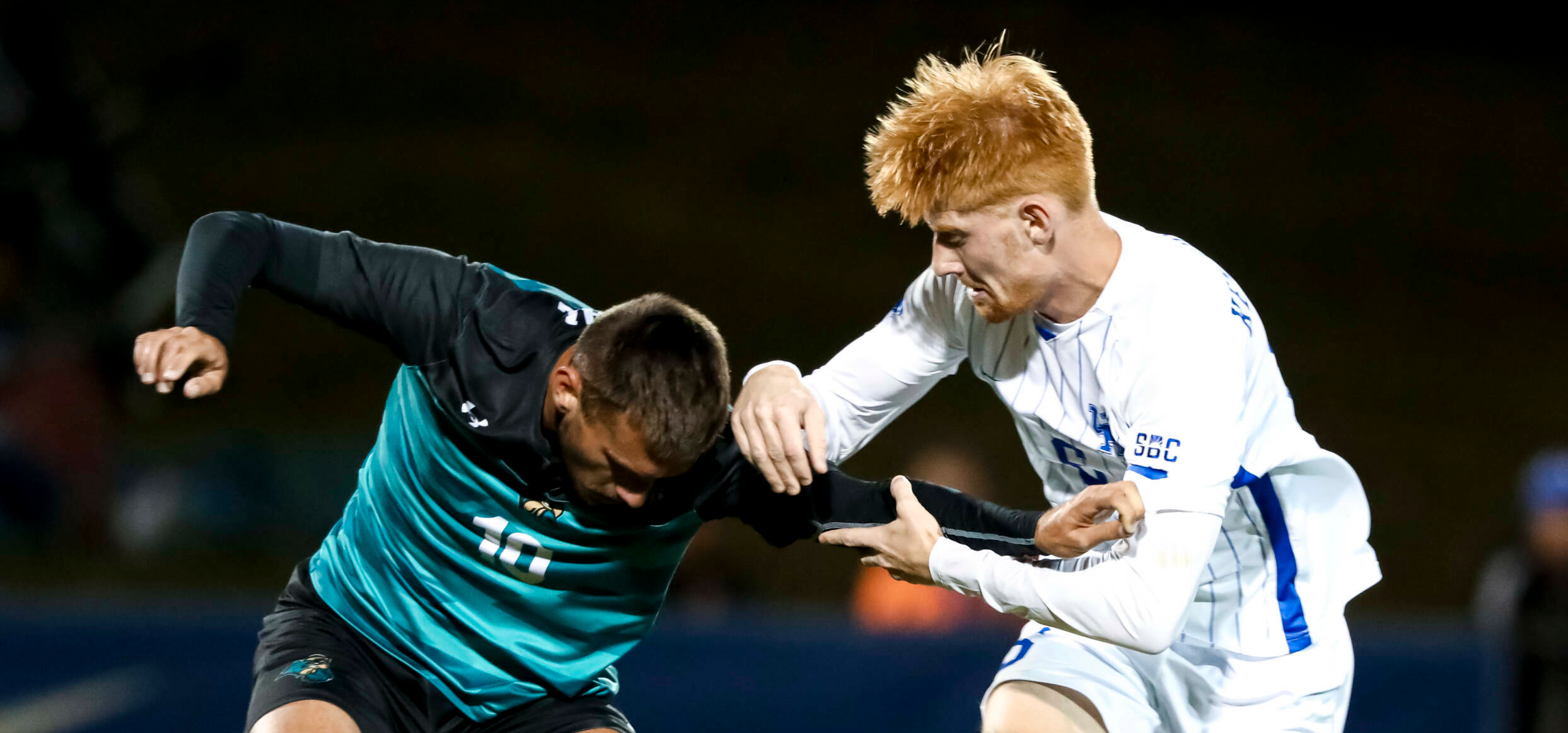 October 19, 2022 - 10:30 PM
Wildcats Remain Unbeaten in Midweek Conference Draw
LEXINGTON, Ky. – The midweek matchup between No. 2 Kentucky men's soccer team (8-0-5, 3-0-3 Sun Belt) and Sun Belt Conference opponent Coastal Carolina (3-3-6, 0-0-5 Sun Belt) resulted in a scoreless draw on Wednesday at The Wendell & Vickie Bell Soccer Complex.
The Wildcats fired 15 shots to the goal but struggled to find the magic strike to get UK on the scoreboard. Kentucky's defensive line of Lucca Rodrigues, Luis Grassow, Max Miller and Robert Screen held Coastal Carolina to only three shots and one on goal keeping the ball moving toward the Chanticleers' box. However, the four shots on goal for the Cats did not see the back of the net.
"It was a very challenging game today," Head Coach Johan Cedergren stated. "We are all frustrated with the draw and know that we can do a little better, especially in the final third."
The Wildcats kept throwing numbers forward as six shots were attempted in the final third. Within the six attempts, one shot came from a free kick by Rodrigues and one on goal in the final minute by Casper Grening which was saved by the Coastal keeper.
"I thought we defended really well, dealt with set pieces very well," Cedergren said. "It's just about when we get the ball in the final third, can we do a little better?"
Kentucky is one of five NCAA Division I men's soccer programs still undefeated in the nation. UK joins Washington, Duke, Xavier and Dayton on the list. The Wildcats continue to chase its unbeaten streak of 15 straight matchups in the 2021 season.
The Wildcats and Chanticleers are now 2-1-2 all-time. In the last meeting between the two programs, Kentucky found success in a 3-1 victory in the first round of the Conference USA tournament last season.
Kentucky will travel to Bloomington, Ind. for its final non-conference contest against Indiana on Saturday at 7 p.m. EST.
For the latest on Kentucky Men's Soccer, follow @UKMensSoccer on Twitter, Facebook and Instagram, as well as on the web at UKAthletics.com.