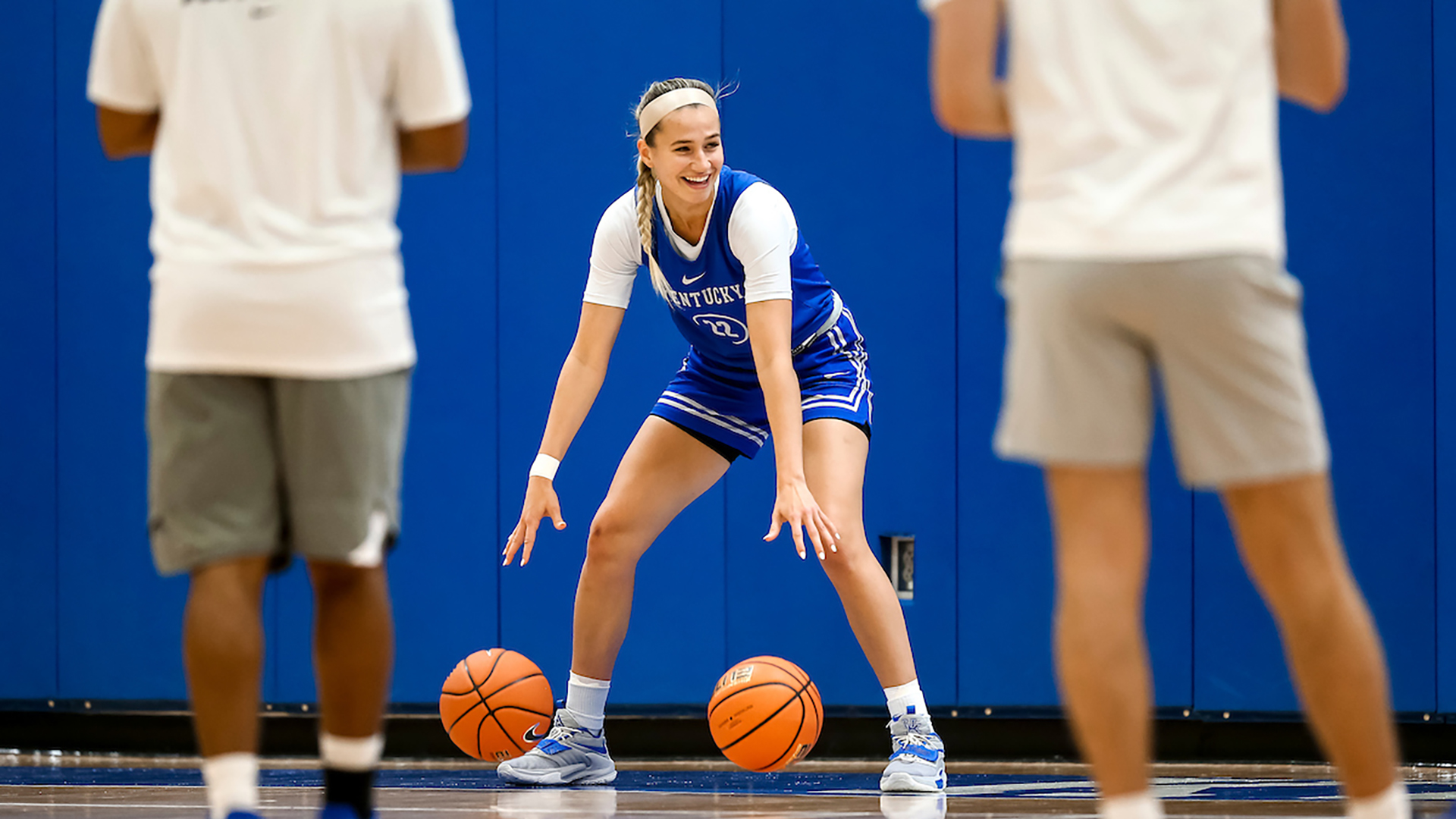 October 19, 2022 - 11:21 AM
Maddie Scherr Glad to Be Back in Her Old Kentucky Home
It has been a homecoming that has been long-awaited by some, including family that lives just a short drive away. Junior transfer Maddie Scherr, a Florence, Kentucky native who attended Ryle High School, shocked many of her close family and friends when she chose to commit to Oregon to play basketball in high school.
While in Eugene, Scherr started 32 games over her freshman and sophomore seasons. However, being all the way across the country Scherr faced some challenges, which eventually brought her to the decision to enter the transfer portal after the 2021-2022 season.
Being from Kentucky, Scherr admitted she did feel a little bit of pressure from her friends and family to transfer to Kentucky, but she really tried to not let that phase her decision.
"I grew up in Kentucky, everyone is a Kentucky Basketball fan," said Scherr about the buzz of her transfer.
This added bonus made Kentucky the obvious choice ultimately. The location was ideal, and last year's SEC Championship definitely didn't hurt UK head coach Kyra Elzy and the rest of the staff's chance at getting her to come home to Lexington.
When asked about why she chose to transfer, Scherr stressed the mentality that she had been in.
"It's crazy because after two years I've really realized how much of the game is mental," she said. "If you don't have the confidence in yourself, you don't feel like you're a system or program where people have that confidence in you, then you're not going to come out successful."
When asked about why she decided to enter the transfer portal, Scherr said, "that was another one of the reasons why I had to transfer, because I just have so much more to give than that."
Kentucky had been a part of the mix during her initial recruitment process in high school and was a serious contender for her services then. As the recruitment process started for a second time, there was much speculation about where she would transfer. Scherr knew what one main part of her criteria would be.
"I knew I wanted to come closer home," she said. "So, I definitely kept it within a four-hour radius for all the schools."
On May 13, Scherr made the decision to play for Kentucky. Needless to say, many of her family members and friends back in Florence were thrilled.
"They were so excited, my mom and dad," Scherr said. "My poor mom was so heartbroken that I was going so far away from home (initially). So, they're more excited than anybody just to have me so close and be able to go to every game."
Scherr is one of four players on this year's Kentucky roster who are from the Bluegrass state, something that's not lost on Elzy.
"She knows what it means to put that jersey on," Elzy said. "Maddie brings a competitive spirit and a high basketball IQ. I'm counting on Maddie to be a leader on this team."
Scherr is hoping to make an immediate impact on this year's Cats.
"I transferred here to contribute," she said. "I'm a junior, I'm not going to just transfer to not produce."
Scherr's long awaited return to Kentucky is finally here. She is back home in high spirits, looking to make her home state proud throughout the season. Representing the Commonwealth of Kentucky means a lot to her, and she cannot wait to embody this "hometown hero" role with open arms throughout her game as a Wildcat.