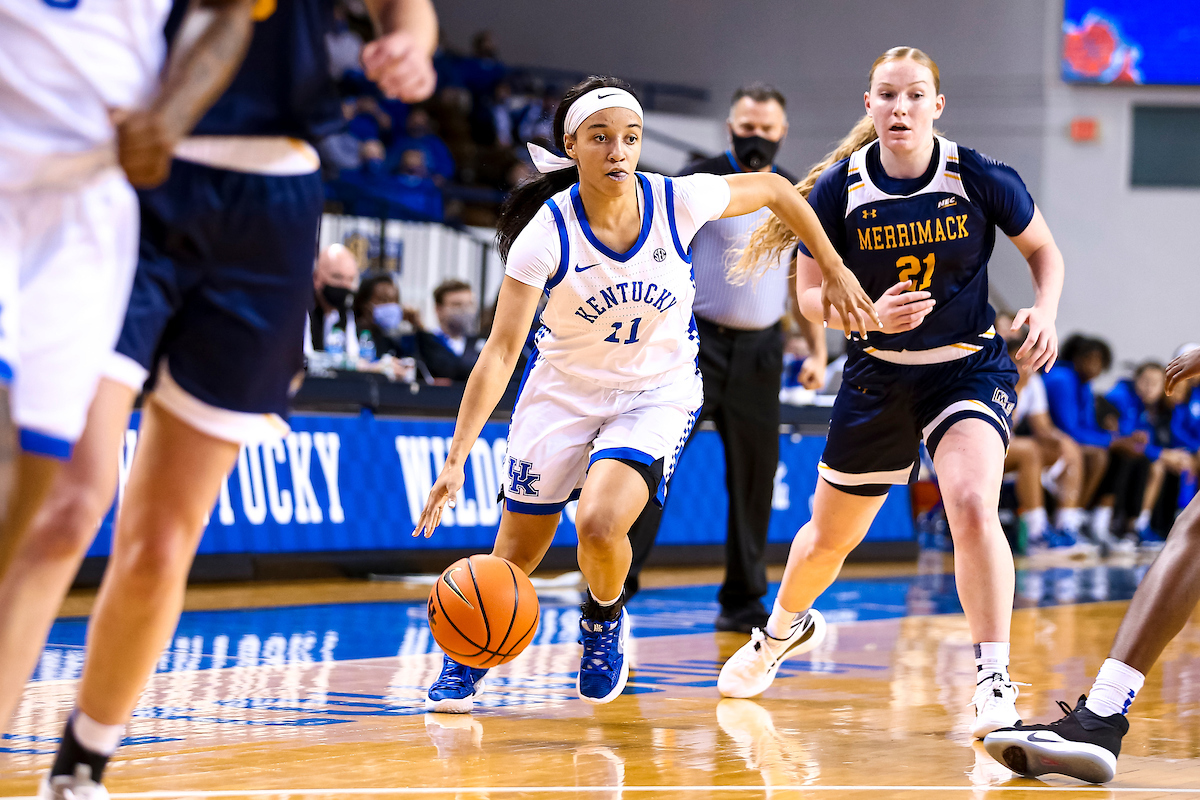 October 18, 2022 - 09:00 AM
Jada Walker Brings Leadership and Experience to 2022-23 Cats
Kentucky women's basketball sophomore Jada Walker finds herself searching for her exact role, yet stuck between two – one in which she is an experienced player and one where she is still just the new girl.
"I've been telling her (head coach Kyra Elzy) that I'm kind of in between both worlds," Walker said at UK's annual media day.
Elzy has seen Walker step into a new role with ease.
"She's really stepped up and has really found her voice," Elzy said. "We can expect to see the same that you saw from her as a freshman. She still has that toughness about herself, the defensive intensity, the competitive spirit, but also think, you know, she was baptized by a fire a year ago. So, she learned a lot through playing experience and there is nothing like having experience until you have some. She's playing with so much more confidence because she actually understands, she did not really understand what was happening a year ago and was able to do all of that without really understanding our system. So, imagine what she can be now that she understands our system."
Walker, who is only one of just five Wildcats returning to this year's team, will be counted on for leadership in addition to her solid play in the back court. Walker returns as the leading scorer from the 2021-2022 season averaging 10.4 points and 3.0 rebounds per game. All of that despite the fact that Walker played part of the season with a broken nose, which required her to wear a nose guard.
After a very successful freshman season, Walker, a guard from Richmond, Virginia, is excited to get back to basketball. Walker, known for her electricity and fierceness on the court, is excited to be sharing a new role with her team off the court – leadership.
"I feel like last year I had a voice and just didn't know how to use it," Walker said. "But this year, I'm ready to step up and help my team through new tactics and exercises."
Her expectations for this season are for the team to go above and beyond the goals they conquered last season.
"We're trying to run it back, definitely," Walker said. "Winning the SEC (Tournament) Championship last year is hard for me to talk about, so definitely running it back and getting back into the NCAA tournament."
Kentucky opens exhibition play on Wednesday, Nov. 2, against Pikeville at 7 p.m. in Memorial Coliseum. The regular season opener for the Cats is Nov. 7 against Radford, also at 7 p.m. and also at Memorial Coliseum.