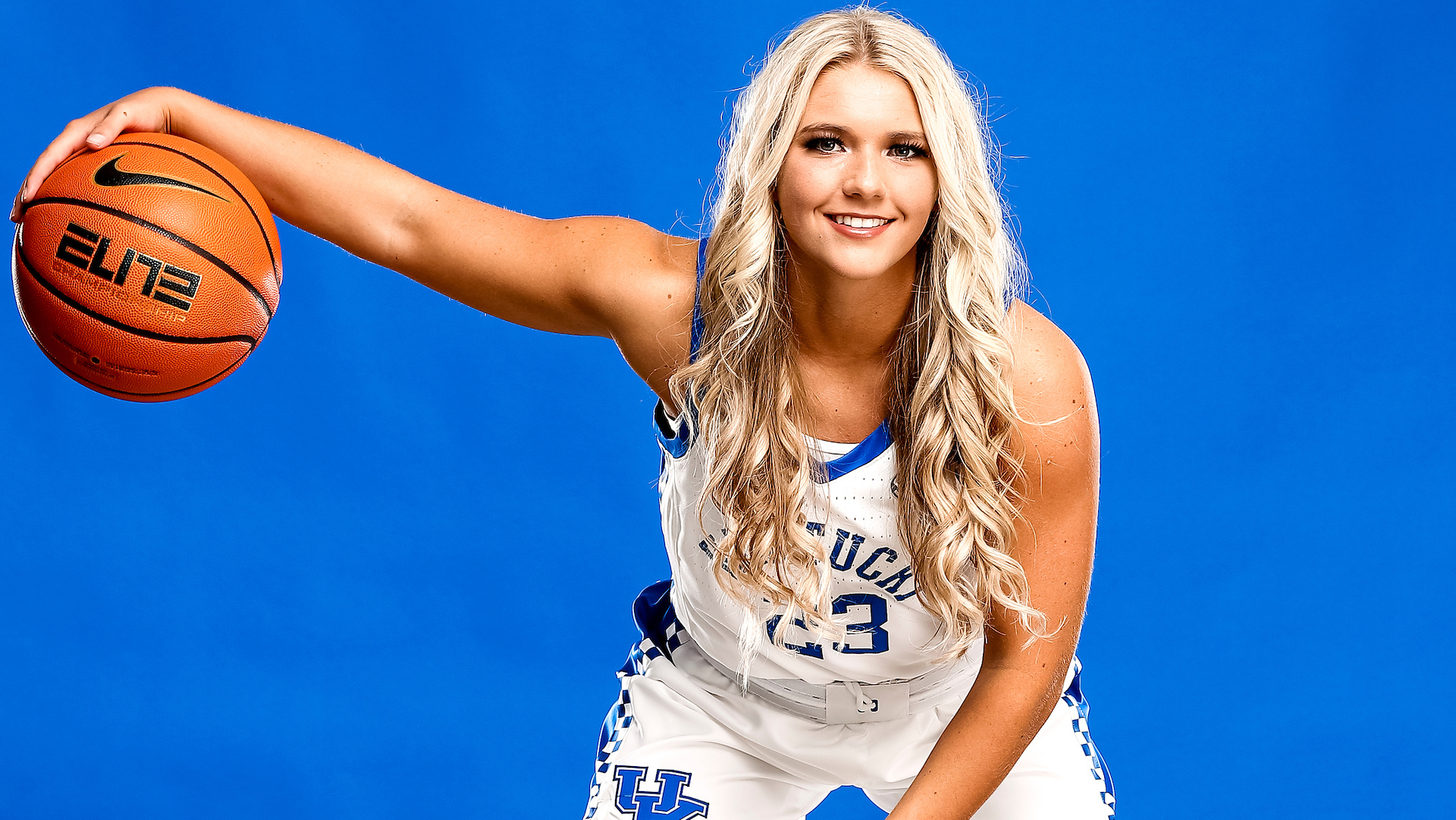 October 17, 2022 - 10:49 AM
Cassidy Rowe Making Strong Early Impression on UK Teammates, Coaches
Many college freshmen spend some time finding their way, navigating the new challenges of freedom, adulthood and responsibility all at once. Essentially, they are trying to figure out who they are. Then, there's UK women's basketball freshman Cassidy Rowe, who seems to have mastered all of those things in a short amount of time.
Standing 5-6, Rowe, who played her high school basketball at Shelby Valley (Ky.) High School, is considered small in today's world of Division I college basketball. But Rowe is self-aware about her physical abilities.
"I think a big thing right now, I'm undersized compared to everybody," Rowe said with a laugh. "I'm never going to be the quickest, the tallest or the strongest but I can do the things that take heart and that's what I'm going to do."
The things she can do include one specialty of which she is very proud.
"One thing I do is, I take charges. I slide in to help on defense," Rowe said. "I see somebody driving through the lane, I'm going to step up and take that charge. I think that's something big for me to be able to try to get on the court."
Rowe's charge-taking ability has caught the eye of her head coach, Kyra Elzy.
"Cass, she leads the teams in charges (taken). She's going to take them," Elzy said. "She has won the last two challenges for taking charges in practice."
It's also caught the eyes of her teammates, including senior Blair Green.
"Cassidy is awesome. She brings it every day," Green said. "The girl takes every charge that she can. She leaves it on the court every day. She's going to grow into a phenomenal player. She's a great person to lead and she even steps up vocally all the time."
The transition from high school basketball to college has been tough for Rowe, as she adapts to different kinds of teammates and opponents.
"The pace is so different. The girls are stronger and faster," Rowe said. "The competition is never going to be a cake walk. Definitely not an easy transition by any means. It's just two totally different ballgames."
Elzy likes both the tangible and intangible things that Rowe brings to the team.
"Cassidy is a tough player. She takes charges. She is what I want Kentucky players to do, get on the court," Elzy said. "She has a grittiness and toughness. She has a high basketball IQ."
Rowe has bonded with Green, another girl from the mountains. Green is serving as a mentor to Rowe, something she learned from a mentor of hers.
"I had a great best friend/mentor in Maci (Morris)," Green said. "She gave a great example for me. So I'm trying to be Maci to Cassidy. It's an awesome bond that we all have."
Rowe realizes that she's living out the dream of every little girl who plays basketball in Kentucky. She recalls putting on her UK jersey for the first time.
"It meant the world to me," Rowe said. "This has been my dream ever since I started playing basketball. Finally being able to accomplish what I've worked for my whole life, and to be able to put on this jersey, I'm super blessed."
Rowe's role on this year's team has not yet been defined. But Elzy gave her very solid advice.
"I just challenged her (to) trust the process, learn from the veterans and be prepared when you're number is called," Elzy said.
With the self-awareness that Rowe has already displayed, one would expect Rowe to be ready to go as soon as she's called upon to step in for the Cats.