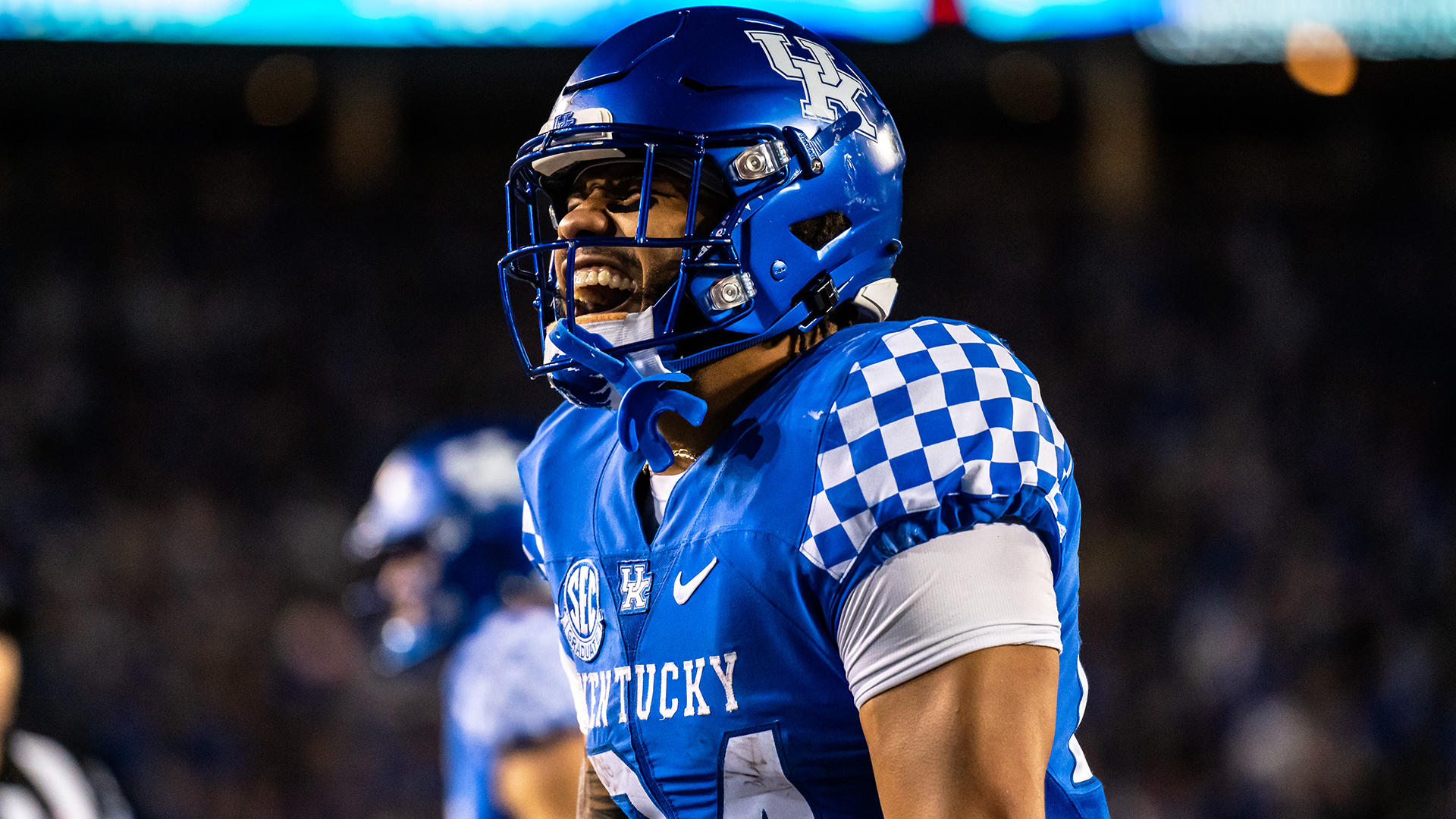 The Kentucky football team entered Saturday's home game against Mississippi State having lost two consecutive games. The Cats needed something good to happen but were faced with the task of battling No. 16 Mississippi State, a team that had lost just once this season and a team that employs the always-difficult-to-defend Air Raid offense. The opponent, and the style of play, would pose a big challenge for head coach Mark Stoops and his Cats.
The answer? Kentucky went back to its tried-and-true formula for winning games – playing solid defense and beating opponents with the running game. Those two phases of the game were on full display Saturday as the Cats beat Mississippi State 27-17 at Kroger Field.
Kentucky went to senior running back Chris Rodriguez Jr. early and often in Saturday's win. And, as he has done for his entire UK career, the McDonough, Georgia, native delivered. C-Rod carried the ball 31 times for 197 yards, the second-highest total in his UK career. The 31 carries were a career high for Rodriguez.
The senior also went over 3,000 yards in his career, although it was his teammates who realized it before Rodriguez did. He was focused on the task at hand.
"It means a lot," Rodriguez said of reaching the 3,000-yard mark. "I wasn't thinking about it. I was looking at the Jumbotron and they put it up there and I was like 'why is everybody congratulating me.' Game's not over yet and then I look up. It feels alright. Job's not done. We still got a lot more game left."
Keeping the ball on the ground was especially important for the Cats this week. Quarterback Will Levis had missed last week's loss to South Carolina with a lower extremity injury but was able to return in this game. However, not putting Levis in situations where he could get hit would have certainly been part of the game plan.
The second part of the equation, the UK defense, was trying to respond after a tough game against MSU last year in Starkville. In that game, Kentucky allowed 438 yards and 31 points in a loss to MSU. But this year, the Cats cut those numbers nearly in half. Kentucky allowed just 17 points and only 225 total yards in the game.
MSU entered Saturday's contest averaging 461.3 yards per game. Kentucky held the Bulldogs to by far their lowest total yardage of the season, eclipsing the 289 that LSU gave up to MSU in the Bulldogs' only other loss.
After the game, Stoops was extremely pleased with what his team accomplished on this night.
"Really proud of our team, obviously," Stoops said following the game. "As I told the team, I didn't know the outcome going into this game. But I knew we would play like that. I knew we would play like we play; tough, resilient, together, and play hard like we do. And I knew we would respond."
What Stoops liked the best about Saturday's win was that it was not just one or two players getting the job done. It was the entire squad.
"Team effort. Team effort," Stoops said. "The offense possessed the ball. Not that that's our total game plan when we play people like that. But getting first downs, moving the chains, you know, scoring points. It's all important."
Returning to the familiar formula of a strong running game and a stout defense worked for Kentucky on this night, as the Cats snapped a two-game skid.