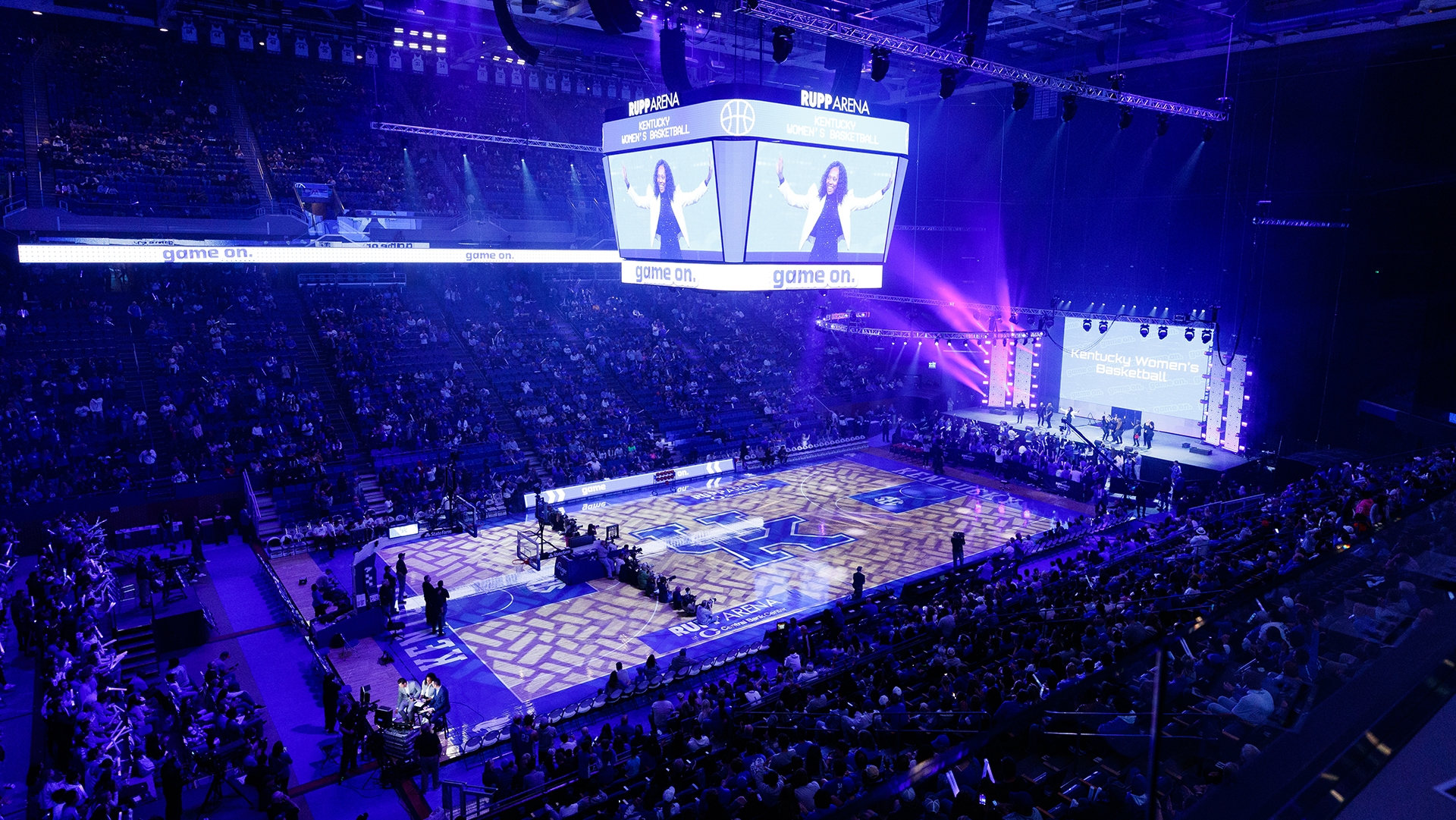 October 14, 2022 - 10:50 PM
Top Moments from 2022 Big Blue Madness
Big Blue Madness, the annual tip off to the Kentucky basketball season, was held on Friday night at Rupp Arena. The UK men's and women's basketball teams were on display in front of the home fans for the first time this season, showing the Big Blue Nation just a small bit of what they can expect this season.
Madness always produces a number of memorable moments and this year was no different. Here are some of the highlights from Friday's festivities.
Men's Basketball Alums Return
During his 14 years in Lexington, UK head coach John Calipari has always promoted family, or La Familia, within the UK program. Sticking with that theme, UK welcomed back a number of alums from the Calipari Era on Friday night, including Brandon Knight, Michael Kidd-Gilchrist, Bam Adebayo, Tyler Ulis, Nick Richards, Kevin Knox and Hamidou Diallo. A large number of men's basketball alumni, including Jack Givens, Erik Daniels and Ramel Bradley, among others, were also in attendance.
A few special guests at #BBM22 👀

Welcome home, guys! #LaFamilia pic.twitter.com/z8tT5ZqcGe

— Kentucky Men's Basketball (@KentuckyMBB) October 15, 2022
Reeves Wins Three-Point Title
Antonio Reeves went first in the men's three-point shooting contest and he lit up the scoreboard to the tune of 19 points. Three competitors followed him, including defending champion CJ Fredrick, but no one would come close to the Illinois State transfer's total. As he proved in the Bahamas this summer, Reeves will be a threat to score from behind the arc early and often.
Your #BBM22 3-point contest champion 🔥🔥🔥@ToniooReeves pic.twitter.com/1bXjvCa2rL

— Kentucky Men's Basketball (@KentuckyMBB) October 15, 2022
Dunk Contest
Diallo, Knight, Knox, Richards and Ulis served as the judges for the men's basketball dunk contest. It started with sophomore Daimion Collins jumping over Sahvir Wheeler, Walker Horn and Kareem Watkins for an impressive dunk. Chris Livingston would put together nice dunks in both round and he and Collins would finish with a tie score. However, when the fans were asked who the winner was between Collins and Livingston, the Big Blue Nation crowd chose Toppin, who completed a baseline reverse dunk in his second attempt after not converting a dunk in the first round.
JACOB TOPPIN. WHAT DID WE JUST WATCH⁉️😮@KentuckyMBB pic.twitter.com/3Hf3z0sBlu

— SEC Network (@SECNetwork) October 15, 2022
Elzy rides into Madness in style
After her team was introduced to the sellout crowd, Kentucky women's basketball coach Kyra Elzy entered Rupp on the back of a motorcycle, making a second straight impressive entrance into this year's event. Last year, Elzy repelled from the ceiling of the arena.
#ElzyEra ⚠️💪@UKCoachLZ pic.twitter.com/AlSdit2PWC

— Kentucky Women's Basketball (@KentuckyWBB) October 15, 2022
Green Repeats as Women's Three-Point Competition
After topping Rhyne Howard in last year's three-point contest, Blair Green returned to defend her title on Friday night. And she did just that. Saving her best for last, Green recorded a round of 16 points in the finals to top Maddie Scherr, claiming her second consecutive crown.
3-FOR-BEEEZYYYY. 👌😤@greenblair32 pic.twitter.com/bKG4sLzzZy

— Kentucky Women's Basketball (@KentuckyWBB) October 15, 2022
Title IX Honorees
In conjunction with the 50th anniversary of Title IX legislation, UK Athletics honored 50 of the greatest female athletes in school history during Friday's festivities. Among the honorees in attendance were the all-time leading scorer in UK basketball history, Valerie Still, along with three-time national champion gymnast Jenny Hansen and 2020 NCAA Woman of the Year Asia Seidt.
Welcome home to some of our Top 50 Women's Athletes of the Title IX Era! pic.twitter.com/Y8YLt54x88

— Kentucky Athletics (@UKAthletics) October 15, 2022
Cheerleaders
The 24-time UCA National Champion UK Cheerleaders performed a difficult, energy-filled routine on Friday night, displaying elite athleticism and precision. Kentucky will shoot for title number 25 at the UCA national competition in January.
Dance Team
The UK Dance Team, featuring 20 new faces, including the first male in program history, had an impressive hip-hop routine on Friday night. The UKDT will participate in the UDA Nationals in Orlando in January.
View this post on Instagram