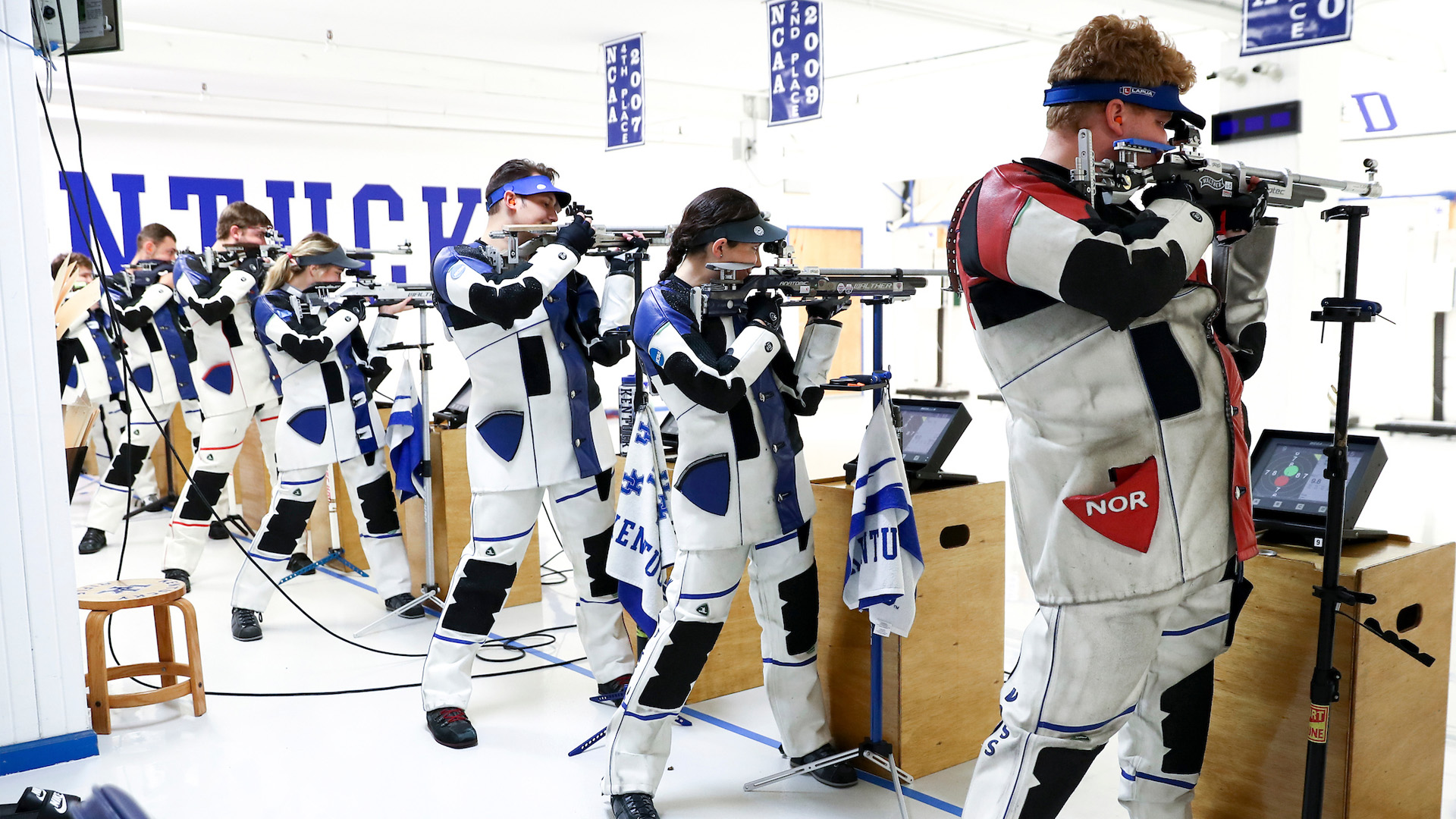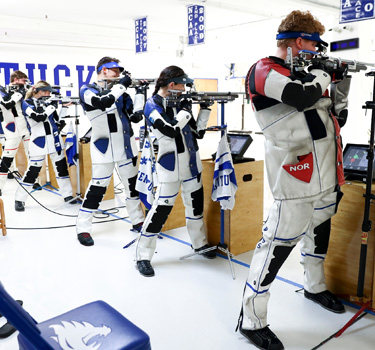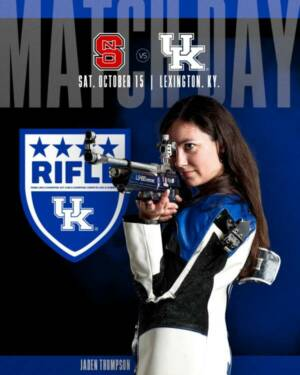 LEXINGTON, Ky. – The No. 5 University of Kentucky rifle team is looking to build off its season-opening win last weekend as it opens the home portion of its schedule Saturday vs. North Carolina State inside Barker Hall.
Saturday's competition will feature two relays with the first getting underway at 8 a.m. ET with sights and prep. Spectators are invited to watch smallbore scores up in Barker Hall and enjoy free breakfast starting at 8 a.m. ET. The range will be open to spectators for air rifle. Admission is free.
"We are excited to get home and compete back in front of Big Blue Nation," UK head coach Harry Mullins said. "We had a good week of practice working on the details and getting better each day. Our team is a work in progress right now, but we are good team and have all the pieces to be successful. What I like is how they are responding to the coaching we are giving them, and I can see some confidence growing. Looking forward to being in the range with them again this weekend."
Kentucky started its 2022-23 season last weekend in Akron, defeating the Zipps 4705-4681 in its Great America Rifle Conference lid lifter. Freshman Sofia Ceccarello and super senior Will Shaner led the Wildcats at the match. Ceccarello scored the highest aggregate total of any competitor after a 583 in smallbore and 599 in air rifle. Shaner was just behind her with a 1178 aggregate, earning 584 in smallbore and 594 in air rifle. Both Ceccarello and Shaner will not participate in this weekend's match against NC State as they both are representing their home countries at the ISSF World Championships in Egypt.
Every Wildcats on the team participated in both disciplines last weekend at Akron. Sophomore Allison Buesseler earned a 1177 aggregate with a 586 in smallbore and 591 in air rifle, while fellow sophomore Kayla Kalenza had one of her better matches of her career with a 582 in smallbore and 594 in air rifle for a 1176 aggregate. Junior Emmie Sellers earned a 580 in smallbore and 593 in air rifle, while super seniors Richard Clark and Mitchell Nelson both earned a 1171 aggregate. Clark posted a 576 in smallbore and 595 in air rifle, while Nelson scored a 582 in smallbore and 589 in air rifle. Freshman Martin Voss scored a 577 in smallbore and 594 in air rifle, while senior Jaden Thompson earned a 575 in smallbore and 587 in air rifle. Freshman AJ Hotko, sophomore Tori Kopelen and senior Mason Hamilton wrapped up the scoring. Hotko had a 573 in smallbore and 575 in air rifle, while Kopelen had a 560 in smallbore and 584 in air rifle and Hamilton scored 562 in smallbore and 574 in air rifle.
This will be NC State's first match of the season. The Wolfpack closed out the 2021-22 season with a No. 15 final ranking in the Collegiate Rifle Coaches Association Top 20. Their top finish of the year with a team aggregate of 4675 against Alaska-Fairbanks.
For more information on the Kentucky rifle team, visit UKathletics.com or follow UKRifle on Twitter, Instagram and Facebook.