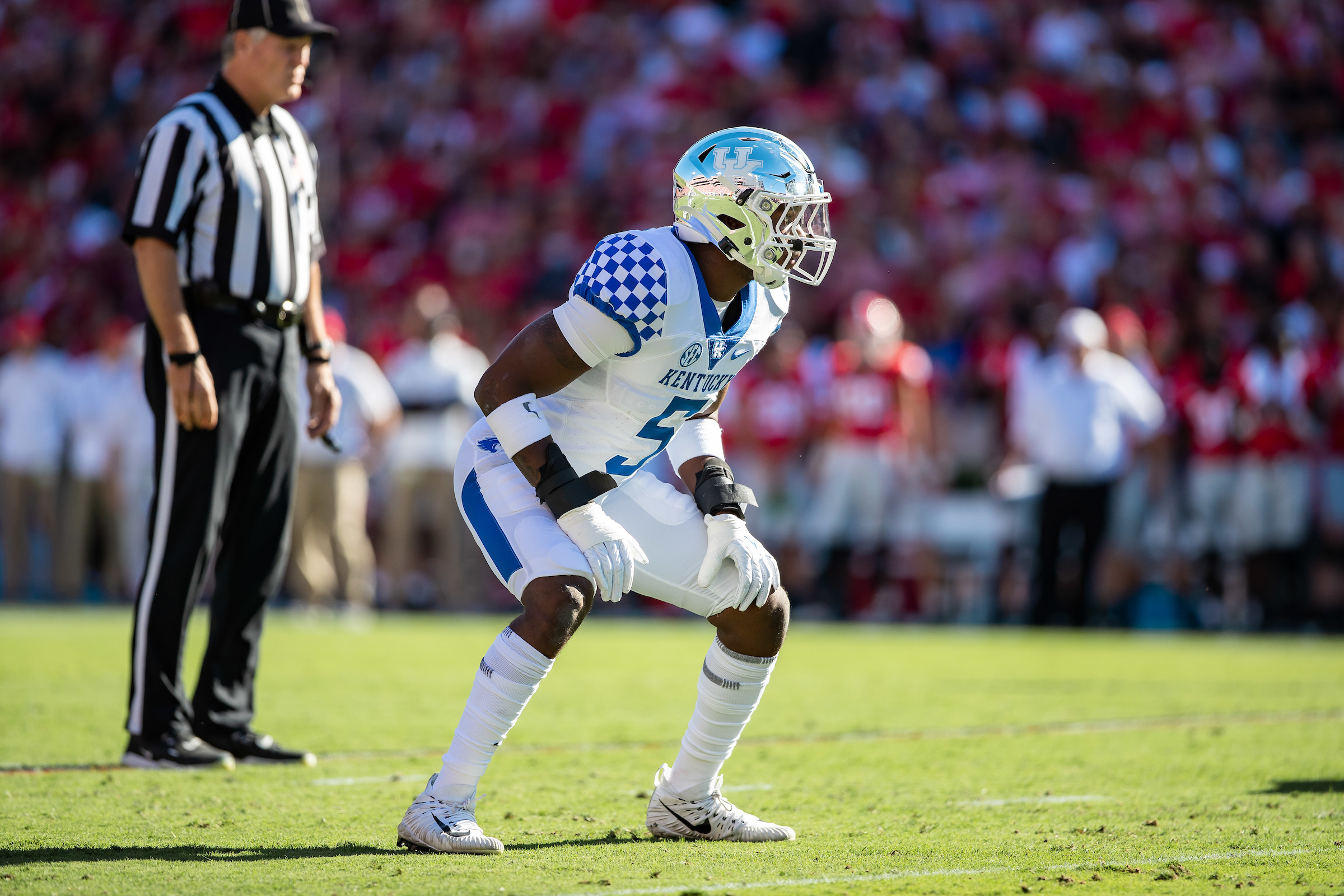 The Kentucky defense went through something last week that they had not experienced so far this season – missed tackles.
The Cats saw South Carolina break some tackles as the Gamecocks beat the Cats 24-14 on Saturday night at Kroger Field. The UK defense knows that missing tackles is not something that can continue.
Defensive coordinator Brad White noted those miscues, and the fact that they have been a focus, after Wednesday's practice.
"Missed tackles was a big issue," White said. "We've got to play better, we've got to play crisper. We've got to put a full game together."
Missing tackles is something that the Cats will need to clean up immediately due to this week's opponent. Mississippi State, which employs the Air Raid offense, can make a defense pay for missed tackles. In fact, it happened to the Cats last season in Starkville.
"Number one thing that we can't carry over from last week to this week is missed tackles," White said. "And last year, we missed 21 of them at Mississippi State."
The Bulldogs can make defenses pay for not bringing the runner/receiver down immediately.
"Last year, there were running backs, when they got the ball in their hands, how many yards after the catch (did they have)," White said. "The year before, when we played well, we were able to pin those down and limit those YAC yards."
UK linebacker DeAndre Square says missing tackles is more mental than physical.
"I think missed tackles is not a lack of technique," Square said. "I think it's more of a mental thing. You've got to think about the right thing. But open field tackling is probably the hardest thing to do. If you're not focused on what's right in front of you, that's how you miss tackles."
The last two games between Kentucky and Mississippi State could not have been more different.
Two seasons ago in Kroger Field, the Cats held MSU without an offensive point in a 24-2 win. UK picked off six Bulldog passes in the game on the way to a win.
Last season in Starkville was a much different story. MSU quarterback Will Rogers completed 36 of his 39 passes for 344 yards and a touchdown as the Bulldogs topped the Cats 31-17.
White knows that this year's edition of the Bulldogs is even better than last year's.
"Huge, huge challenge. This offense, over the last two SEC games, is averaging over 520 yards per game," White said. "And it's not just through the air. The quarterback is playing at an extremely elite level. He understands the offense and he knows where to go. We've got to play at a really high level to have a chance this week."
So, in addition to tackling, what can the Cats do to turn the game in their favor this week?
"The year before (2020), turnovers were a huge deal," White said. "We need to find a way to create some."
If the UK defense can shore up its tackling and create some MSU turnovers, the outcome could be more like the 2020 game than the 2021 matchup.