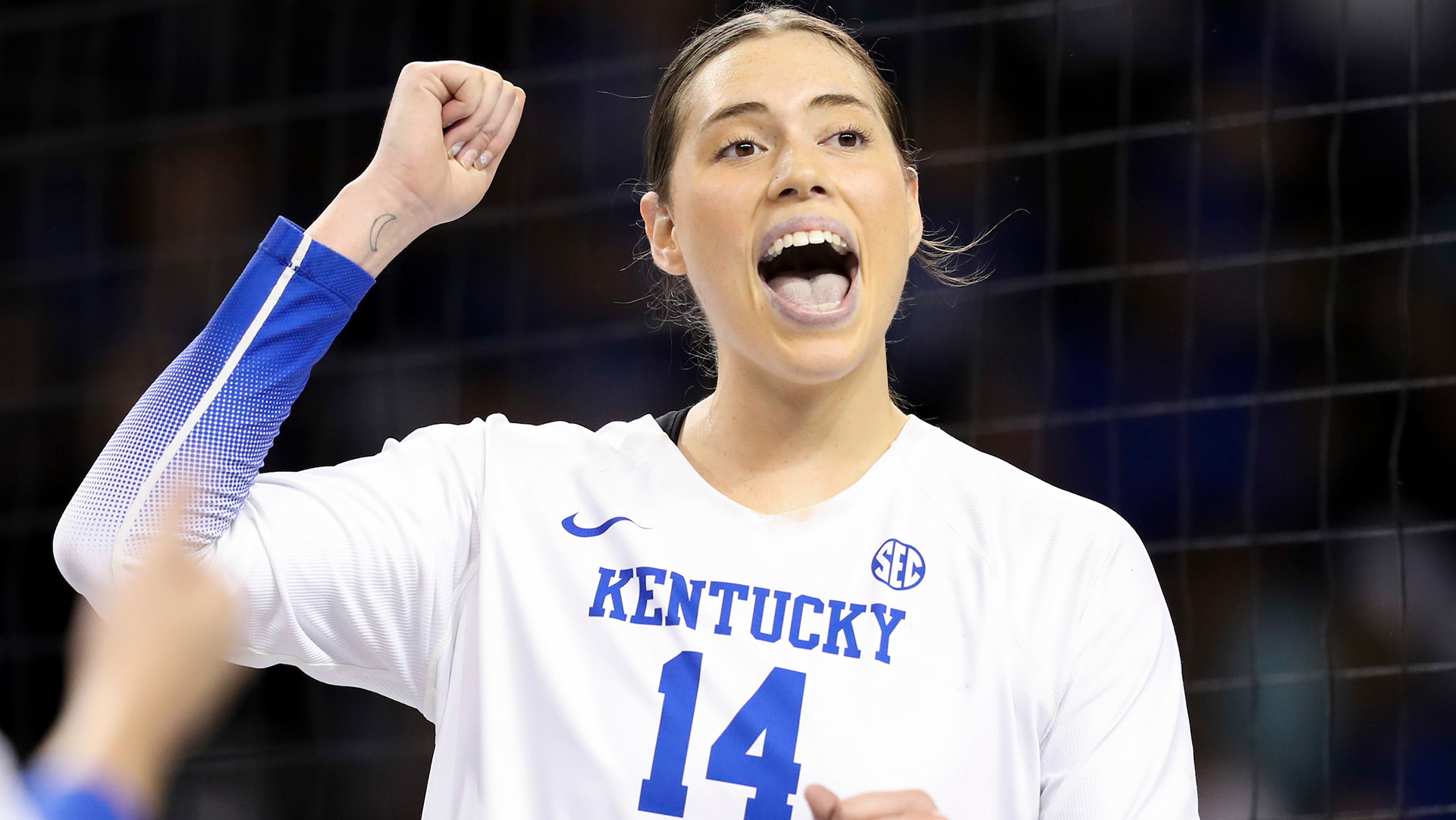 October 12, 2022 - 10:42 PM
Bella Bell Thriving of Late for UK Volleyball
The 2022 season has been a bit of a roller coaster for Kentucky's Bella Bell. While there have been some rough patches, she's currently riding high, playing her best volleyball of the season.
Bell was at it again, for the fifth consecutive match, on Wednesday as No. 19 Kentucky topped Ole Miss in four sets at Memorial Coliseum. The Blythewood, South Carolina, native had 10 kills and just two errors on 16 swings (.500 hitting percentage) on the evening, serving as part of a balanced offense that led the Cats to the win.
But what Bell does as well as anyone on the team is blocking. And she had that part of her game going on Wednesday as well. Bell recorded seven total blocks, part of UK's 14 total blocks in the match.
Bell went to the bench earlier in the season and could have hung her head. Instead, she worked hard to get to the point where she is currently thriving.
"Just not getting down on myself," Bell said following Wednesday's match. "Me and (Elise Goetzinger) we compete all the time, ever since I've been here. Just going out in practice like I am still starting and I think that really helped me boost my confidence."
Bell's hot streak started at Missouri, when she had a career-high 13 kills, while hitting .632, and seven blocks in a UK victory. Against Alabama, Bell had seven kills and hit .417. Last weekend, as the Cats swept a pair of matches at Arkansas, Bell had six kills and nine blocks on Friday, then had 11 kills on Saturday
UK head coach Craig Skinner says that the improvement in the Kentucky block game is the result of a number of factors.
"We've put a lot of time into it. It takes a little bit of time," Skinner said. "Obviously, Bella terminates balls with her block. We're lining up in the right spot better now. Blocking has a lot to do with physicality, but it has a lot to do with where you're lined up. If we aren't lined up in the right spot, (opponents) can be 5-8 or 6-4 and still kill the ball. Getting the right game plan, following the game plan, setting up in the right spot has made a big difference."
Kentucky entered Wednesday's match in eighth place in the SEC with 2.28 blocks per set. But with the improvement of Bell and Reagan Rutherford, in addition to a healthy Azhani Tealer, the Cats' block continues to improve.