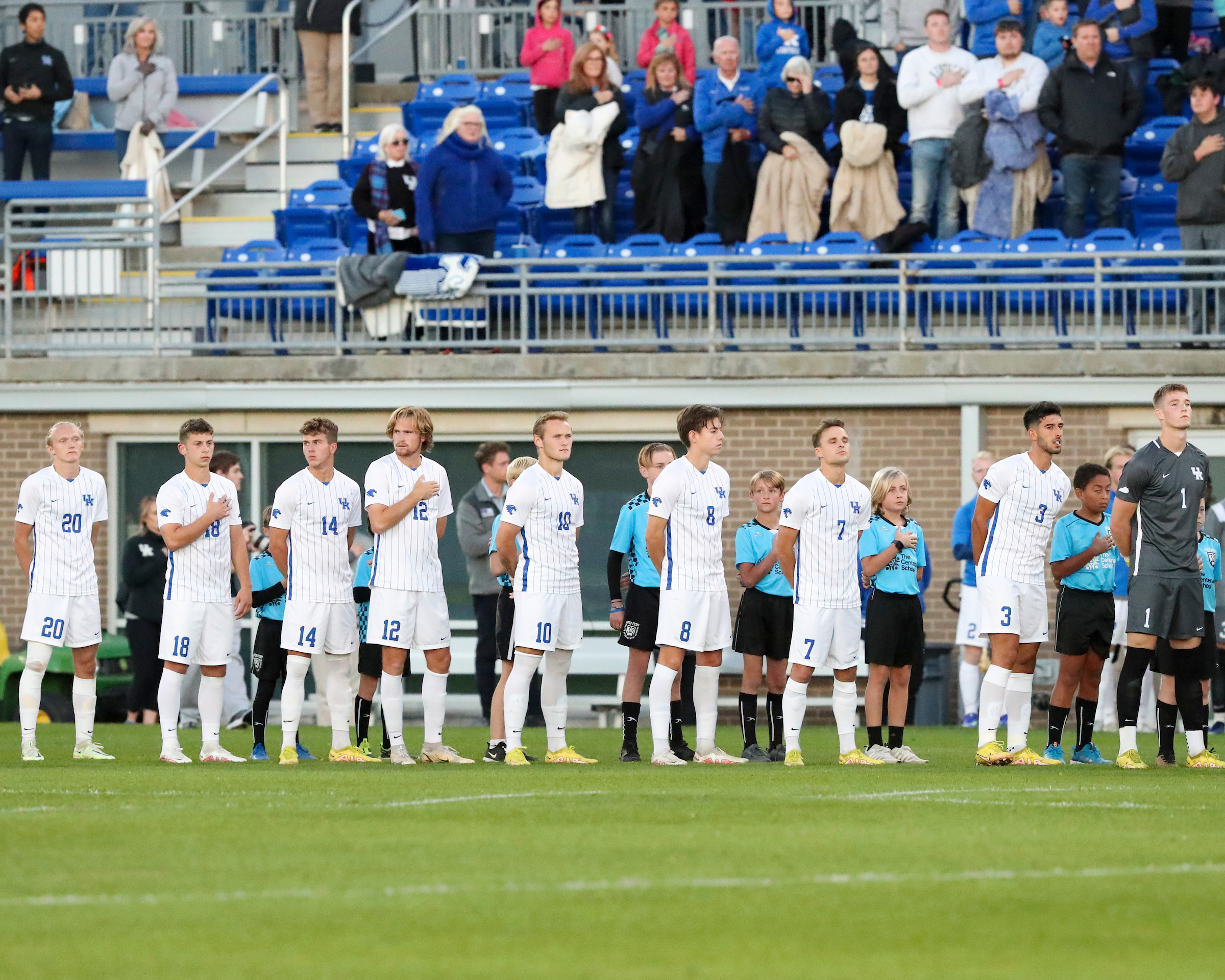 October 11, 2022 - 09:04 PM
Men's Soccer to Host No. 16 Dayton Wednesday
LEXINGTON, Ky. – The No. 3 Kentucky men's soccer team (8-0-2, 3-0-1 Sun Belt) will host No. 16 Dayton (8-0-3, 2-0-3 A-10) for a 7:00 p.m. ET non-conference matchup at The Wendell & Vickie Bell Soccer Complex on Wednesday.
The Wildcats are entering the midweek contest following a 6-0 victory over Sun Belt Conference opponent Georgia Southern on Sunday. The six Wildcat goals were the most tallied in a single game since UK faced New Mexico in 2018.
Ben Damge became the first Wildcat to score a hat trick in nine years, as well as the first to score three goals in a game since Tyler Riggs scored three against Florida Atlantic on Nov. 3, 2013. Damge became the 10th Wildcat in school history to record a hat trick. Chris Soler has the school record having scored four vs. Georgetown on Oct. 17, 2001.
Eythor Bjorgolfsson, Enzo Mauriz and Mason Leeth scored the Wildcats' other three goals.
The Wildcats were dominant in defense, keeping a clean sheet for the fourth time this year, first time in conference play, as well as for the first time since Sept. 2. Georgia Southern only got one shot on goal, and not before the final moments of the match.
UK won their fourth game in a row Sunday and the Wildcats have scored three or more goals in each of those victories.
Kentucky and Dayton hold a 2-1-1 all-time series record with the last matchup taking place last season in Ohio where UK secured the win over the Flyers, 3-1.
Live stats will be available for the match against the Flyers by  clicking here. Fans can also stream the contest live on ESPN+.
For the latest on Kentucky Men's Soccer, follow @UKMensSoccer on Twitter, Facebook and Instagram, as well as on the web at UKAthletics.com.