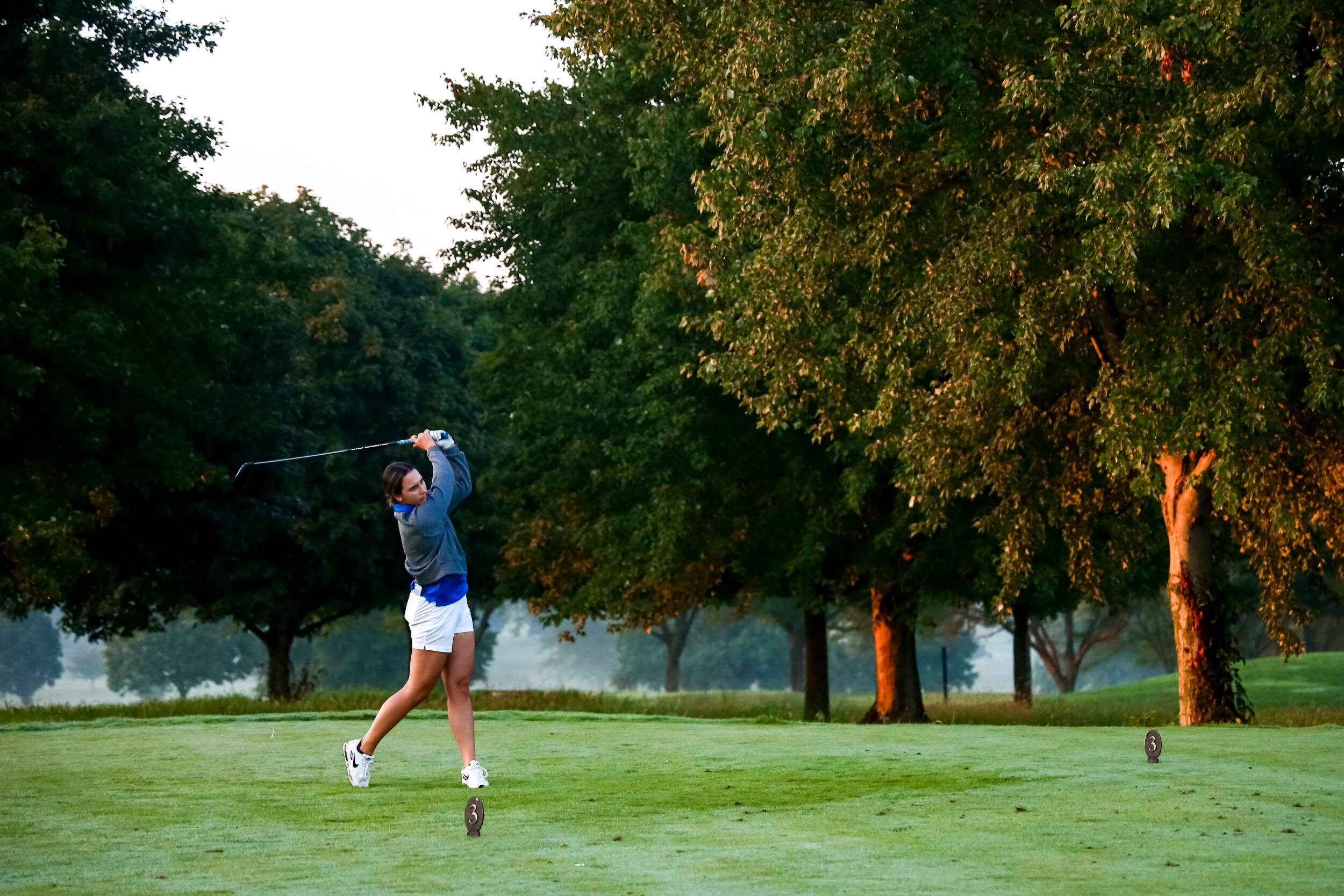 October 9, 2022 - 09:26 AM
Wildcats' Primed for Medinah Country Club Debut
*Abigail Sutherland will play as an individual in replace of Marta López Echevarría (updated Oct. 9 at 3:30 p.m. ET).
MEDINAH, Ill. – The University of Kentucky women's golf team is back in action this week, competing in its third tournament of the season at the Illini Women's Invitational at the famed Medinah Country Club (par 72, 6,166 yards) in Medinah, Illinois, Oct. 10-11. 
The Wildcats will compete in a stroke-play, shotgun format, with 36 holes scheduled for Monday beginning at 9:30 a.m. ET and 18 holes scheduled for Tuesday starting at 10 a.m. ET.  
"We're looking forward to playing at Medinah for our next event," said head coach Golda Borst. "This is a tournament that we've been trying to work into our schedule for a couple of years now due to the history of the course, so we're excited to get going. Our team has had two weeks to prepare and I feel like they have done really well. They've all been focused and intentional about their practices and I know we'll be ready to roll come Monday morning." 
The course combined with the field will make for one of Kentucky's toughest competitions yet. 
UK will meet 15 teams at the Illini Women's Invitational, including three teams ranked in the Women's Golf Coaches Association Top 25. The field includes Alabama, No. 22 Auburn, East Tennessee State, Georgia, Illinois, Northwestern, Oklahoma, No. 19 Oklahoma State, Oregon State, Purdue, No. 13 San Jose State, Tennessee, TCU and Texas Tech. 
The Wildcats have seen five of those teams already this season – Alabama, Auburn, Georgia, Illinois and Tennessee – forming a 1-5 record against them thus far. The Cats won the head-to-head matchup against Georgia in the season opener at the Cougar Classic. 
Live scoring for the tournament can be found here.  
The Wildcats will sport a familiar lineup for the tournament, including Laney Frye, Jensen Castle, Marissa Wenzler, María Villanueva Aperribay and Ivy Shepherd. It will mark the third straight time this season Big Blue Nation has seen that fivesome on the track.  
Abigail Sutherland will make her collegiate debut competing as an individual.  
Sitting at the top of the lineup are Frye and Castle, who both lead the team with stroke averages under par, sporting a 71.5 and a 71.6, respectively, through six rounds apiece. Junior Frye is leading the team in rounds of par-or-better, after earning a 69, 71, 67 and 71 through her first four rounds of the season, while she also boasts a stretch of 20 straight rounds counted toward the team total, a streak that began in Spring 2022.  
Castle is coming off her best tournament of the season, turning in a 3-under-par 213 for a share of 11th place at the Mason Rudolph Championship. The senior put together rounds of 70, 73 and 70 for her first under-par tournament total of the season. Like Frye, Castle is a consistent contributor to the lineup, also boasting a streak of 10 straight rounds counted toward the team total.  
Marissa Wenzler, a senior, also just turned in a promising performance in the last tournament, pairing a first-round 72, her lowest 18-hole score of the season, with a second-round 73. Despite being on the border of closing in on her first to-20 finish of the season, Wenzler still made a considerable leap from the first tournament to the second tournament to earn a share for 38th place at the Mason Rudolph Championship.  
María Villanueva Aperribay will compete as the fourth player in the lineup. The Wildcat owns a 74.5 scoring average through six rounds this season, as the senior put together two straight 9-over-par scorecards in each of her first two tournaments of 2022-23.  Similarly, Ivy Shepherd has a 74.5 scoring average, also turning in two straight 9-over-par tournament totals. Both Villanueva Aperribay and Shepherd are in the hunt for their first round of par-or-better at Medinah. 
The Illini Women's Invitational at Medinah Country Club will be played on Course No. 2. The course was designed by Tom Bendelow and officially opened in 1925. The course will be set up for a par 72 and will play 6,166 yards long.    
The Wildcats can expect mostly sunny skies with temperatures in the lower to mid 60s during their time in Illinois.