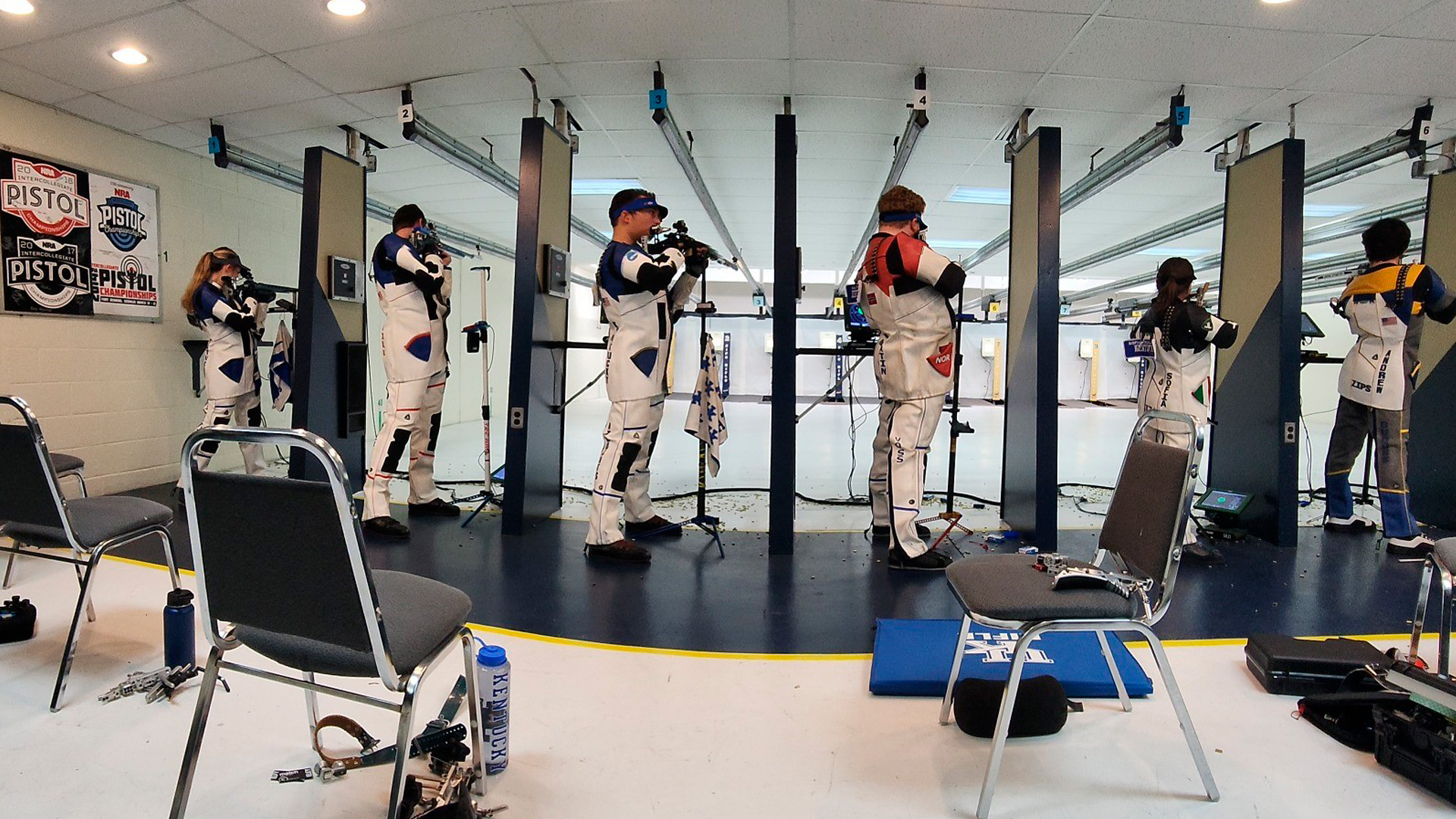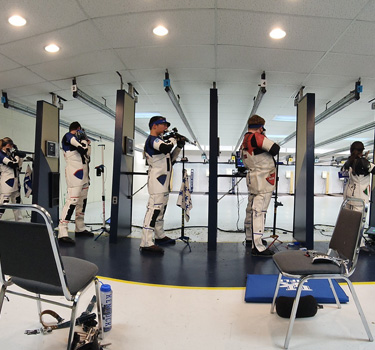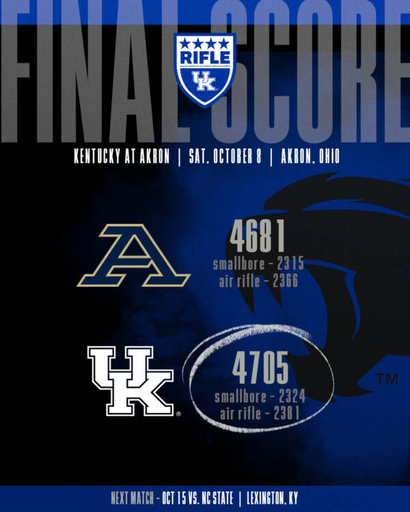 LEXINGTON, Ky. – University of Kentucky true freshman Sofia Ceccarello had a dazzling start to her collegiate career, finishing as the top aggregate performer, leading the No. 3 Wildcats to a season-opening victory at Akron on Saturday.
Kentucky posted a 4705 overall as a team against the Zipps, posting a 2324 in smallbore and 2381 in air rifle. Akron earned a 2315 in smallbore and 2366 in air rifle for a team score of 4681. Murray State also competed at the meet against Akron, scoring a 4691.
"Obviously, we thought the numbers could be better from top to bottom and were disappointed with the overall performance," UK head coach Harry Mullins said. "On a positive note, we saw some really good individual performances that I think we can build on. It is the first match of the year, so this will give us some good teaching moments and points of emphasis to improve before we open up our home schedule next weekend."
Saturday's competition was spread across three relays with Kentucky taking air rifle and smallbore posts in all three relays. A majority of Kentucky's smallbore lineup was in the second relay, while most of the air rifle countable athletes were in the third relay.
In smallbore, Kentucky's lineup consisted of Ceccarello, fifth-year Richard Clark, senior Emmie Sellers, fifth-year senior Will Shaner and freshmen Martin Voss. Shaner led the squad in the discipline with a 584, while Ceccarello scored a 583. Sellers posted a 580, while Martin scored a 577 and Clark a 576.
Several non-countable Wildcats scored well in smallbore, including sophomore Allison Buesseler, who scored a 586 to lead all Wildcats. Fellow sophomore Kayla Kalenza scored a career-high 582 as did fifth-year senior Mitchell Nelson, while senior Jaden Thompson posted a 575. Freshman AJ Hotko posted a 573, while senior Mason Hamilton scored a 562 and sophomore Tori Kopelen earned a 560.
Overall, UK performed better in air rifle with the lineup of Ceccarello, Buesseler, Clark, Sellers and Shaner. Ceccarello posted an impressive 599. The impressive 599 is just one of nine scored this season in air rifle. Clark finished second in the lineup with a 595, while Shaner posted a 594. Sellers scored a 593 while Buesseler earned a 591.
Other Wildcats that performed well outside the lineup were Kalenza and Voss, who each earned a 594. Nelson scored a 589, while Thompson had a 587 and Kopelen a 584. Hamilton and Hotko scored 574 and 575, respectively.
Akron was paced by Andrew Duross, who scored a 582 in smallbore and 595 in air rifle for a 1177. Murray State was paced by Matias Kiuru, who scored a 1181 overall with a 586 in smallbore and 595 in air rifle.
Kentucky will begin its home campaign on Saturday, Oct. 15 when it plays host to NC State inside the Barker Hall UK Rifle Range. Admission is free. Breakfast will be provided to fans who come watch smallbore live targets in the Buell Armory, with spectators allowed inside the range during air rifle.
For more information on the Kentucky rifle team, visit UKathletics.com or follow UKRifle on Twitter, Instagram and Facebook.