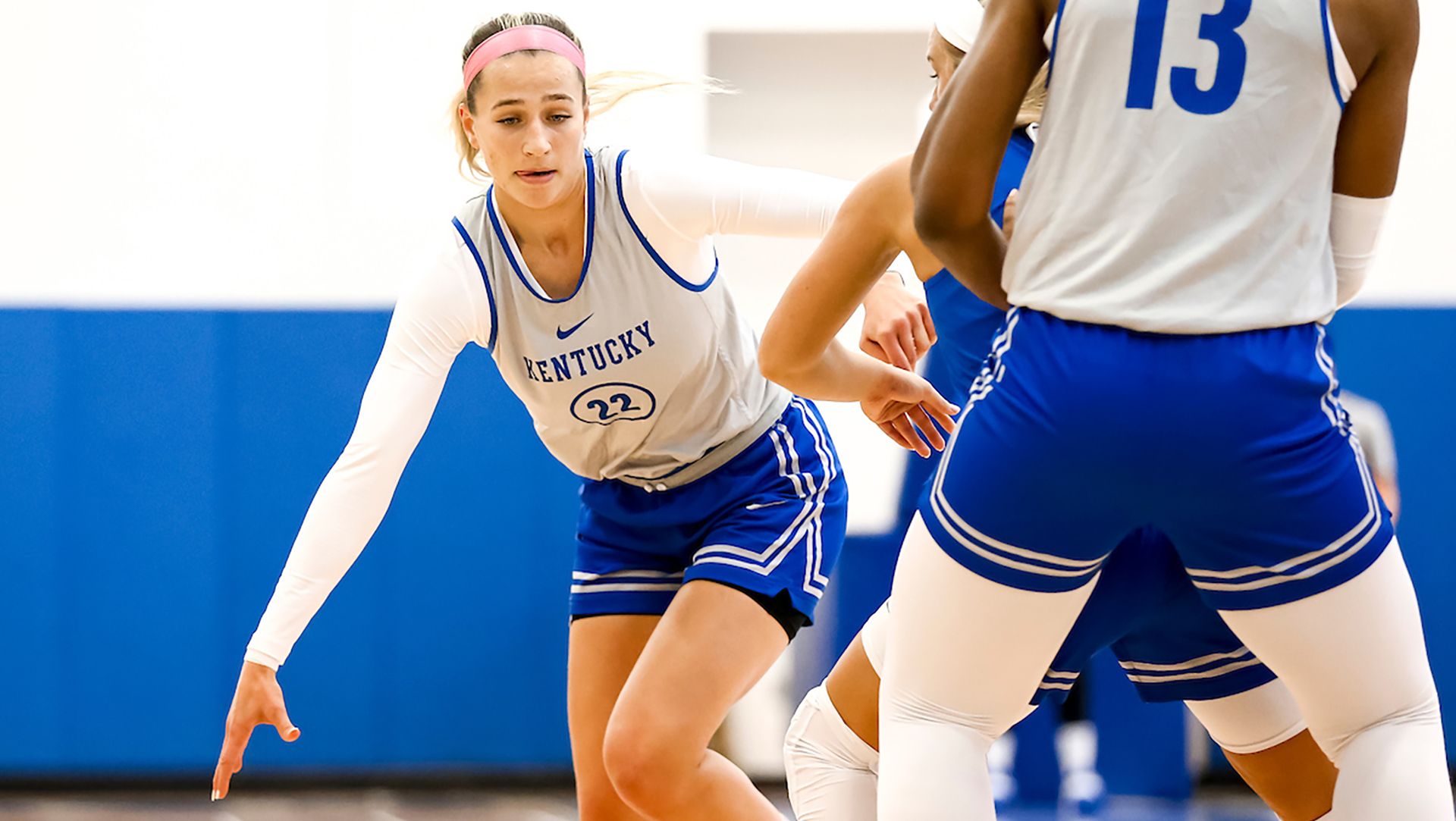 October 5, 2022 - 09:50 PM
Elzy Leaning on Veteran Leadership for Upcoming Season
The motto for this year's Kentucky women's basketball team is "Built Different". And when Kentucky takes the floor this fall, the Cats will certainly be built differently than they have been the past few years. In fact, UK will basically have a brand new team.
Gone is the school's second all-time leading scorer, Rhyne Howard, who graduated, was selected first in the WNBA Draft by the Atlanta Dream, and was recently named Rookie of the Year following her first professional season.
In addition to Howard, the Cats lost key contributors Dre'una Edwards, Jazmine Massengill and Treasure Hunt to the transfer portal.
While there have been a number of both departures and newcomers, there will still be some familiar faces on the UK roster this season. And those players will be counted on for stability and leadership, among other things. Head coach Kyra Elzy will be leaning on her five returnees (Robyn Benton, Blair Green, Emma King, Nyah Leveretter, and Jada Walker) to help guide the 10 newcomers.
"We have five returners – Blair, Emma, Jada, Nyah and Robyn," Elzy said. "That's a core, veteran group that understands the expectation and standards of this program."
Green is back for her fifth season with the UK program. The Harlan, Kentucky native, missed all of last season after an Achilles injury in the preseason. She's looking forward to getting back on the court.
"I just really want to focus on making an impact this year in any way that I can," Green said. "And leaving it all on the court."
Green has taken on a primary leadership role for this year's team, something that she is handling well.
"I think it's coming pretty natural. Last year was pretty huge, being more of a vocal leader," Green said. "Coach Elzy and all of the coaches have prepared me for this."
Elzy is very excited to have Green back on the floor this season.
"So happy to have Blair Green back," Elzy said. "She has worked extremely hard. We have to remind her that an off day is an off day. She is a great asset to us. Her ability to shoot the basketball, I called her a sniper. But also, her veteran experience. She brings that to us. She understands what we need and want in this program. She makes us different on the floor."
Walker, a sophomore guard returns this season after an outstanding freshman campaign. Walker averaged 10.4 points per game and was named to the SEC All-Freshman team following the season. She hopes to build on her big freshman year.
The Cats lost some players in the transfer portal, but they were also able to pick up some seasoned players who should contribute this season. Former Kentucky Miss Basketball Maddie Scherr transferred in from Oregon and should be a key cog in the UK attack this year. Elzy also added South Carolina transfer Eniya Russell, LSU transfer Ajae Petty and Adebola Adeyeye from Buffalo. Elzy hopes that the experience of these players will help this year's Cats.
"They all have veteran experience," Elzy said. "They have college experience and they understand what it takes to be successful at this level."
Scherr will be a key asset for Elzy and the Cats this season. The Ryle High School graduate knows that fact and she wouldn't have it any other way.
"I transferred here to contribute. That's definitely my plan," Scherr said. "I'm definitely somebody who wants my team to win at all costs. I feel like we're going to need me to produce, especially in the leadership role. We really needed somebody to draw everybody in. I've been stepping into that role."
Elzy knows that Scherr needs to be a leader for this year's team.
"It was great to have Maddie Scherr come back home," Elzy said. "She knows what it means to put that jersey on. Maddie brings a competitive spirit and a high basketball IQ. I'm counting on Maddie to be a leader on this team."
Elzy and her staff added an impressive, six-player recruiting class. That class includes Kennedy Cambridge, Tionna Herron, Amiya Jenkins, Cassidy Rowe, Zennia Thomas and Saniah Tyler.
"We have six rookies. They do not know what is going on or what has hit them," Elzy said. "But they are talented and I love that they have no 'back down' in them."
As for what Elzy has noticed about her team so far in practice, the UK head coach did not hesitate with her answer.
"Competition," Elzy said. "They all want to play. You will earn it in practice, so everybody's trying to earn the right to play. So, I think that's sparked our competitive spirit."
While the faces may have changed, the goals remain the same for this year's Cats.
"Our goal is to compete for a championship," Elzy said. (I'm) excited about what the future holds for this team."