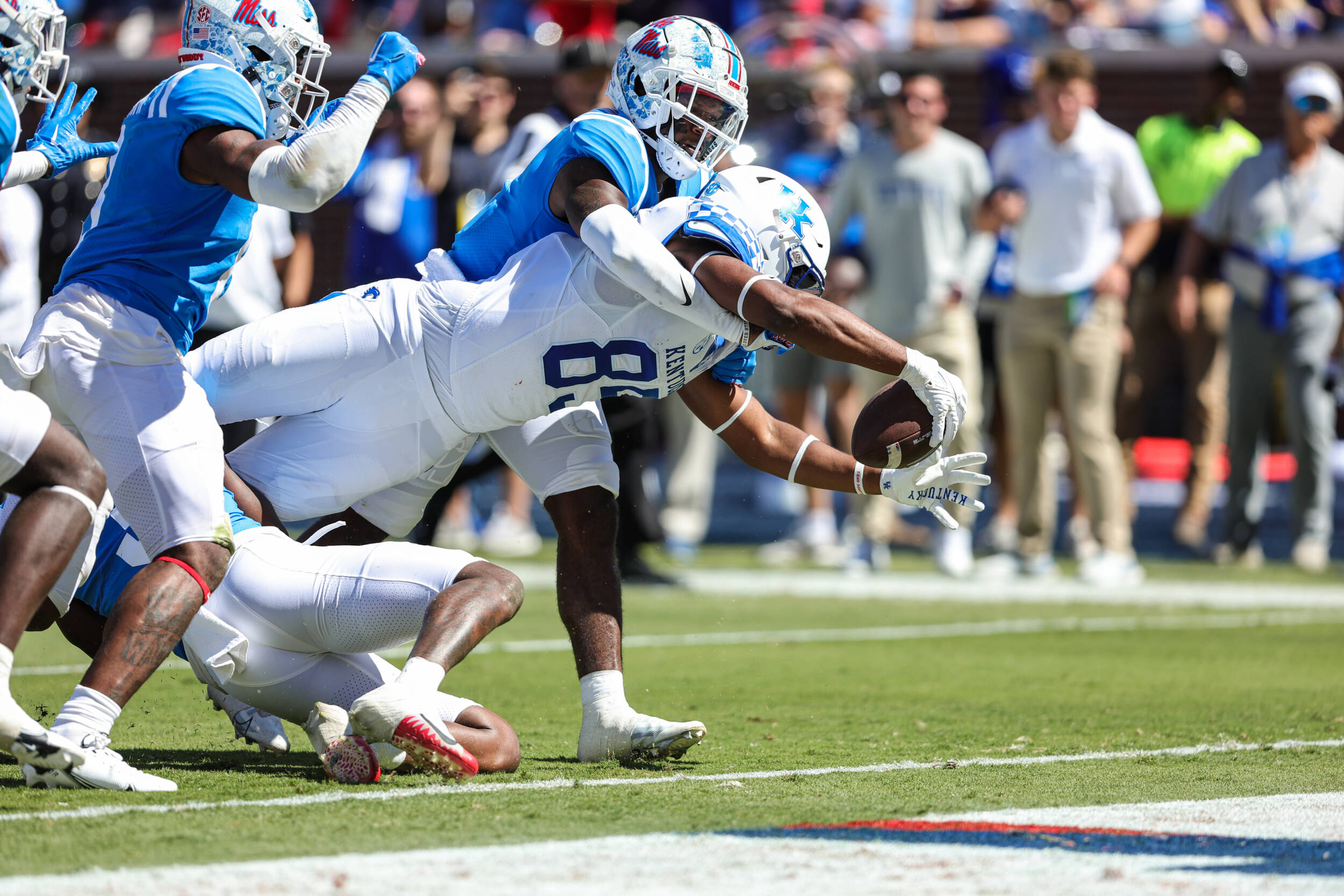 Kentucky came up just short at Ole Miss on Saturday, falling 22-19 to the Rebels at Vaught-Hemingway Stadium. On Monday, UK head coach Mark Stoops reflected on just how close the Cats came to winning Saturday's contest.
Stoops and his team focused on three specific goals for Saturday's game. In two of them, the UK head coach was pleased. But the third phase is what cost the Cats in the end.
"We talked a lot about pride and our performance. That was off the charts," Stoops said. "The third element, the most important, was perfect execution, and we didn't have that. The pride and performance I feel (great) because I love the way our team played, I really do. Adversity, mistakes and all that – the belief and the ability to drive it right back down there and put ourselves in position to win that game, after some of those unforced errors, was great to see our team respond. I wish we would have finished it."
Stoops knows that his business is about the results, but he absolutely takes pride in how his team played on Saturday.
"At the end of the day, it's either a win or a loss," Stoops said. "And it's a loss, and nobody feels good about that, but I love the competitive nature of this team."
As a football coach, and someone who loves the game, Stoops enjoyed Saturday's hard-fought contest. Well, everything but the outcome.
"I thought it was a great game, even with the mistakes we made," Stoops said. "I thought both teams played their tails off. It was competitive. Stressed each other. It was a really good football game. And it stinks to come up on this end."
As for this week, Stoops knows that there are two important things his team needs to do – get better and get healthy.
"We've got to really improve, get back to work and do the things necessary to put ourselves in a position to win," Stoops said. "(The) team is banged up, we've got to get healed, get some rest."
Kentucky will face South Carolina on Saturday night at Kroger Field. The Gamecocks started the season by losing two of their first three. However, those losses came against nationally-ranked Arkansas and, at the time, top-ranked Georgia. Stoops has seen improvement in Shane Beamer's squad each week.
"A team that's much improved," Stoops said. "They've had a tough SEC schedule and I'm sure (they are) very hungry to come in here and get a victory."
The Gamecocks are led by quarterback Spencer Rattler, who has hit on 98 of 151 through the air this season for 1,121 yards with four touchdowns. Rattler, a transfer from Oklahoma, has thrown seven interceptions on the year.
South Carolina also has an outstanding running back in MarShawn Lloyd, who has rushed 53 times for 324 yards and six scores.
Kentucky will spend the week not lamenting the mistakes of last week but trying to correct them. And some time to heal would benefit the Cats as well.