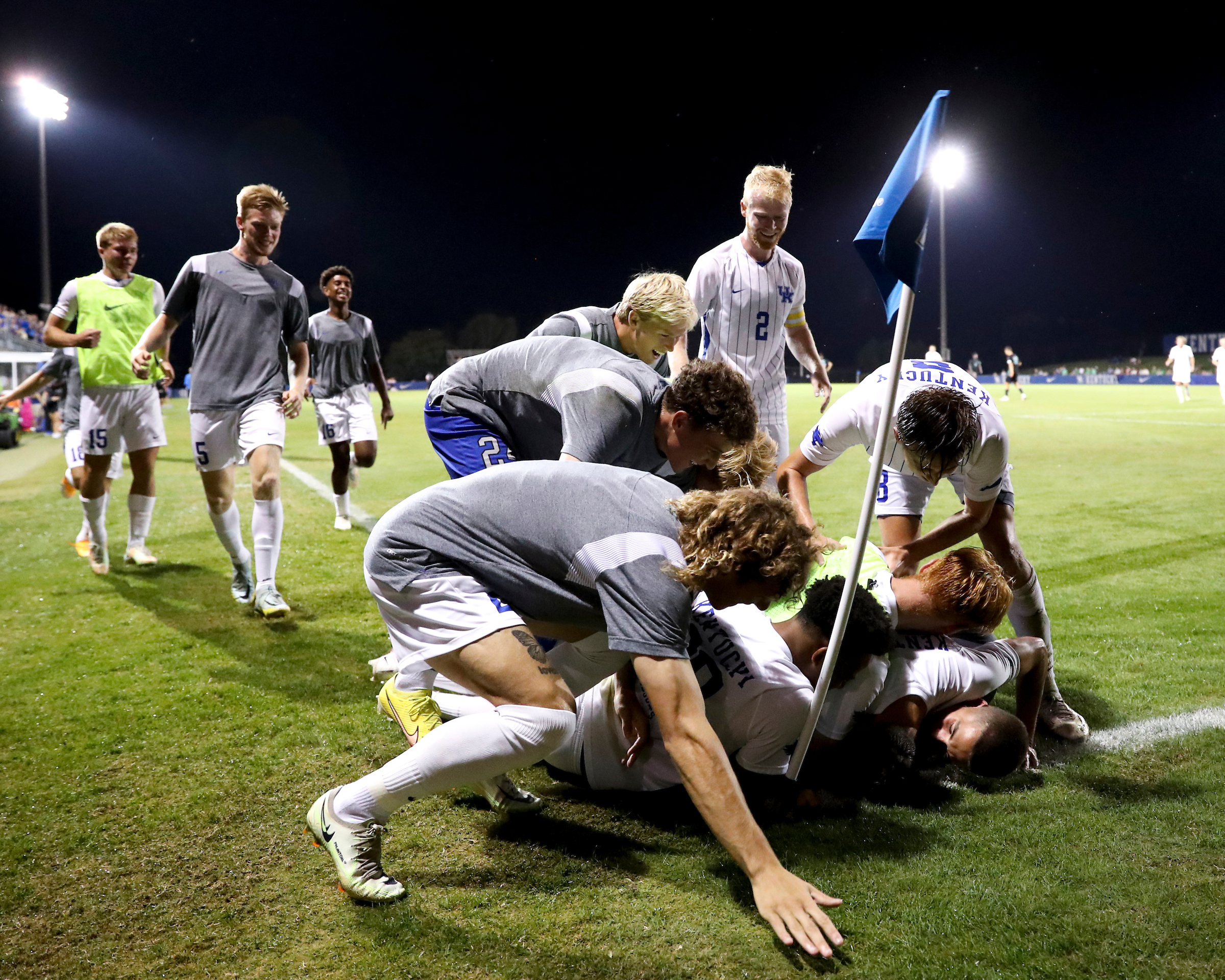 October 1, 2022 - 09:57 PM
Kentucky Remains Undefeated with Road Win at JMU
HARRISONBURG, Va. – The No. 5 Kentucky men's soccer team (7-0-2, 2-0-1 Sun Belt) earned its second Sun Belt Conference victory with a 3-1 defeat over James Madison University (3-6-2, 0-2-1 Sun Belt) at Sentara Park in Harrisonburg, Va. on Saturday.
With three different goal scorers securing the win for Kentucky, the Wildcats began a new series playing JMU for the first time in program history.
UK wasted very little time to get a score on the board following a scoreless first half. Senior Ben Damge earned his second goal of the season in the 54th minute of the match. With an assist from fifth-year senior Clay Holstad, Damge put the Cats up 1-0. The assist was Holstad's first of the 2022 campaign.
Soon after Damge and Holdstad's efforts placed Kentucky ahead, a foul was committed by JMU's Tyler Clegg which earned UK a penalty kick. Fifth-year senior Lucca Rodrigues took the shot with ease which successfully gave the Cats a 2-0 advantage in the 57th minute. The goal was Rodrigues' first of the season.
Play resumed for 15 minutes before the Dukes were able to find success of their own with a goal scored in the 75th minute by Clay Obara. However, JMU was unable to find the net again before the end of regulation.
To seal the deal for the Wildcats, sophomore Martin Soereide made a breakaway unassisted score with five seconds left to play. His score was his first of the season and second of his collegiate career.
Kentucky will return home to The Wendell & Vickie Bell Soccer Complex next Saturday for a 7:00 p.m. ET Sun Belt Conference matchup against Georgia Southern.
For the latest on Kentucky Men's Soccer, follow @UKMensSoccer on Twitter, Facebook and Instagram, as well as on the web at UKAthletics.com.