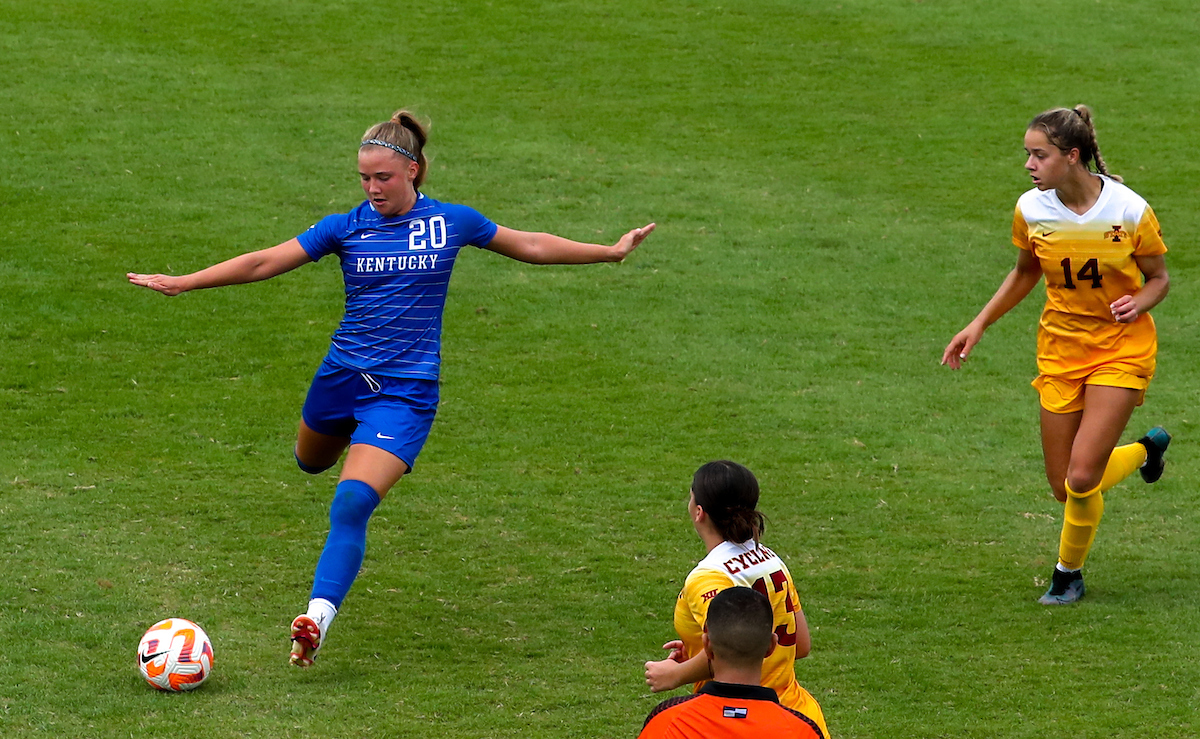 September 28, 2022 - 01:14 PM
Úlfarsdóttir Enjoying Best Season in Kentucky Blue
As one can imagine, the transition from living in one country to another comes with many challenges, cultural differences, and adaptations to make. This includes everything from learning a new language to adjusting to the different types of cereal on the shelves at your local grocery store. Although an obstacle, Úlfa Úlfarsdóttir embraces this drastic life change to find success in the sport she is passionate about.
Úlfarsdóttir, a native of Hafnarfjordur, Iceland came to the United States to follow her dreams of playing soccer at a high level while earning an education at the same time. As the first of her seven siblings to make this move to America, Úlfarsdóttir took a leap of faith when going through the recruitment process.
"Choosing the University of Kentucky was random," Úlfarsdóttir said. "I literally just closed my eyes and picked one. I had no idea or preference. I didn't know much about the level other than being (division one) and that's about. But I really like the color blue, that's my favorite color, so I knew I wanted to play for them."
Bleeding blue was obviously an attractive part of UK in Úlfarsdóttir's decision-making process, but she explains that the previous UK coaching staff having European ties was also crucial.
"The former UK Women's soccer coach was European which made him more interested in recruiting European players," Úlfarsdóttir said. "I probably wouldn't be here without him and his interest in international players."
Úlfarsdóttir explained that the lack of opportunity Iceland gives for students to simultaneously play sports and receive an education as a main factor in her desire to move to the United States.
"I heard a lot about other people going from my country and I don't know why, but I just knew I was going to do it," she said. "It felt too good to be true since the universities in Iceland don't even have athletics."
Úlfarsdóttir brings a great deal of knowledge and wisdom to share with the current UK women's soccer players as an international player with different experiences and perspectives. She spoke about how her personality has been strengthened through this transfer as well as helping her to have more of a 'go with the flow attitude' in life.
"The soccer culture is much different," Úlfarsdóttir said. "Here, I feel like it's more focused on recovery, injury prevention, being strong, and being fast but in Europe and Iceland I feel like it's more technical and coaches are more focused on style and technique."
Úlfarsdóttir has found connections with the players on the UK team who hail from Denmark – Sara Makoben-Blessing, Emile Rhode and Marie Lynge Olesen. Úlfarsdóttir says they have made Lexington feel "more like home" and she is thankful for their bond over songs in the locker room. Although they speak different native languages, their cultures are very similar and Úlfarsdóttir looks at Makoben-Blessing, Rhode and Olesen as sisters and a piece of home away from home. Úlfarsdóttir has the ability to understand other people speaking Danish, something she plans on using this to her advantage on the field with other foreign players.
Like most athletes, Úlfarsdóttir has some goals for her third season here at UK and is already surpassing them with flying colors. She has already reached her career high in goals (four) in her first seven games of the 2022 season.
"It feels weird already reaching my career high early on in the season, but I just want to keep getting results in every game," she said.
Úlfarsdóttir is excited for SEC play to begin. She feels like this year's Wildcats can be a competitive force in the conference.
"I feel confident going into SEC play," she said. "We're a really good team and I think we can do great things. I feel like our team chemistry is strong."
Úlfarsdóttir is a key member of the Kentucky women's soccer team and will continue to contribute to the team's cumulative stats. But more importantly Úlfarsdóttir will lead the team as an upperclassman with unique experiences and intelligence.