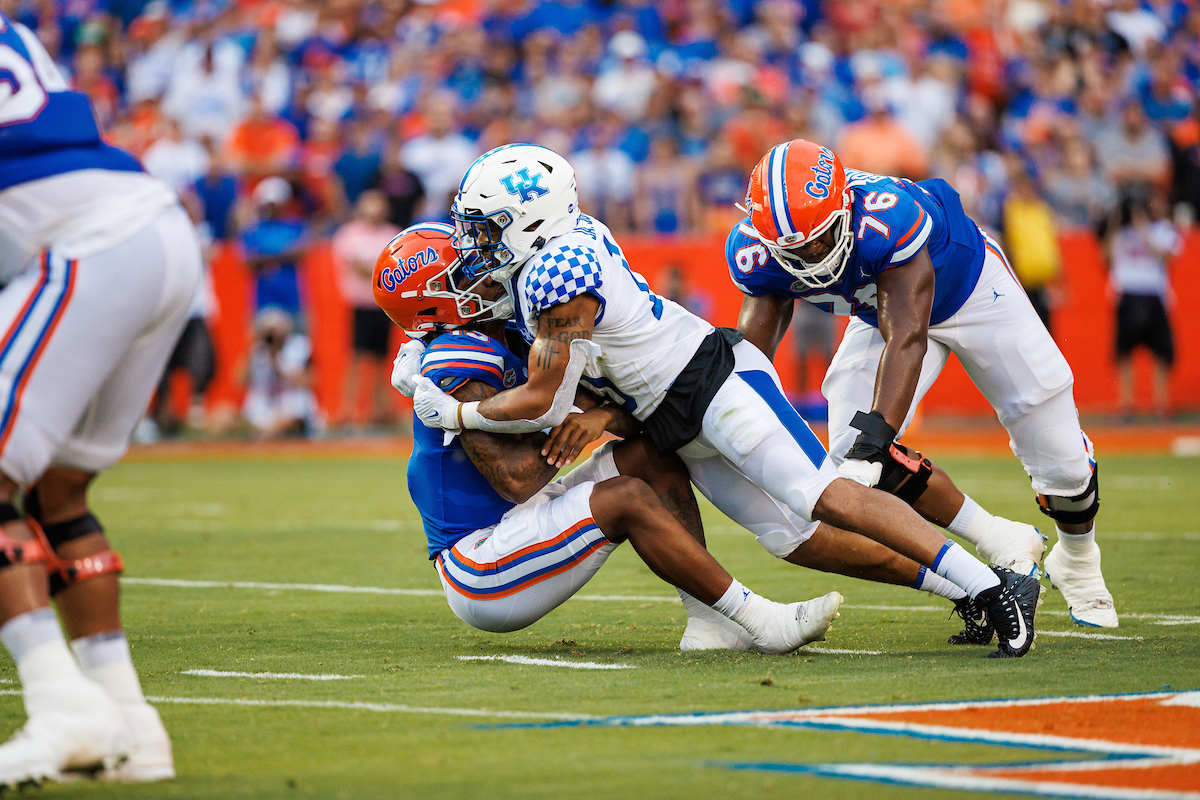 The last time Kentucky faced an opponent with a high-paced, quick strike offense, the result was not what the Wildcats hoped to see.
That game happened last season when Tennessee held the ball for just 13:52. But the Vols made the most of their limited time with the ball, racking up 461 yards of total offense on just 47 plays. Tennessee's first two touchdown drives lasted 11 seconds and 26 seconds. The Vols would have one more scoring drive that lasted less than a minutes on their way to a 45-42 win in Lexington.
Now, Kentucky gets another chance, facing the up-tempo attack of head coach Lane Kiffin and his Ole Miss Rebels. Through four games this season, the Rebels are averaging 41 points per game while possessing the ball for less than 26 minutes per contest.
Kentucky defensive coordinator Brad White knows that the Rebels can score points very quickly.
"They can score in a hurry. That tempo can jump on you," White said. "You have to do a great job, you've got to play smart, disciplined throughout the entire game, not just early. It doesn't matter if you have five great drives to start, if you don't stay focused throughout the whole game, they're not talking about how well you started, they're talking about how poorly you finished."
White is trying to help his defense balance between learning from the mistakes they have made in the past while not focusing too much on those miscues.
"Any time you face an offense of a similar style, you try to draw from the lessons previous," White said. "But if you start dwelling on certain things, you live in the past. All we do is, we preach to our guys to live in the moment and if you don't talk about things you did wrong in the past, you're bound to repeat them. But at the same time, we're not going to dwell on them."
UK linebacker Jacquez Jones spent three years playing for Ole Miss, so he has first-hand knowledge of the Rebels up-tempo attack and what the Cats will need to do to slow it down.
"Really, just get back to the ball and get the (defensive) call," Jones said. "It's going to be super fast. You've got to get them behind the sticks at the beginning. Once they get the first down and get it rolling, it's hard to slow them down."
Keidron Smith also played for Ole Miss, so it would make sense if White and the defensive staff called on both Smith and Jones when dealing with the Rebels' offense. White hopes the veterans can communicate exactly what the Cats will see on Saturday.
"We're just glad to have (Jones and Smith) as a part of this defense," White said. "They've obviously helped stress the urgency of just what kind of pace we're going to face."
Quarterback Jaxson Dart has connected on 51 of his 82 passes (62.2 percent) for 697 yards and five touchdowns with two interceptions. But the Rebels have done the majority of their damage on the ground this season. Running backs Quinshon Judkins and Zach Evans have provided a two-headed attack in the backfield this season. Judkins leads Ole Miss with 429 yards rushing and five touchdowns, while Evans has 365 yards on the ground and four scores.
Jones has a lot of respect for the Ole Miss rushing attack.
"They are some good backs," Jones said. "They're young but I think the sky's the limit for them."
Slowing down the Ole Miss offense will be a task for the Kentucky defense on Saturday. Learning from the past could come in handy in that process.