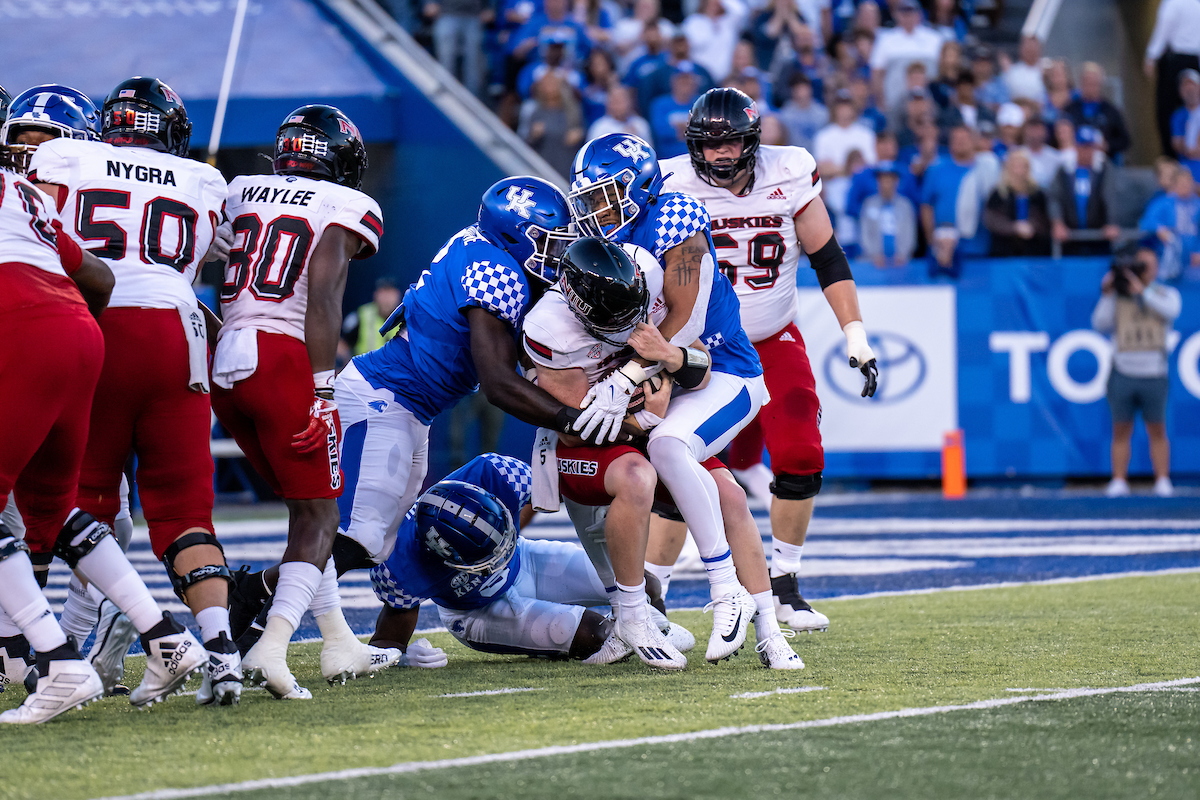 After beating Northern Illinois on Saturday night at Kroger Field, the Kentucky football team retained a lofty ranking when this week's polls came out. The Cats are ranked seventh by the Associated Press and eighth in the AFCA Coaches' Poll this week.
UK head coach Mark Stoops likes that his team's work and efforts are being recognized. But he also knows there's plenty of work to do to stay in that position.
"I like it there. I'd like it to stay there. That's what's most important," Stoops said on Monday. "Sure, it helps with the fan base showing up, it helps with recruiting, it helps with your team. Hopefully, it motivates them to practice hard to stay that way because we have a very tough stretch coming up, starting this week."
That opponent this week, Ole Miss, also finds itself among the nation's ranked teams. The Rebels are ranked 14th by the AP and 11th by the coaches. Stoops knows that facing the Rebels in Oxford will be a challenge for the Cats.
"I think they're very aggressive. Their tempo definitely puts pressure on you," Stoops said. "It's a credit to (Ole Miss head coach Lane Kiffin) because you can see how the way they are adjusting and how creative they are in their run game this year because they have very talented running backs. They are very complex and creative with the way they're creating space, and then the play action off of it."
In Saturday's win over NIU, the Cats did not play as well defensively as they had over the first three games.
"At times, we were terribly inconsistent," Stoops said. "A lot of the focus goes to offense but after viewing the tape, it goes to us being undisciplined defensively this week. We've got to get it straight. We've got to get to a point where we play for all three phases playing with the consistency we're looking for. Very simple things. Uncharacteristic of the way we've been playing defensively. I would describe it as undisciplined play."
The UK head coach was especially displeased with how the Cats' defense finished Saturday's contest.
"The end of the game, didn't finish the game very well defensively," Stoops said. "Let them hit two big plays to start two drives at the end of the game. We need to get a lot of that cleaned up."
Specifically, Stoops wants his defense to dial in on their particular assignments without getting distracted.
"Just with us, a lot of movement, eye candy, taking our eyes off of our reads, being out leveraged, just basic things," he said. "We just didn't play as clean as we have been."
However, when stepping back to look at the big picture, Stoops is not nearly as displeased. And he also realizes that every coach can find flaws with their teams this early in the season.
"The good news is, we're 4-0 and have an opportunity for a great challenge this week, playing a very good Ole Miss team," Stoops said. "There's very few teams out there, you're going to ask any coach right now and there's going to be parts of their team that they want to work on. We're not any different."
For now, Stoops and his team will go back to work and will try to prove that they are worthy of a high national ranking.
"Our team is mature enough. There are some young guys who still need to be taught. But the leadership of this team knows that's fine," Stoops said. "But it's about how we practice and how we prepare to get ready for a really good team and another tough challenge."
That challenge comes in the form of a formidable Ole Miss team on Saturday in Oxford.