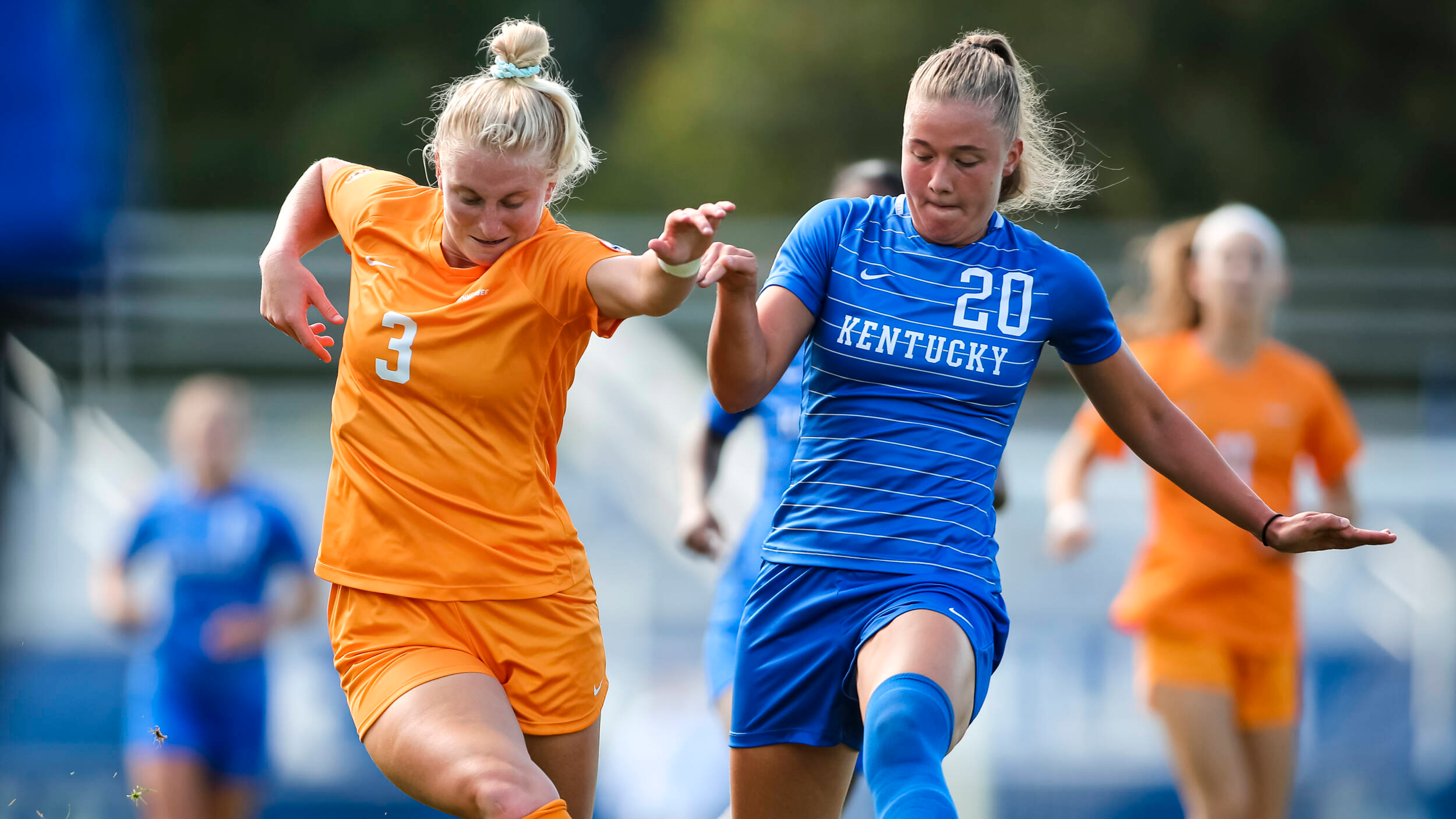 September 25, 2022 - 04:00 PM
Kentucky Drops Sunday Matinee vs. RV/18 Tennessee
LEXINGTON, Ky. – Kentucky women's soccer found itself on the short end of a 4-1 score line on Sunday afternoon as the Cats (7-4-0, 0-3-0 SEC) were defeated by preseason SEC favorite, RV/18 Tennessee (6-3-1, 2-1-0 SEC) at the Wendell and Vickie Bell Soccer Complex.
Senior Hannah Richardson picked up UK's only goal, while goalkeeper Tallulah Miller made a career-high seven saves in the contest.
Tennessee took the lead off an own goal in the 12th minute of play and never relinquished its advantage. UT forward Jaida Thomas scored for the ninth time this season to make it 2-0 in the 28th minute, a margin which the Volunteers would carry into the half.
Vols' freshman forward Kameron Simmonds tallied a pair of goals after the intermission, scoring in the 75th minute and again at 84:26. These strikes bookended Richardson's goal for the Cats, which came in the 80th minute of action.
A long pass from Jordyn Rhodes was initially intercepted by the Tennessee back line, but Richardson won the ball back in short order and proceeded to fire a powerful blow into the left corner of the net from just beyond the 18-yard box. The goal was the fourth this season for the Kentucky forward, giving her a team-high 16 points on the year.
In net, Miller made seven stops for the Wildcats on 10 shots faced. The freshman's seven saves topped her previous career mark of five. Backline stalwart Dana Dahm played all 90 minutes for the 'Cats, the fifth time this year that the defender has done so.
Shots on goal were 10-3 in favor of the Volunteers, while corners were even at six apiece.
UK will have a week off before it next takes the pitch, Sunday, Oct. 2, at LSU. The match will start at 1 p.m. EDT and will be broadcast nationally on the SEC Network.
For the latest on UK Women's Soccer, follow the Wildcats on Twitter and Instagram at @UKWomensSoccer, on Facebook and on the web at UKathletics.com.