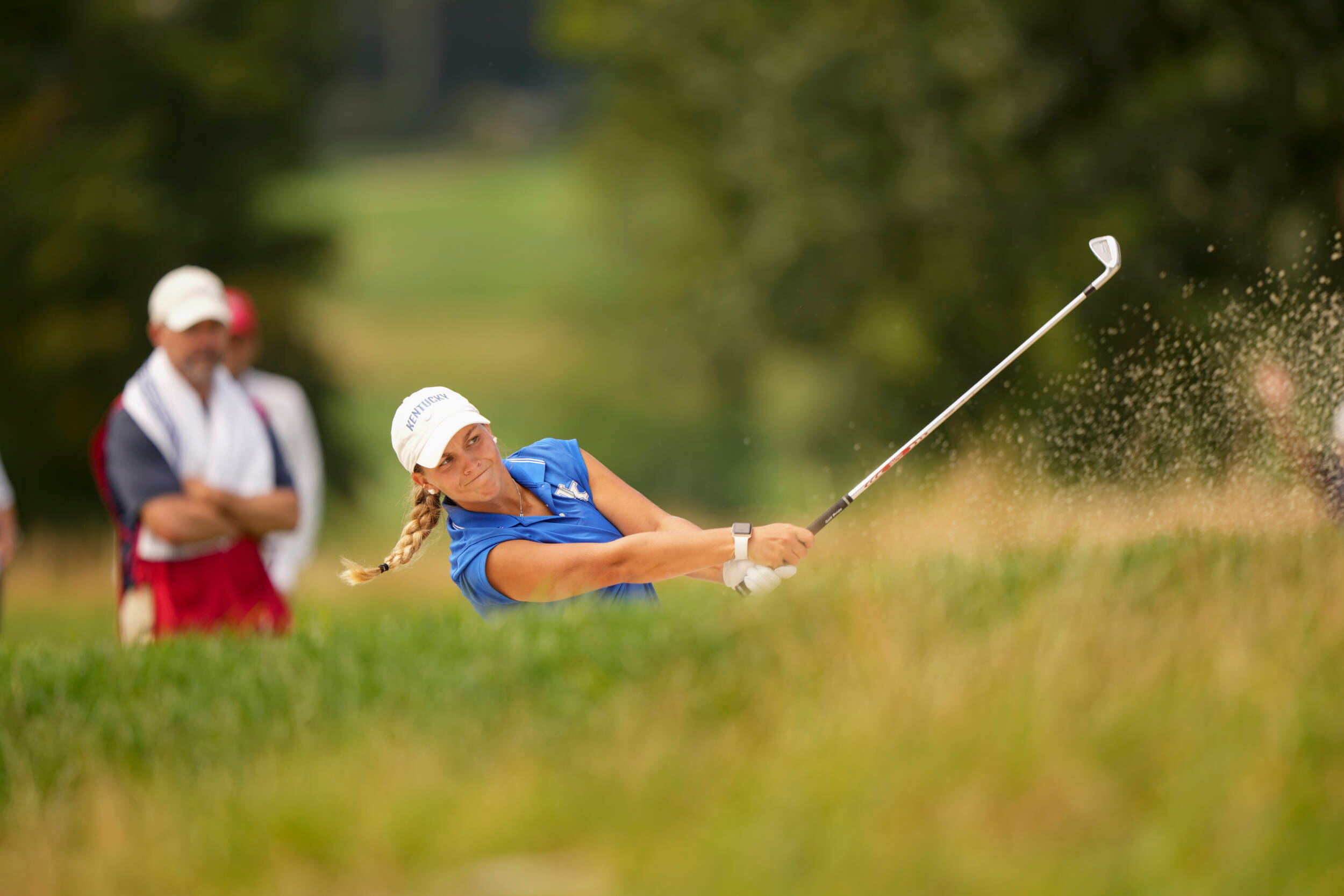 September 25, 2022 - 05:09 PM
Jensen Castle Finishes in 11th Place at Mason Rudolph Championship
FRANKLIN, Tenn.  – Jensen Castle collected four birdies through her final 11 holes on the Vanderbilt Legends Course, as the University of Kentucky women's golf team recorded a 5-over-par 293 in the final round at the Mason Rudolph Championship. The Wildcats recorded a 13-over-par 877 tournament total to finish in ninth place among the 15-team field.
"I think, mentally, they took a leap from our last event to this event," said head coach Golda Borst. "Again, we didn't make as many putts, but I'll tell you, I've seen a lot of great rolled putts, I've seen a lot of shots hit close and I thought we executed when we needed to. At the end of the day, I don't think the score reflected how well we played this week, which is always hard and a little bit disheartening. There are still positives to take. Our short game is getting better, we're hitting it inside of six feet more often and our wedges are getting tighter.
"I think for the most part, we did a really good job with ball striking. I think, overall, we're a pretty good ball-striking team. We just had a tough time, again this week, finding the bottom of the cup."
Senior Castle paced the lineup all tournament long for Kentucky, recording her second 2-under-par 70 of the weekend on Sunday. She reported a 1-over on the front nine, thanks to a pair of bogeys and a birdie, but it was her back nine that impressed the most. The West Columbia, South Carolina, native went 3-under on her final nine holes of the tournament, garnering six pars and three birdies during that stretch. In fact, she went 4-under through her final 11 holes of the tournament – Nos. 8 through 18.
The Wildcat recorded two rounds of par-or-better at the Mason Rudolph Championship, putting together a 3-under-par 213 tournament total for 11th place. It marked her best 54-hole score and her best finish of the season thus far.
Castle, who contributed all three of her rounds – 70, 73 and 70 – to the team total this weekend, has recorded 10 straight rounds that have counted toward Kentucky's score dating back to last season.
Laney Frye turned in a 3-over-par 75 Sunday, meanwhile collecting three birdies on the round. The Lexington, Kentucky, native contributed all three of her scores to the team total this weekend, too, also extending her streak to 20 straight rounds counted. The junior concluded the second tournament of the season 6-over-par 222 for a share of 35th place.
Despite a strong start at the Mason Rudolph Championship for Marissa Wenzler, she hit some adversity on the course Sunday. The senior, who recorded a first-round 72 and a second-round 73, turned in a 6-over-par 78 in her final 18 holes. It looked like she might rebound on the back nine, when she went 1-under between hole Nos. 10-14, but a trio of bogeys later in the round kept her from capitalizing.
In the end, Wenzler recorded a 7-over-par 223 tournament total to tie for 38th place, her best 54-hole score in her last five tournaments.
María Villanueva Aperribay began the day strong, making the turn at 1-under with eight pars and a birdie on the par-5 No. 7. It marked her first birdie on that hole throughout the tournament. She remained 1-under through 12 holes, before going bogey, birdie, par, double over the next four holes. Her pair of birdies on the day washed out her double, as the senior recorded a 1-over-par 73 in the final round.
Villanueva Aperribay and Ivy Shepherd both produced a 9-over-par 225 tournament total for a share of 47th place.
Shepherd had a similar strong start, going 1-under through her first six holes. The graduate transfer made the turn even par, then triggered a 3-over on the back nine. She put together a 3-over-par 75 Sunday, good for her second straight round contributed to the team total.
Marta López Echevarría, who competed as an individual, reported a 6-over-par 78 in the final round for a 12-over-par 288 and a tie for 59th place on her first tournament of the season.
"We have seven players on this team and they're struggling a bit with confidence," Borst said. "I thought, for the most part, we did a great job of sticking with the process, committing to our shots and having a solid game plan. We're doing all these things very well. We're staying disciplined, we just missed in some spots where you couldn't miss, and then we didn't get up and down, or we'll hit it inside 10 feet and just didn't convert. So, we really are right there. We are going to continue to focus on what is ahead of us, and that is getting ready for Medinah.
"This team is very capable, and I think sometimes when you have a group this talented, and they know they're all this talented, expectations tend to go up. So, we're just getting right back to doing what we know we can do and controlling what we can. We are going to keep looking forward and hitting fairways, hitting greens and working on converting. Go Cats!"
For the latest on the Kentucky women's golf team, follow the team on Twitter, Facebook, and Instagram, as well as on the web at UKathletics.com.
Rankings – Golfstat