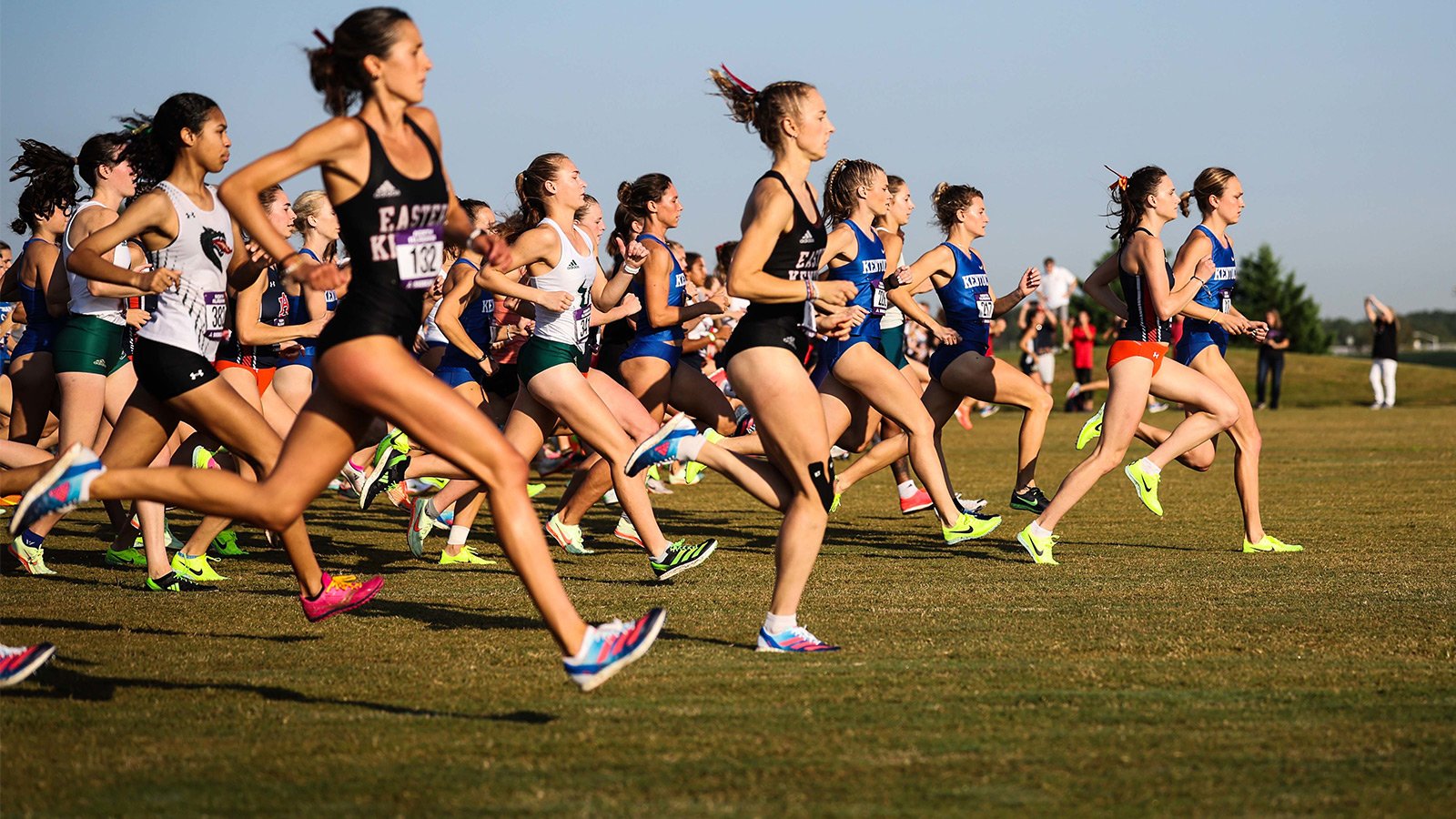 September 24, 2022 - 12:30 PM
Perri Bockrath Leads Wildcats at Cowboy Jamboree
STILLWATER, Okla. – Perri Bockrath's eighth-place finished highlighted the Kentucky men's and women's cross country teams Saturday morning at the Cowboy Jamboree hosted by Oklahoma State.
Competing against some of the nation's best in an event featuring 223 runners, Bockrath covered the 6,000 meters at the Grenier Family Course in 20:33.6.  Running on a very challenging course that will host the NCAA Championships in November, it was a strong follow-up for the graduate student from Centerville, Ohio, who won the North Alabama Showcase a week ago.
Competing in a field of 21 teams, including 12 ranked squads, Bockrath led the No. 29-ranked UK women to an 11th-place team finish. She was followed on the scoring board by Tori Herman (21st, 20:49.7), Sydney Steely (49th, 21:17.8), Kaylie Kenne (106th, 22:00.5) and Ally Kruger (118th, 22:11.5).  The Grenier Course will be the site of the NCAA Championships in November.
"For Perri to finish in the top 10 is a great run, an elite performance," said assistant track and field coach Hakon DeVries, who directs the cross country teams. "Perri and Tori both finished strong, as we improved our team standing as the kilometers went by.  Sydney Steely also ran really well, with a huge personal best on an extremely difficult course."
Among a field of 26 teams, 16 of whom are ranked, the Kentucky men finished in 18th place in the 8,000-meter run. UK's top five to hit the scoreboard among the 241 competitors were Dylan Allen (107th, 24:45.0), Jake Allen (119th, 24:52.9), Aaron Withrow (120th, 24:53.3), Jackson Watts (135th, 25:06.7) and Miles Brush (149th, 25:17.1).
"The men ran well and competed the right way with our pack strategy," DeVries said. "I like the direction we're headed as we work toward the SECs in October."
UKXC Women's Team: 11th of 21 teams (first five finishers count toward team scoring total)
UK 6k Individual Results; 223 total runners
8. Perri Bockrath: 20:33.6
21. Tori Herman: 20:49.7
49. Sydney Steely: 21:17.8
106. Kaylie Kenne: 22:00.5
118. Ally Kruger: 22:11.5
126. Jenna Schwinghamer: 22:26.5
133. Julz Williams: 22:31.1
162. Mollie Roden, 23:09.7
UKXC Men's Team: 18th of 26 teams (first five finishers count toward team scoring total)
UK 8k individual results; 241 total runners
107. Dylan Allen: 24:45.0
119. Jake Allen: 24:52.9
120. Aaron Withrow: 24:53.3
135. Jackson Watts: 25:06.7
149. Miles Brush: 25:17.1
151. Harper Moore: 25:27.2
167. Alex Justus: 25:41.7
178. McLean Griffin: 25:57.2
Kentucky returns to action Saturday, October 1, at the Greater Louisville Classic.
Follow Kentucky Track and Field and Cross Country on Facebook, Instagram, Twitter and at UKathletics.com.