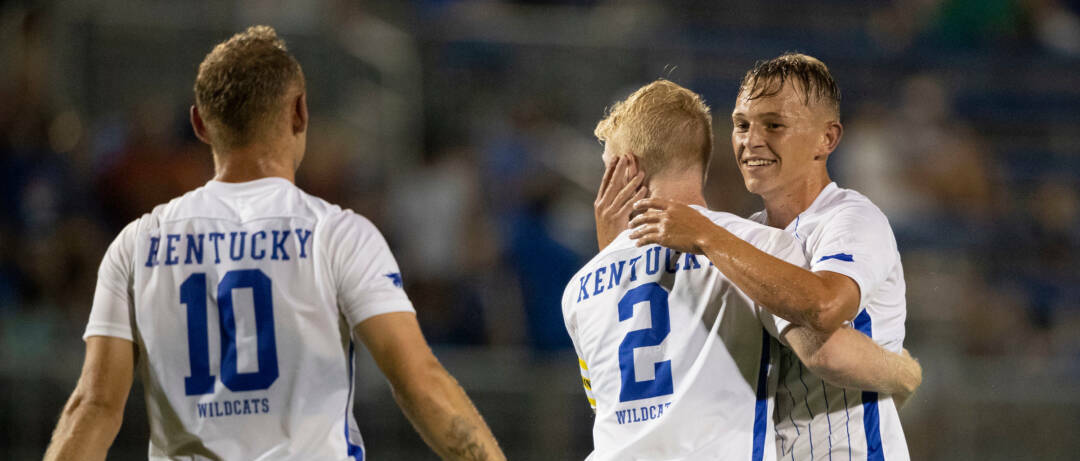 September 24, 2022 - 11:46 PM
Kentucky Earns First Road Win at Georgia State
ATLANTA – The No. 5 Kentucky men's soccer team (6-0-2, 1-0-1 Sun Belt) defeated RV Georgia State (6-1-1, 1-1-0 Sun Belt) 5-1 at the GSU Soccer Complex on Saturday.
For the first time since 2019, the Wildcats scored five goals in 90 minutes of regulation. The last time this occurred was at home against Wright State. However, it was the first time scoring five goals on the road since doing so in 2014 at Evansville.
The first goal of the night was scored in the first minute of the match by Georgia State's Mario Arrocha. However, the Wildcats answered quickly with an equalizer scored by Casper Grening, assisted by Max Miller, in the sixth minute. He sent the ball to the bottom left of the goal from his right foot to put UK on the scoreboard.
"Great collective team performance on the road tonight," Assistant Coach Ryan Zinkhan said. "I thought the guys showed a lot of grit to come back after conceding an early goal."
As time on the clock ran out in the first half, Kentucky entered the halftime period tied 1-1.
Enzo Mauriz notched the score up one for the Cats in the 68th minute following a Kentucky throw in. He shot the ball off his left boot to the top left of the goal which brought the score up to 2-1. The goal was assisted by Nick Gutmann.
It only took 10 minutes for Gutmann to find a score of his own which was assisted by Mauriz. The third goal of the night began a breakaway run for Kentucky. The remainder of the match resulted in two more rapid fire scores by the Cats with Eythor Bjorgolfsson recording the fourth goal of the night. His score was his fifth goal of the season and third this week. The senior was assisted by Brennan Creek.
The match wrapped up with a fifth and final goal by Justin Scharf, again assisted by Creek who found the opportunity thanks to Mauriz. The score was Scharf's first as a Wildcat.
"The bravery and toughness they showed in the second half was special to watch," Zinkhan stated.
Kentucky will continue its two-game road stint traveling to James Madison University next Saturday for a 7:00 p.m. ET Sun Belt Conference matchup.
For the latest on Kentucky Men's Soccer, follow @UKMensSoccer on Twitter, Facebook and Instagram, as well as on the web at UKAthletics.com.