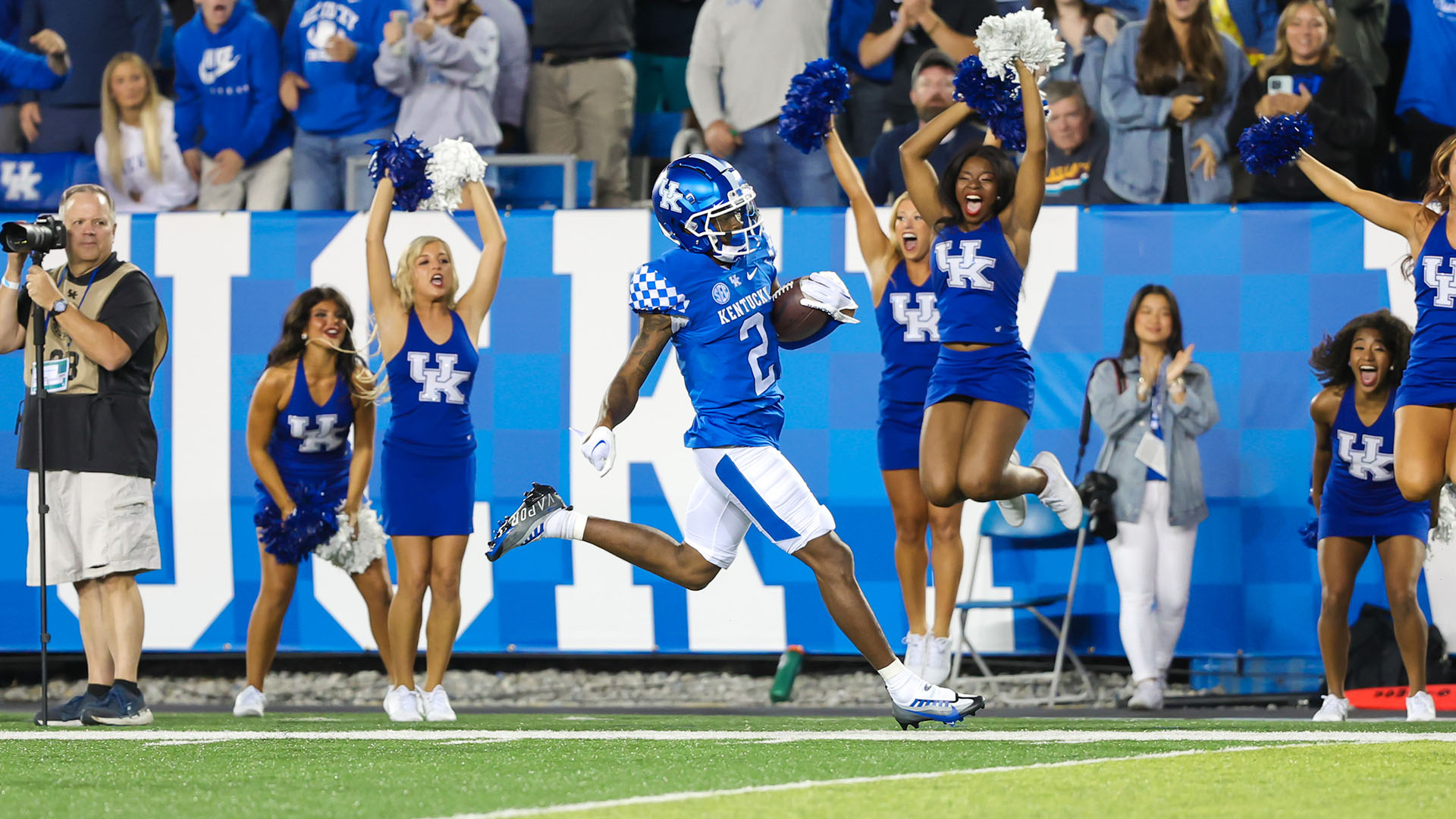 There is an old adage in the world of athletics that speed kills. The 2022 Kentucky football team has plenty of speed and, on Saturday night, the Cats' speed led directly to a victory.
Kentucky used the speed of its wide receivers to (literally) run past Northern Illinois 31-23 at Kroger Field. It was Kentucky's fourth straight win to start the season.
Speed at the wideout position has becoming increasingly important this season as Kentucky as not run the ball as effectively as it has in years past. Through four games, the Cats have relied on the strong arm of quarterback Will Levis and his deep, talented and, you guessed it, speedy receiving corps.
Levis was outstanding on Saturday night, completing 18 of 26 through the air for 303 yards and four touchdowns. UK head coach Mark Stoops was impressed with his signal caller on Saturday.
"Will Levis played an extremely good game once again," Stoops said. "They were bringing a lot of pressures and we made them pay for it with the pressures. We got them protected and hit the ball downfield with some explosive plays. That was good to see."
And while Levis deserves a ton of credit, at least two of the four touchdowns might not have gone to the house if not for the speed of a couple of UK receivers.
For example, in the second quarter, Levis hit Tayvion Robinson across the middle for a big gain. But it was Robinson's speed that turned the play from a long completion into a 69-yard touchdown.
In the third quarter, it was the true freshman Barion Brown showing just how fast he is. Brown caught a pass on the logo in the center of the field, split two defenders and outraced the entire NIU defense on his way to a 70-yard score.
Then, in the final stanza, Robinson caught a short pass from Levis, broke one tackle, then ran past the Huskies and to the house for another touchdown. Again, made possible by athleticism and speed.
Stoops knows that Robinson is a multi-talented wide receiver.
"Tayvion is playing really good," Stoops said. "A crafty player. He's really skilled and talented, but he's also very smart. He has a good knack for sitting when he needs to sit, running through it, pulling out of it. You know, we knew we were in zero on a couple of those and he spun out of it and made them pay."
Stoops likes that his team is taking advantage of its physical skills and creating big plays.
"Yeah, I think it's fair to say," Stoops said. "We wanted to be explosive and we're certainly getting that. You've got to be who you are. And right now we have a very talented quarterback. You know, we have some explosive wide receivers. So we're creating some big plays."
Speed kills and, as Kentucky showed again on Saturday night, it can also produce explosive plays that lead to victories.