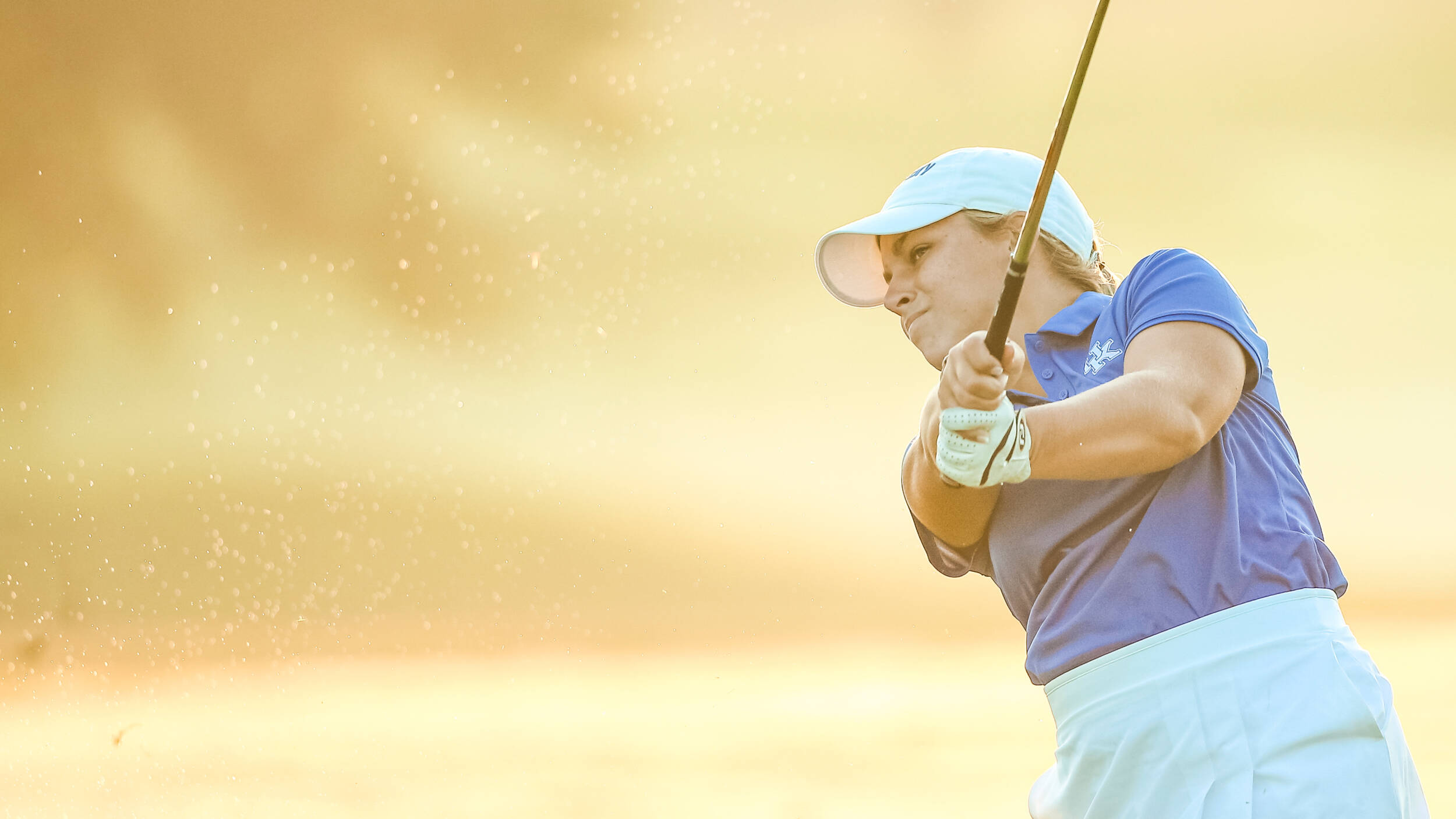 September 23, 2022 - 06:53 PM
Wildcats in the Mix at the Mason Rudolph Championship
FRANKLIN, Tenn.  – The No. 24 University of Kentucky women's golf team hung tough on a leaderboard that wavered all day, even taking a lead at one point in the first round at the Mason Rudolph Championship Friday. The Wildcats recorded a 1-over-par 289 to earn fourth place through 18 holes at the Vanderbilt Legends Course (par 72, 6,379 yards), while two players are positioned in the top 10.
Kentucky is just five strokes off of the top three and seven strokes from the leader, which is filled by No. 22 Arizona after a 6-under-par 282 in the first round.
"We got off to a hot start this morning in some really windy and gusty conditions," said head coach Golda Borst. "Everyone handled it very well and just kept plugging along. Our game plan was solid, and I thought they all gave themselves a lot of good looks coming down the stretch. It's exciting to see them really take ownership of their games, commit to their shots and believe in what they are doing on the course."
Several players committed to their shots on the par-5 No. 4 and the par-4 No. 6, when Laney Frye, Jensen Castle and Ivy Shepherd all rallied birdies on those holes with pars sandwiched in between. That outcome shed six strokes off Kentucky's team total at the time, helping it take a brief lead in the tournament, four strokes ahead of the rest of the field.
"There were lots of positives for each player today, even those players that didn't score as well as they wanted to," Borst said. "We're really close to having a great round and it's just a matter of time for this group before it clicks."
Whether it was the familiar track or the veteran mindset, something was clicking for Castle Friday.
The senior led the team with a 2-under-par 70, keeping a rather clean scorecard with three birdies and just one bogey. She is tied with three others for seventh place, just two strokes off of two Southeastern Conference foes that pace the individual leaderboard in Megan Schofill (Auburn) and Lynn Lim (Vanderbilt).
Castle's 70 marked her second round of the season under par.
Also going under par, Frye turned in a 1-under-par 71 to find a share of 10th place. In fact, she has recorded a par-or-better round in each of her four rounds thus far this season. She also extended her streak of rounds counted toward the team total to 18 straight. The Lexington, Kentucky, native who was part of the trio that recorded a pair of birdies on hole Nos. 4 and 6, respectively, also concluded her round with back-to-back birdies. The junior suffered a double on the par-3 No. 16, but made up a stroke each with birdies on Nos. 17 and 18 just in time to get out under par.
Nothing was timelier than Marissa Wenzler's first eagle of the season, which she rallied on the par-5 No. 18. The senior, who had a rather consistent round with 15 pars and just two bogeys, took advantage of the 504-yard final hole of the day. The eagle equalized her round to put together an even-par 72 through 18 holes, her lowest score in 2022-23. Wenzler is tied for 18th place, marking her first peak inside the top 20 this season.
María Villanueva Aperribay turned in a 4-over-par 76 Friday, helping the senior earn a share of 48th place. Shepherd, a graduate transfer out of Clemson from Peachtree City, Georgia, capped the first round on a 5-over-par 77 for a share of 57th place. She rallied three birdies during her round, including the par-5 No. 18.
Kentucky will tee off in the second round on hole No. 1 Saturday beginning at 10:20 a.m. ET. The Wildcats will be paired with No. 13 Auburn and Washington for the second straight day, while the pairing can expect a high of 76 degrees and partly cloudy skies.
Live scoring for the tournament will be available on Golfstat.com.
For the latest on the Kentucky women's golf team, follow the team on Twitter, Facebook, and Instagram, as well as on the web at UKathletics.com.
Rankings – Golfstat