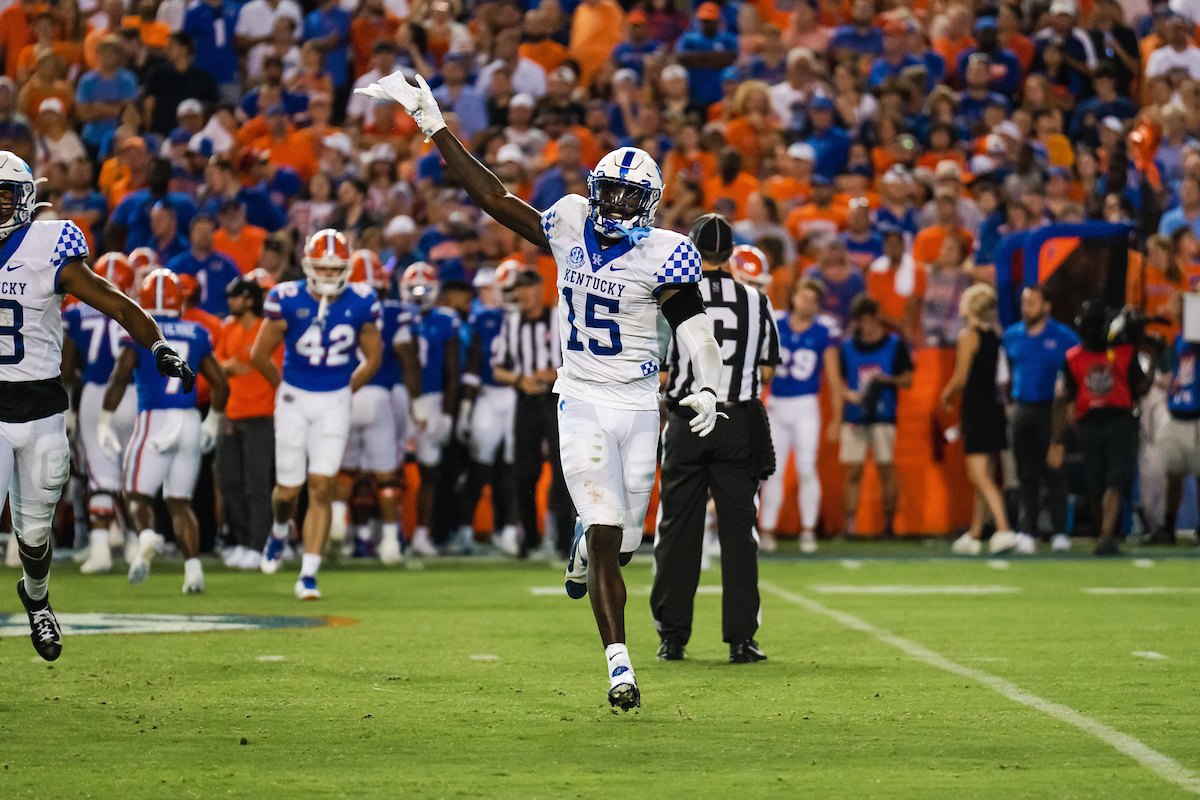 From the outside, it appears that the Kentucky defense is at the top of its game. The Cats seem to be doing many, if not all, of the right things.
Kentucky shut out Youngstown State 31-0 on Saturday, the first time UK has blanked an opponent since 2009 (Miami University). It was the Cats' first home shutout since blanking Vanderbilt in 1996.
Going back to the Florida game, Kentucky has not allowed a point in more than six quarters. In fact, it has been 95 minutes and 49 seconds of game time since anyone has scored on the UK defense.
The Cats are currently 12th in the nation in scoring defense through three games, allowing just 9.67 points per contest. UK is 14th in the country in total defense, surrendering just 253.7 yards per game.
All of this is fantastic, but UK defensive coordinator Brad White knows that it's still early and there are still plenty of things that his unit can do better.
"We've got a lot to fix. We're a long way from great," White said when asked if he was coaching a great defense. "We've had a couple of solid games at this point but it's one quarter of the season. And this season is no different than a game. You can play one good quarter, you've got three quarters left."
White is encouraged by much of what his unit has done but knows that they can play even better.
"We've got to correct the mistakes that we've made over these first three games, highlight what we've done well," White said. "Try to continue to make more of those plays so we can play better football."
One of the things that makes this defense effective is the experience they bring to the field each Saturday. White knows that experience is one of the most important characteristics that a unit can have.
"There's nothing, to me, more important than experience. And not just plays but quality and experience and understanding and knowledge," White said. "And that's what we're blessed with right now. We're blessed with a veteran group that has not only played a lot of snaps, but they understand football, they understand scheme, they understand adjustments. It allows us to go into halftime and get things changed up. When you have those kind of guys in the locker room, it makes a huge difference."
The Cats will face another quality opponent, Northern Illinois, on Saturday. White knows that the Huskies are the type of team that can pose problems for anyone.
"I think their identity is rooted in who they are. They're a tough, hard-nosed football team. I think their O-line, they play really well together, they do a nice job moving people off the ball," White said. "Their running backs do a nice job setting up blocks, they run hard. Their receivers, they make the necessary plays in the pass game and, when they get a chance to break free, they can score a big one. They're physical, they're strong, they play with a tough mentality. Those teams are always really hard."
Kentucky hopes to continue to use its experience to build an elite defense. The next challenge for White's group comes on Saturday against Northern Illinois.