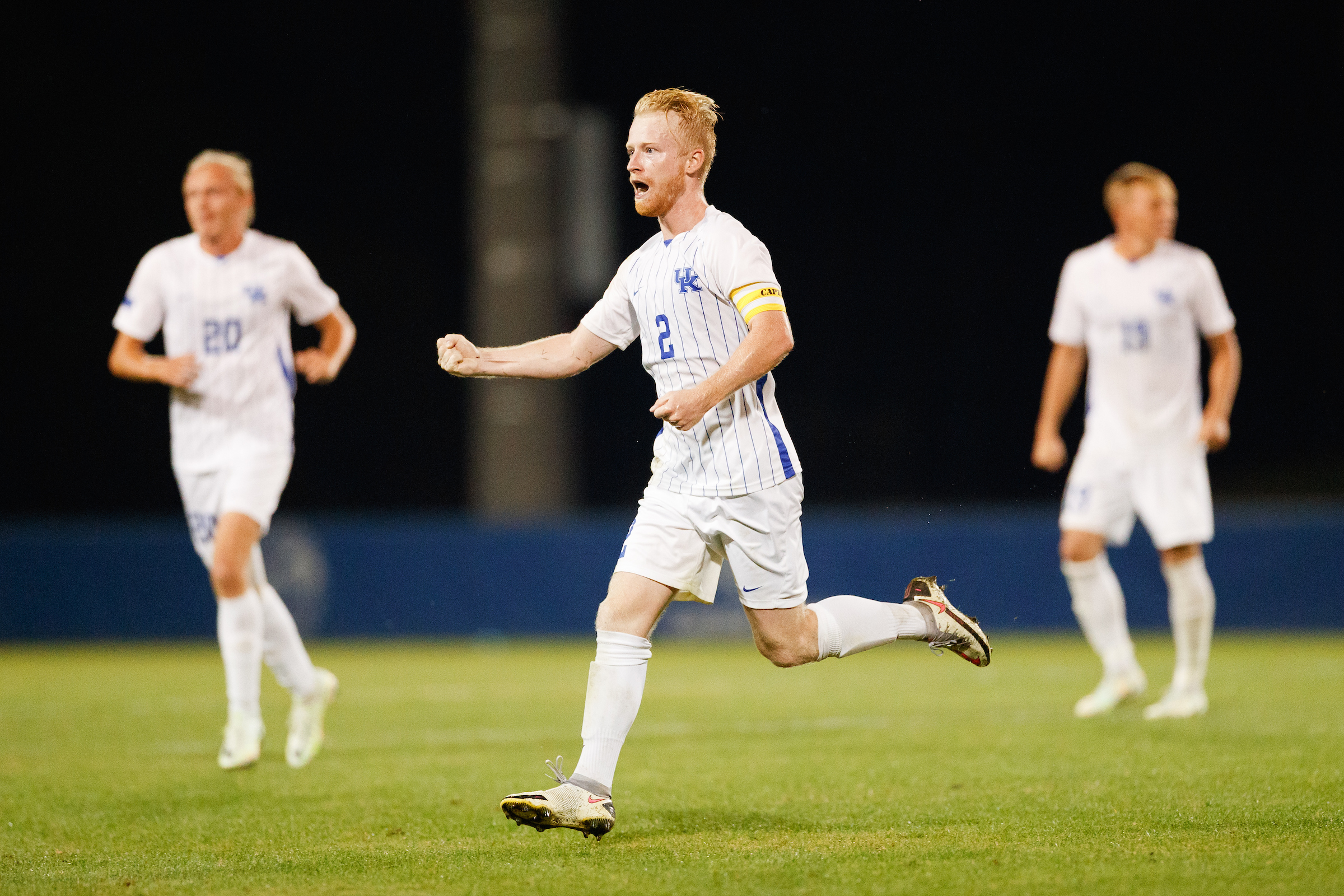 September 20, 2022 - 11:32 PM
Bjorgolfsson and Screen Score to Earn Tuesday Night Win
LEXINGTON, Ky. – The No. 5 Kentucky men's soccer team (5-0-2, 0-0-1 Sun Belt) came out on top 3-2 against No. 21 Lipscomb (5-1-1, 2-0 ASUN) on Tuesday at The Wendell & Vickie Bell Soccer Complex.
The victory was the fourth top-25 matchup in a row for Kentucky earning two wins and two draws in the stretch.
The Wildcats had a strong start to the match with the first goal of the night taking place in the 11th minute after senior Nick Gutmann assisted Eythor Bjorgolfsson who shot the ball of his right foot into the top corner of the goal.
Time ran out in the first half with Kentucky leading by a goal to nil. Bjorgolfsson did not waste time to score his second goal of the match after play resumed. The senior's 47th-minute goal was sent into the net with a header by way of fifth-year senior Robert Screen's corner to double the Kentucky lead.
Bjorgolfsson's two goals brought his season tally to four with 18 so far in his collegiate career.
Lipscomb pulled a goal back in the 58th minute with an unassisted goal to make it 2-1. Within minutes, the Bisons leveled the match on a flurry in the box that ended with the match tied 2-2 off a rebound inside the six.
A foul in the 68th minute 22 yards from the goal at the top of the box resulted in a free kick to senior Brennan Creek, which was ultimately taken by Screen. With a successful shot to the back of the net, the defender notched the goal to put Kentucky back in front, 3-2.
Screen's score was his second of the season with his first against Belmont in early Sept. The goal since the Cats was his first from a free kick since the Cats  hosted Ohio State in 2019 where he also scored from a free kick.
The Wildcats will begin a two-game road stint on Saturday at Georgia State followed by James Madison University the following week to continue Sun Belt Conference play.
For the latest on Kentucky Men's Soccer, follow @UKMensSoccer on Twitter, Facebook and Instagram, as well as on the web at UKAthletics.com.