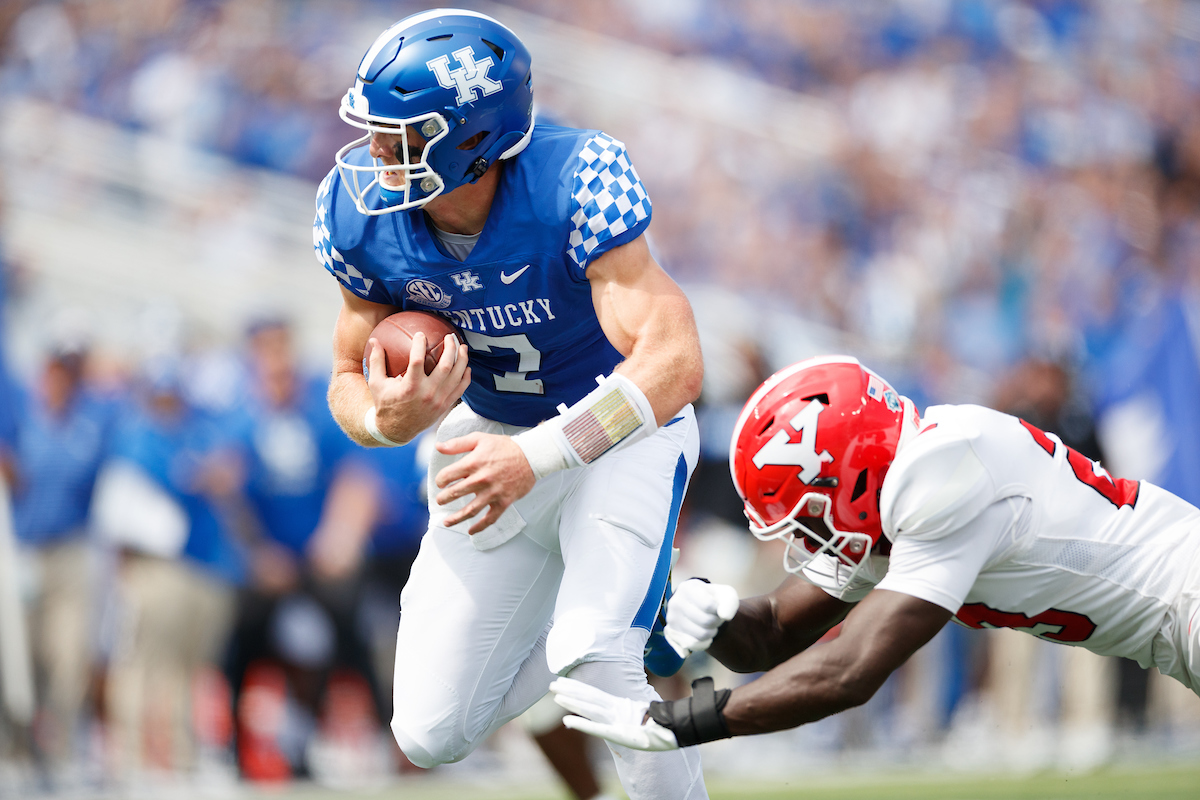 Kentucky shut out Youngstown State 31-0 on Saturday at Kroger Field. It was a convincing win and one that, after the middle of the second quarter, was never in doubt.
While the result of the game was exactly what he wanted, UK head coach Mark Stoops was not pleased with the game after evaluating it further.
"After reviewing the film, really kind of disappointed and a little unhappy with some of the undisciplined play that we had this past week," Stoops said. "Not to take away from so many players who did a great job. Defensively, it was a very good effort once again. Offensively, there's some things we've got to get ironed out. Just felt like it was a person here, a person there."
That attention to detail is something that Stoops saw his team excel at during the Cats' win at Florida. But on Saturday, there was much less to be happy about.
"Undisciplined play," Stoops said. "Any time you have 10 penalties, three turnovers, four fumbles and you do that at home, it just shows you that the attention to detail was not there."
The offense was the source of many of the problems in Saturday's game. Stoops knows that quarterback Will Levis must play better, but that those around the UK signal caller need to step up their game as well.
"It's not very good. There's so many things that we need to improve on," Stoops said. "There are some things we've got to get better at. The interceptions are not all on him (Will Levis). The interceptions are not completely on him. We need to play better around him and that showed up a bit on Saturday."
What does that mean, specifically?
"We need to play better around him and some guys need to step up and play more precisely," Stoops said. "(Levis) holding the young wideouts accountable, all the little things. It only takes one guy, that's all it takes. You need everybody on the same page. That's why this is the ultimate team sport."
That includes the wide receivers, who appeared to have big games on Saturday. But there's so much more they can bring to the offense, according to Stoops.
"We didn't do a very good job this past week, as a group," Stoops said. "You're going to see the stat sheet and see that they caught a lot of passes but they did not play to our standard. They need to improve, they need to do the little things right, they need to block, they need to get lined up, they need to execute and we didn't do that to a high enough standard this week."
The same could be said for the tight ends.
"Again, I think they're too inconsistent," Stoops said. "I think they could be a really strong point for us and I don't think they're as strong at the point of attack as they can be. Just like most of our team, they can be better."
Stoops knows that there are plenty of things to fix but he also has confidence that his team can make the necessary adjustments.
"It's not a matter of, are we able to do it. We're talented enough to do it," the UK head coach said. "There's no excuses. We've just got to play better. We've got to be more disciplined and again, the attention to detail – the little things."
It's the little things that can be the difference between winning and losing and Stoops wants to get a handle on them before they cause any harm in a game.