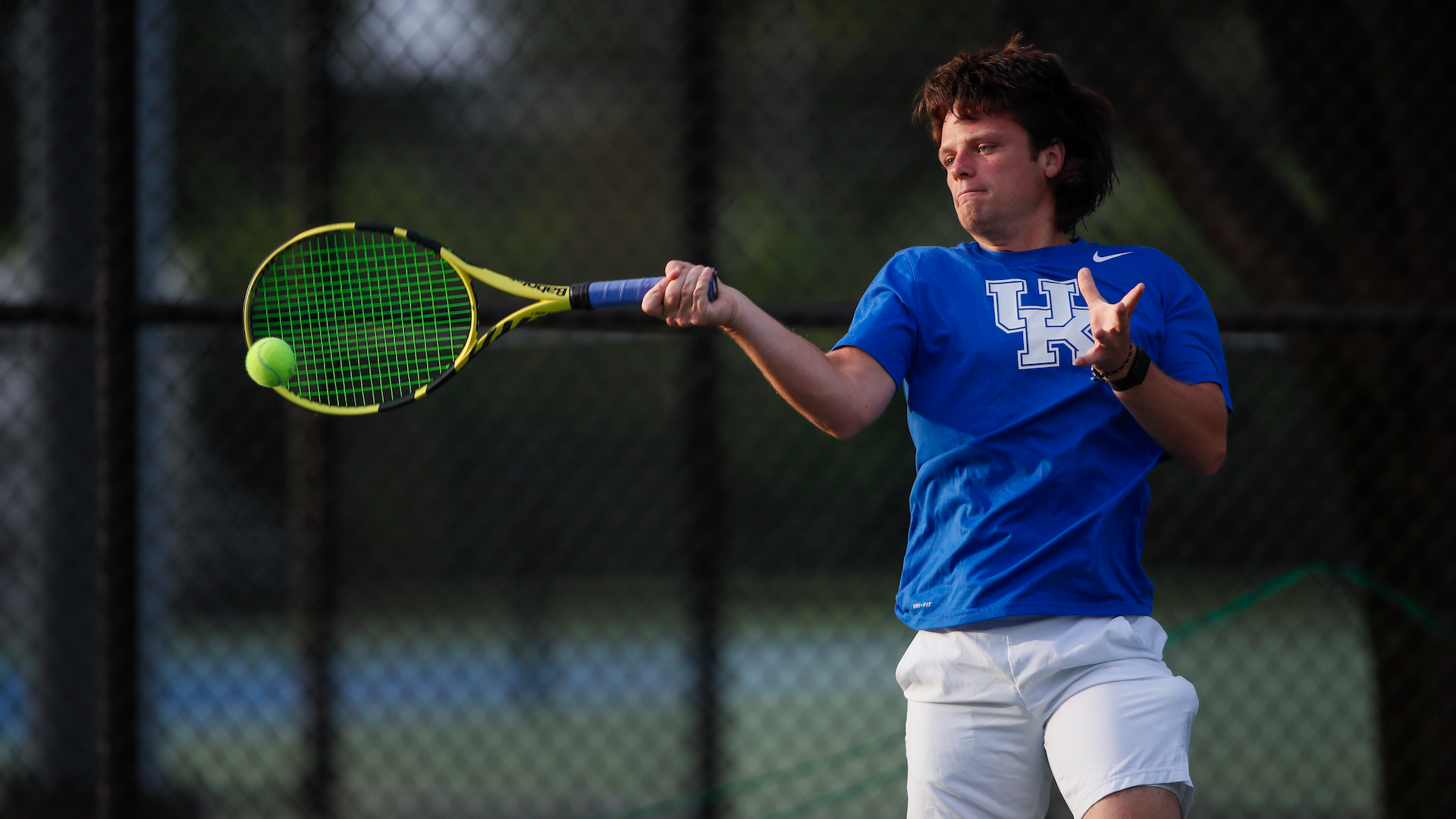 September 17, 2022 - 04:26 PM
Kentucky Has Two Ranked Wins, Young Stars Shine in Fall Opener
LEXINGTON, Ky. – The Kentucky men's tennis team opened the 2021 fall season with two ranked individual wins on the opening day of the 2022 Fall Kentucky Invitational. No. 78 Josh Lapadat and Taha Baadi both recorded top-50 wins as Kentucky played well in its opening match.
The tournament continues Saturday as the site shifts 70 miles west to Louisville as the University of Louisville hosts the second day of action.
Kentucky competed against Pepperdine on Friday afternoon in one of the most anticipated match-ups of the fall season facing some of the strongest competition on the west coast to kick off the fall. Additionally, many of the young Kentucky freshman picked up their first wins.
Singles
No. 78 Josh Lapadat (UK) def. No. 15 Daniel De Jonge (PEP) 7-6, 6-3
Taha Baadi (UK) def. No. 45 Tim Zietvogel (PEP) 6-2, 6-3
Eric Hadigan (PEP) def. JJ Mercer (UK) 6-1, 6-4
Charlelie Cosnet (UK) def. Linus Carlsson Halldin (PEP) 3-6, 6-3, 6-4
Alexandre LeBlanc (UK) def. Robert Shelton (UK) 6-3, 6-0
Maxi Homberg (PEP) def. Jonathan Sorbo (UK) 6-3, 6-7, 6-2
Max Wuelfing (PEP) def. Christophe Clement (UK) 6-4. 7-5
Tate Sandman (UK) def. Mich. St. 7-6, 6-4
Doubles
Lapadat/LeBlanc (UK) def. No. 59 Halldin/DeJonge (PEP) 6-0
Baadi/Clement (UK) def. Homberg/Zeitvigel (PEP) 6-2
Clement/Mercer (UK) def. Hadigian/Wuelfing (PEP) 6-2
For the latest on UK Men's Tennis, follow the Wildcats on Twitter and Instagram at @UKMensTennis.