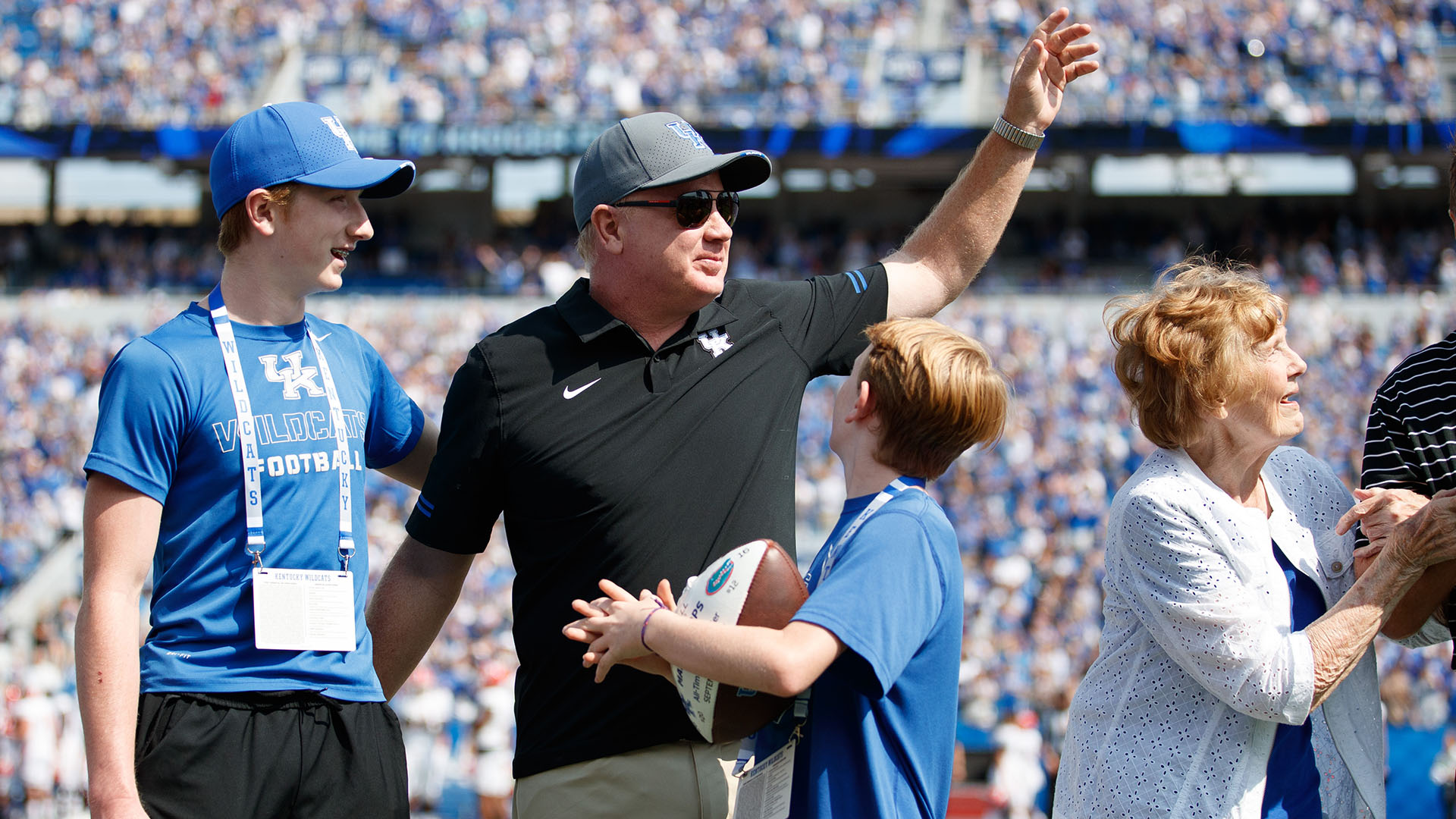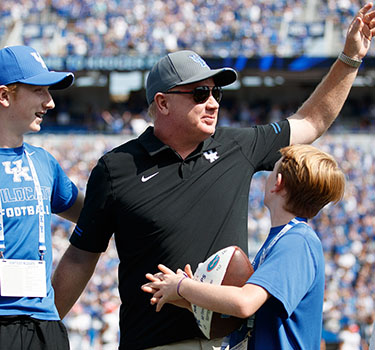 On a day when Kentucky head coach Mark Stoops was honored for becoming UK's all-time leader in coaching wins, his UK defense delivered one of its best performances of Stoops' 10-year UK career, shutting out Youngstown State 31-0 on Saturday.
Kentucky held YSU to just 192 yards of total offense and registered the first UK shutout since 2009, and first at home since 1996, in front of Stoops' mother, brothers and other family members on Saturday.
It was a fitting result for the defensive-minded Stoops, who was complimentary of Kentucky's defensive effort and defensive coordinator Brad White.
"Outstanding effort by our defense," Stoops said after the game. "Again, Coach White, that whole unit, defensively, played outstanding all game."
Stoops cited examples of exactly why his team was able to post a goose egg on this Saturday.
"We did give up the one play and the penalty on top of it, which got them really in position. But I felt like the unit played really — still hard and aggressive, you know, really, the entire game," Stoops said. "And if you don't, you're not going to get the shutout. Even when we gave up some yards or some plays or got it down there, they dug in."
Kentucky blanked its first opponent since shutting out Miami (Ohio) 42-0 in 2009. It was UK's first home shutout since shutting out Vanderbilt 25-0 in 1996.
Each time the UK defense was challenged, someone stepped up and made a play, the biggest of which may have been Carrington Valentine's interception of Youngstown State quarterback Demeatric Crenshaw in the end zone in the third quarter. That play was actually one of a couple of big plays that Valentine made in that quarter. The junior also took a touchdown away from former teammate Bryce Oliver, ripping the ball from Oliver's hands in the end zone, also in the third quarter.
The effort by Valentine pleased Stoops as well.
"I think it's kind of who he is. He's a super competitive guy," Stoops said. "Just really tough. He got beat on one and, you know, it was a — he and I were talking about it on the sidelines. It was a technique issue. He tried to be really aggressive. He used his momentum against him, you know, and gave up that one shot. But a great one in response, comes right back. And he did that. And he's a very competitive young man."
Stoops also lavished praise on his middle linebacker, Jacquez Jones.
"Jacquez, he's a leader. He plays fast. He's got a lot of experience. And he's a guy that, again, we rally around," Stoops said. "And, you know, it's really good to see his energy and, you know, challenge the group, even at half, to continue to play with some urgency."
Shutting out any opponent is a tough task, and Stoops appreciates how rare that is.
"Any time you shut anyone out, it's, obviously, a really good effort and a big deal," Stoops said. "And I credit our coaches and our players for playing a complete game."
On a day when Stoops got his accolades as UK's winningest all-time football coach, his defense gave him just what he wanted as a reward – by pitching the first home shutout since 1996.