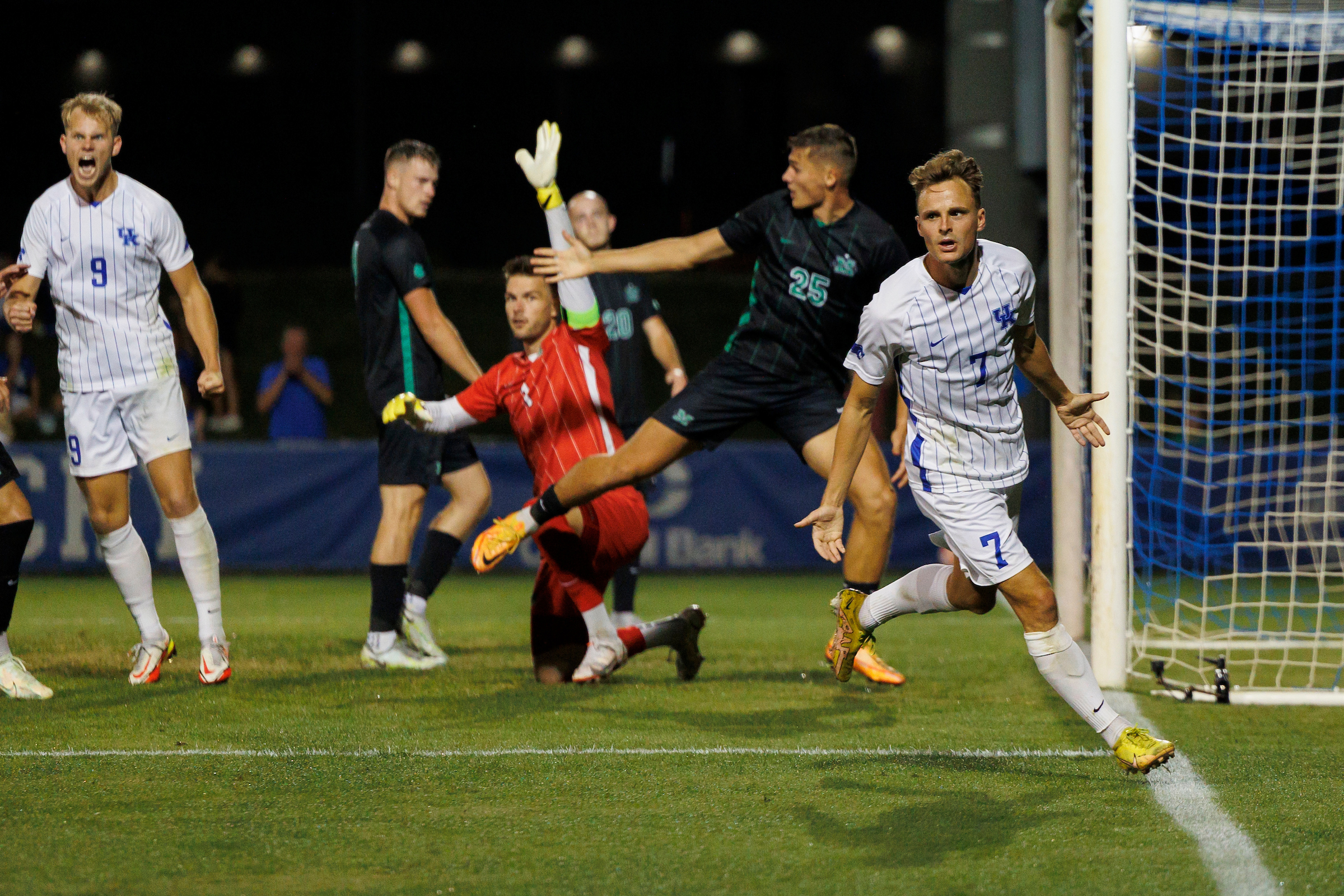 September 16, 2022 - 11:40 PM
Nick Gutmann Scores Equalizer to Begin Conference Play
LEXINGTON, Ky. – The No. 6 Kentucky men's soccer team (4-0-2, 0-0-1 Sun Belt) tied No. 7 Marshall (4-1-1, 0-0-1 Sun Belt) 1-1 on Friday night at the Wendell & Vickie Bell Soccer Complex.
In front of 2,672 members of Big Blue Nation, The Bell was packed as the Wildcats kicked off Sun Belt Conference play.
The Cats and Thundering Herd saw a scoreless first half of regulation that resulted in only six shots for UK and three for Marshall. The Wildcats fired three of their six shots on goal. Sun Belt Offensive Player of the Week, Eythor Bjorgolfsson, was responsible for two of the shots on goal while sophomore Casper Grening shot one.
As the two teams headed back onto the pitch for the second half, it did not take long for Marshall to score. Matthew Bell scored the first goal of the match in the 47th minute with two assists from Vinicius Fernandes and Adam Aoumaich.
"I thought the first half was pretty neutral," said UK assistant coach Ryan Zinkhan. "We came in a little bit slow, and it was really unfortunate to give up that early goal in the second half."
However, it did not take long for Kentucky to find a response of its own in the 53rd minute. Fifth-year senior Clay Holstad passed the ball from his left to senior Nick Gutmann who laid it in the net for a Wildcat goal. The goal was Gutmann's third of the season as Holstad tallied his first assist.
"Credit to our guys," stated Zinkhan. "They put their heads down and it was really good effort from Nick to create that opportunity to score and level up the game."
The Wildcats shot the ball six more times but were unable to find the back of the net again before the end of regulation. 
Freshman Casper Mols had another stellar performance in net Friday night. His record now stands at 2-0-1 for the season. 
The Wildcats will return to The Bell on Tuesday to host No. 21 Lipscomb for a 7:30 p.m. ET contest. 
For the latest on Kentucky Men's Soccer, follow @UKMensSoccer on Twitter, Facebook and Instagram, as well as on the web at UKAthletics.com.