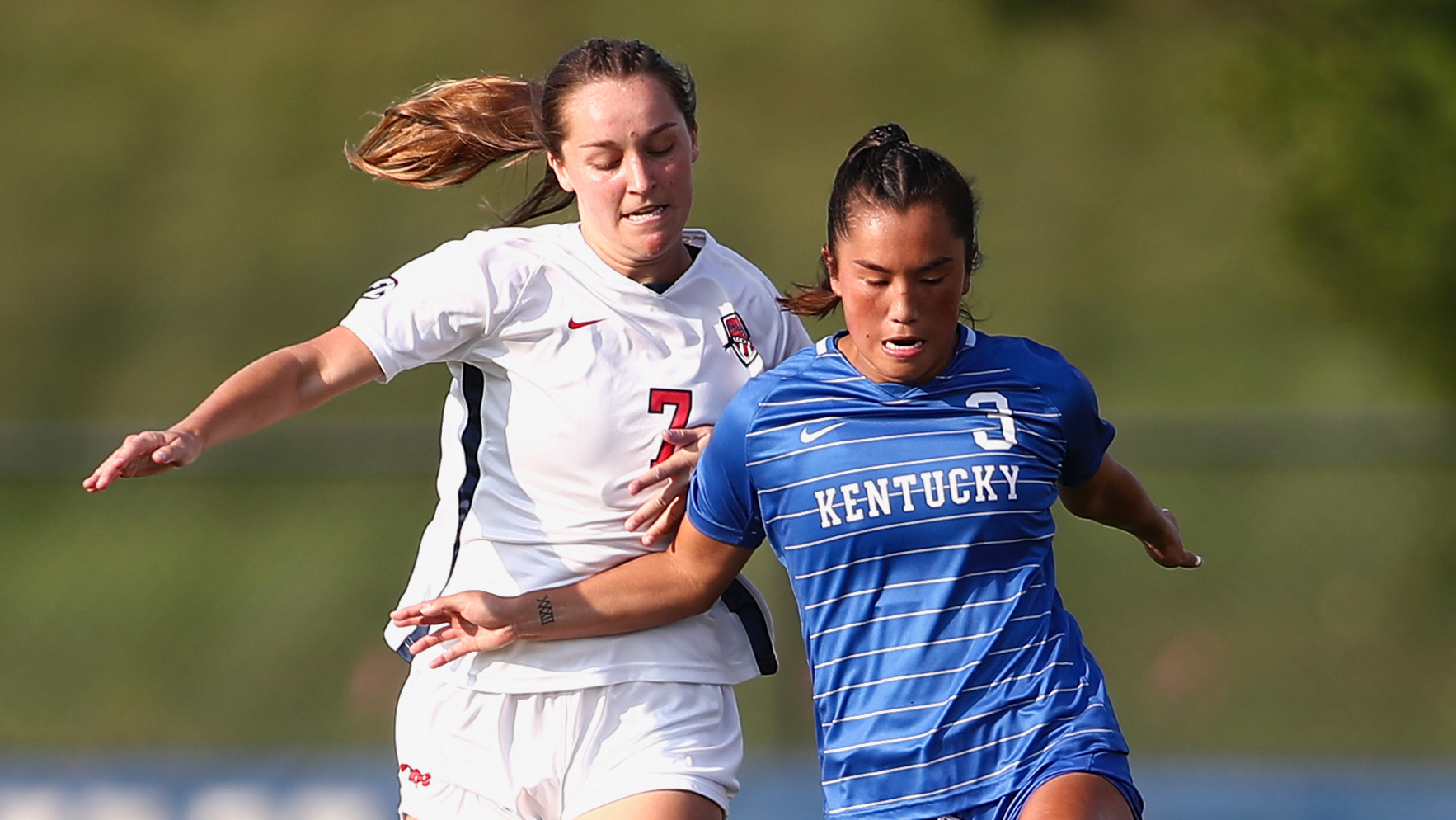 September 16, 2022 - 08:35 PM
Kentucky Clipped by No. 15 Ole Miss, 2-1, in SEC Opener
LEXINGTON, Ky. – Kentucky women's soccer (7-2-0, 0-1-0 SEC) was unable to find a second-half equalizer on Friday evening, dropping its first conference game of the season, 2-1, to No. 15 Ole Miss (7-0-2, 1-0-0 SEC) at the Wendell and Vickie Bell Soccer Complex.
A pair of free-kick goals, including a penalty kick conversion, were enough for the Rebels to earn the victory.
All three of the match's goals came in the opening 45 minutes, with graduate transfer, Hailey Farrington-Bentil scoring her second goal of the season for the Wildcats in the loss.
Ole Miss grabbed the early lead in the second minute of play when goalkeeper Ashley Orkus took a free kick that found its way through traffic and past UK's Tallulah Miller.
Miller responded with her best save of the match in the 19th minute, stopping the Rebels' Marykate McGuire on a close-range attempt from inside the six-yard box to keep the deficit at one.
Kentucky knotted things up in the 32nd minute on an impressive offensive sequence which saw junior Úlfa Úlfarsdóttir play a cross into the box from the right corner, Hannah Richardson head the ball to the front of the net, and Hailey Farrington-Bentil backheel for the finish to make it 1-1.
Richardson, who entered the night tied for the most assists in the country, picked up her eighth helper of the season on the goal.
The Rebels retook the lead shortly before the intermission after Kentucky's Maggy Henschler was called for a foul in the box in the 42nd minute. Kayla Chatman-Haggerty made good on the ensuing penalty and Mississippi carried a 2-1 advantage into the half.
Neither squad found the back of the net in the second half of play despite chances for each. The Rebels were awarded a second penalty kick in the 68th minute, but were unable to capitalize this time around as senior forward Mo O'Connor rang her attempt off the crossbar.
The Cats had their best opportunity to equalize in the 77th minute when Farrington-Bentil played an exquisite ball which found a sprinting Úlfarsdóttir in stride. A charging Orkus was the last line of defense for the Rebels, and the senior goalkeeper's dive forward was enough to negate the UK bid and preserve the lead for the visitors.
Eight of Kentucky's starters played a full 90 minutes in the match, with the remaining three all totaling at least 83. Five different Wildcats had a shot on goal in the effort.
UK will return to play when the Cats travel to Vanderbilt to face the Commodores on Thursday, Sept. 22. The match will begin at 8 p.m. and can be seen on SECN+.
For the latest on UK Women's Soccer, follow the Wildcats on Twitter and Instagram at @UKWomensSoccer, on Facebook and on the web at UKathletics.com.