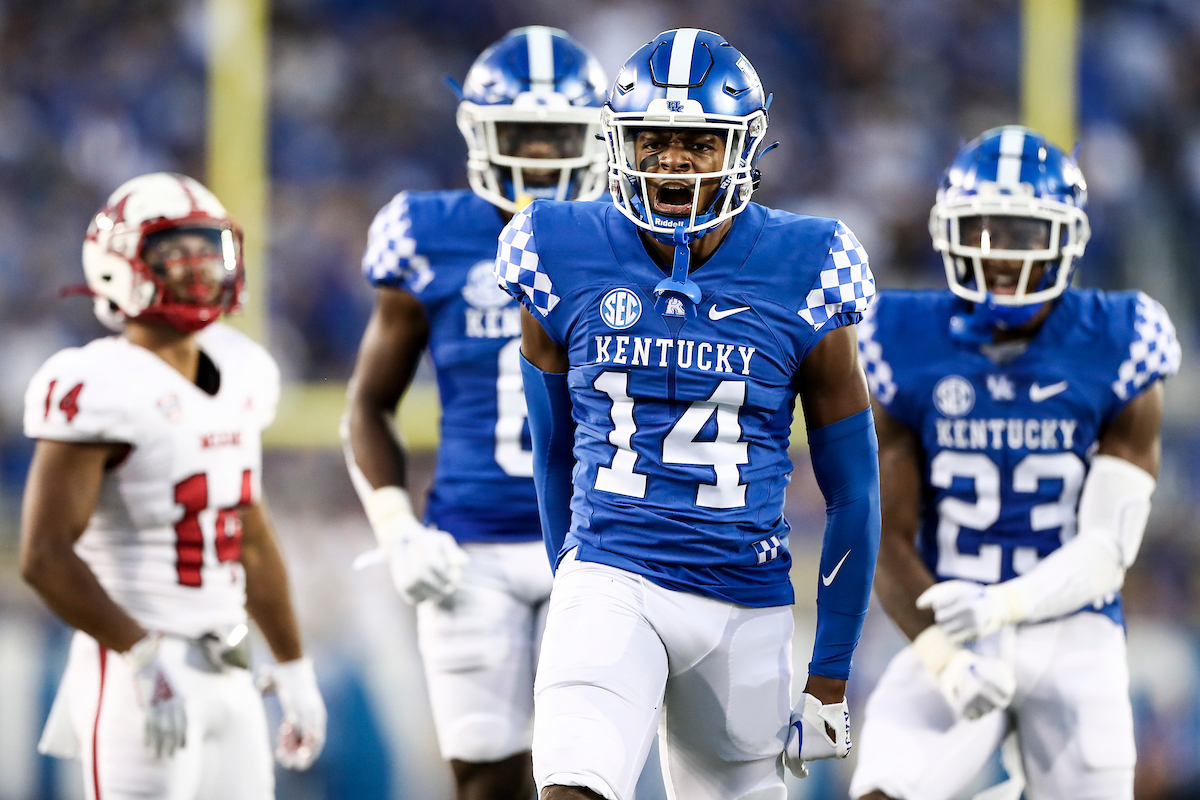 After a huge performance in the Swamp on Saturday, holding Florida to just 16 points and no points after halftime, the Kentucky defense should be riding high. But, they're not, which tells the UK coaches something about this group – that they have experience. And, according to UK defensive coordinator Brad White, that's a big part of being successful.
"Experience is half the battle. Before anything else, if you know where the ball is going, if you understand what an offense is trying to get done, then you can counteract that," White said. "If you're just reactive, that puts you in some bad spots at times. But if you're able to anticipate certain looks and certain formations, it's going to allow you to play faster. Experience is a huge piece and I think we've got it at different levels, which has been helpful."
The Cats not only beat the 12th-ranked Gators 26-16 on their home field, they also shut down dynamic quarterback Anthony Richardson, forcing him into what turned into a pair of game-changing interceptions.
However, the Cats have handled their business this week with a maturity that the UK staff knows that they possess.
"The guys know that last week's over," White said. "As soon as we left that locker room, we enjoyed it on the plane. But Sunday game, and we know we've got a next big challenge. They've been locked in. It's been good, it's been solid, it's been a normal game week."
This week, Kentucky faces a different kind of challenge. Whereas last week, it was all about handling the tough road environment, an SEC opponent and an extremely talented quarterback, the challenges this week are different.
Kentucky hosts FCS Youngstown State at noon on Saturday at Kroger Field. White knows that the Penguins have the tools to light up a scoreboard.
"I see an offense that can score points, that can really run the ball," White said. "That running back (Jaleel McLaughlin) is extremely running back. As as good of a running back, arguably, as we'll see all year. He's a little bit smaller in stature, but he can fly. He's patient in the backfield and waits for the blocks to develop. It's going to be a really big challenge for us in the running game."
White hopes the Cats handle this game just like they handled last week's contest at Florida. And he's counting on his team's maturity to make that happen.