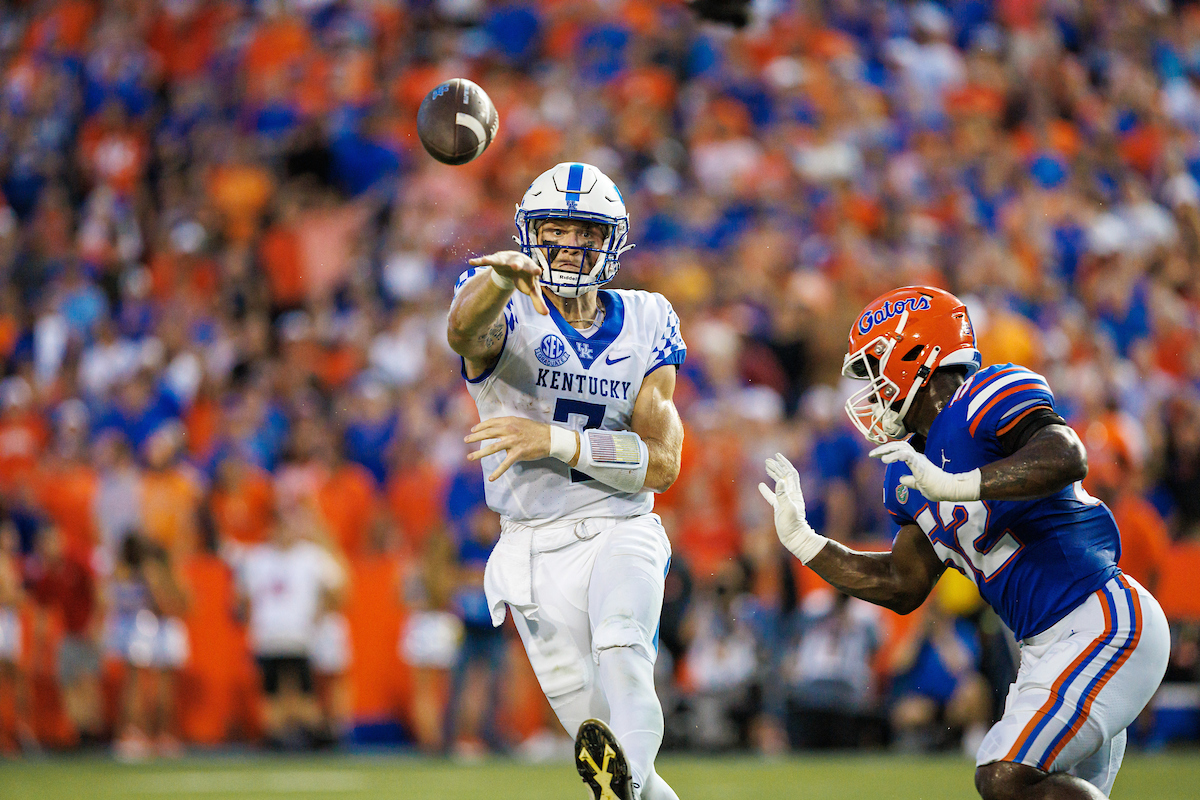 The scenario facing the Kentucky football team this week is one that is very familiar to the players who were on the UK team last season.
Kentucky had started the 2021 season with a big win over Louisiana-Monroe before facing a tough battle with Missouri in the Southeastern Conference opener. The Cats clawed their way past the Tigers 35-28 to move to 2-0 overall and 1-0 in league play.
The next week, Kentucky hosted Chattanooga, an FCS opponent that figured to be a mismatch for the Cats. Turns out, it was exactly the opposite.
The Mocs not only hung with the Cats, they actually had a 16-14 lead in the fourth quarter. Kentucky would eventually pull away, scoring 14 points in a row, then hanging on in the end for a 28-23 victory.
This week, the Cats are coming off an emotional 26-16 win at Florida, a win that moved UK to 2-0 and 1-0 in SEC play.
Just like last year, Kentucky will face an FCS opponent in week three. This time, it's the Youngstown State Penguins, who come to Kroger Field with a 2-0 record.
While the scenarios are almost identical, Kentucky quarterback Will Levis thinks the 2022 Cats are more equipped to handle the situation this year.
"I think it's to not have that hangover after a big win," Levis said of the team's goal for this week. "We can ride that high for a few days. But, as we saw last year, with the FCS opponent coming in here and giving us a really good game, we don't want to leave any doubts about our preparation."
So, how do the Cats prevent that from happening?
"I think just bringing the energy," Levis said. "Again, noon game, that can kind of get in the way of guys' 'juice' and we're getting up early and getting over there. Expecting another great crowd from the fans but sometimes, in a situation like that, you've got to rely on your own energy. The second you're behind, it might be too late."
The returning Cats are hoping the lesson learned last season will prevent such a potential upset from happening again this season. So far, so good, according to Levis.
"I was really impressed with our energy today in practice," the UK quarterback said. "Last week, I felt we took a huge step in that category. We can't just expect to flip that switch. We had that point of emphasis today in practice."
This past Saturday, a number of big-name and/or highly-ranked teams saw exactly what can happen on a given Saturday. Notre Dame lost at home to Marshall. Texas A&M lost at home to Appalachian State. And Nebraska fell, in Lincoln, to Georgia Southern. The UK coaching staff is aware that, as Saturday proves, this could happen to anyone.
"Coach Stoops talks about, week in and week out, how those games happen," Levis said. "And you've got to do everything you can to avoid those situations."
Kentucky hopes that the experience they gained in last season's tight win over Chattanooga will prove beneficial as the Cats welcome Youngstown State to Lexington this weekend.