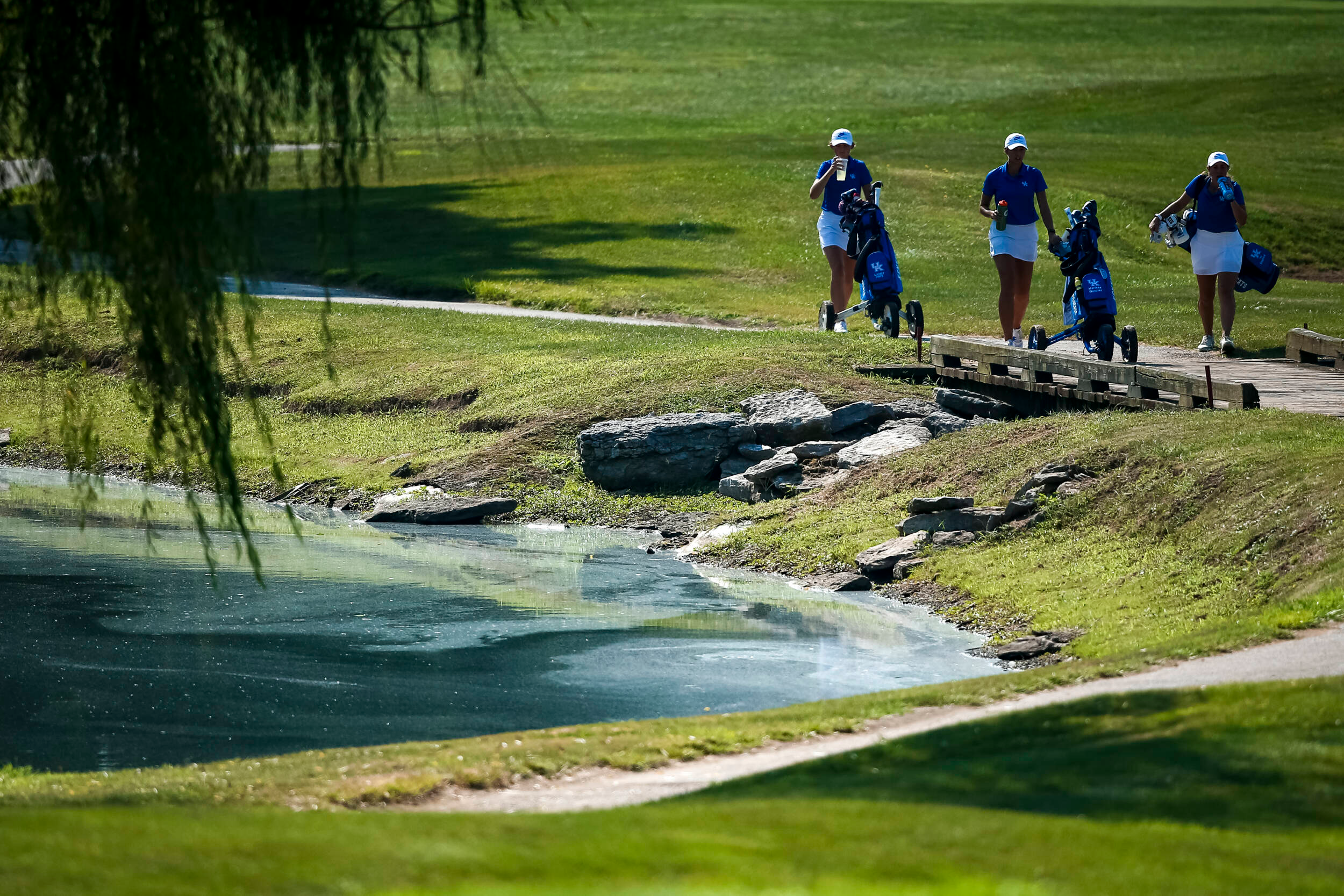 September 13, 2022 - 08:04 PM
Laney Frye Surges to Seventh Place, Kentucky Women's Golf Completes Season Opener
CHARLESTON, S.C. – Laney Frye continued her impressive summer when she recorded three straight rounds of par-or-better in the season opener, as the University of Kentucky women's golf team produced a 14-over-par 866 for 14th place at the Cougar Classic at Yeamans Hall Club (par 71, 6,269 yards) in Charleston, South Carolina.
"Their games were solid," said head coach Golda Borst. "We didn't go as low as we wanted to. There are a couple of players that I think are going to want to tighten up a little bit, in regard to how they're hitting it, but overall, we're just going to keep doing what we're doing, including dialing in our yardages and making sure we are starting our putts on line."
Southeastern Conference foe and recent national champion Ole Miss led the tournament wire-to-wire, posting a 13-under-par 839. Clemson held on to second place with a 12-under-par 840, while host College of Charleston rallied for third place at home with a 3-under-par 849.
Saved the best for last. 💪@laneyfrye rallied a 4-under-par 67 in the third round at the Cougar Classic to land seventh place!#KWG pic.twitter.com/K8yB9UQT19

— Kentucky Women's Golf (@KentuckyWGolf) September 13, 2022
Frye came into the final round in 17th place, but surged more than 10 spots on the leaderboard to land seventh place on an impressive 6-under-par 207 tournament total. The junior, who began her round on the 12th hole Tuesday, was 1-over through her first four holes. However, that didn't set the tone for the remainder of the day, as she rallied five pars, four birdies and an eagle over her next 10 holes. Not to mention, her eagle on the par-5 No. 4 marked her second eagle of the tournament.
The Lexington, Kentucky, native, produced a 4-under-par 67 in the final round, her season best, helping her turn in three straight scorecards of par-or-better in the first tournament of the season.
"Laney is a solid player," Borst said. "Again, I've got five players that are really, really good. It is a highly-competitive Laney right now. She is striking the ball really well. She had a really good summer. She got some experiences at some really high-level events, obviously at the U.S. Women's Amateur. She is ready, and they all are. Laney found the bottom of the hole today. She really got on a roll and made a lot of birdies."
Behind her, María Villanueva Aperribay had a nice comeback Tuesday. The senior, who posted a first-round 74 and a second-round 76, responded with a 1-over-par 72 in her final 18 holes. That was, in part, thanks to the help of four birdies on her round, including her opening hole on No. 14, and three more on the front nine. She finished tied for 64th place on a 9-over-par 222.
Sharing 64th place with Villanueva Aperribay is newcomer Ivy Shepherd.
The graduate transfer and record setter from Clemson debuted in her first tournament in Blue and White this week, recording rounds of 72, 76 and 74. Shepherd found her solo birdie of the final round on the par-4 No. 11, which was a nice bounce back after recording a double and a bogey on the hole earlier in the week.
Jensen Castle also turned in a 3-over-par 74 Tuesday. The senior began and ended her final round with a pair of birdies on the par-4 Nos. 11 and 12. Castle and Frye tied for the team lead in birdies this week, recording 10 birdies apiece, while Castle had six alone in the second round. The West Columbia, South Carolina, native rallied for a 4-over-par 217 to earn a share of 45th place at the Cougar Classic.
Marissa Wenzler fired off a 3-over-par 74 in the final round, too, helping her to a 10-over-par 223 and tied for 72nd place in the 96-person field.
"We've got Vanderbilt next," Borst said. "I think that golf course will suit us really well. So, we're not overthinking anything. We've got a good team."
The Wildcats will take a brief break from competition, before traveling to Franklin, Tennessee, to compete in the annual Mason Rudolph Championship at the Vanderbilt Legends Club Sept. 23-25.
It's a long season, we have a lot more left in us! ⏳

🗣 @UKCoachGolda pic.twitter.com/scjCTYPSDJ

— Kentucky Women's Golf (@KentuckyWGolf) September 13, 2022
For the latest on the Kentucky women's golf team, follow the team on Twitter, Facebook, and Instagram, as well as on the web at UKathletics.com.
Rankings – WGCA/Golfweek
RESULTS
7 Laney Frye 69, 71, 67 … 207 (-6)
T45 Jensen Castle 74, 69, 74 … 217 (+4)
T64 Ivy Shepherd 72, 76, 74 … 222 (+9)
T64 María Villanueva Aperribay 74, 76, 72 … 222 (+9)
T72 Marissa Wenzler 72, 77, 74 … 223 (+10)