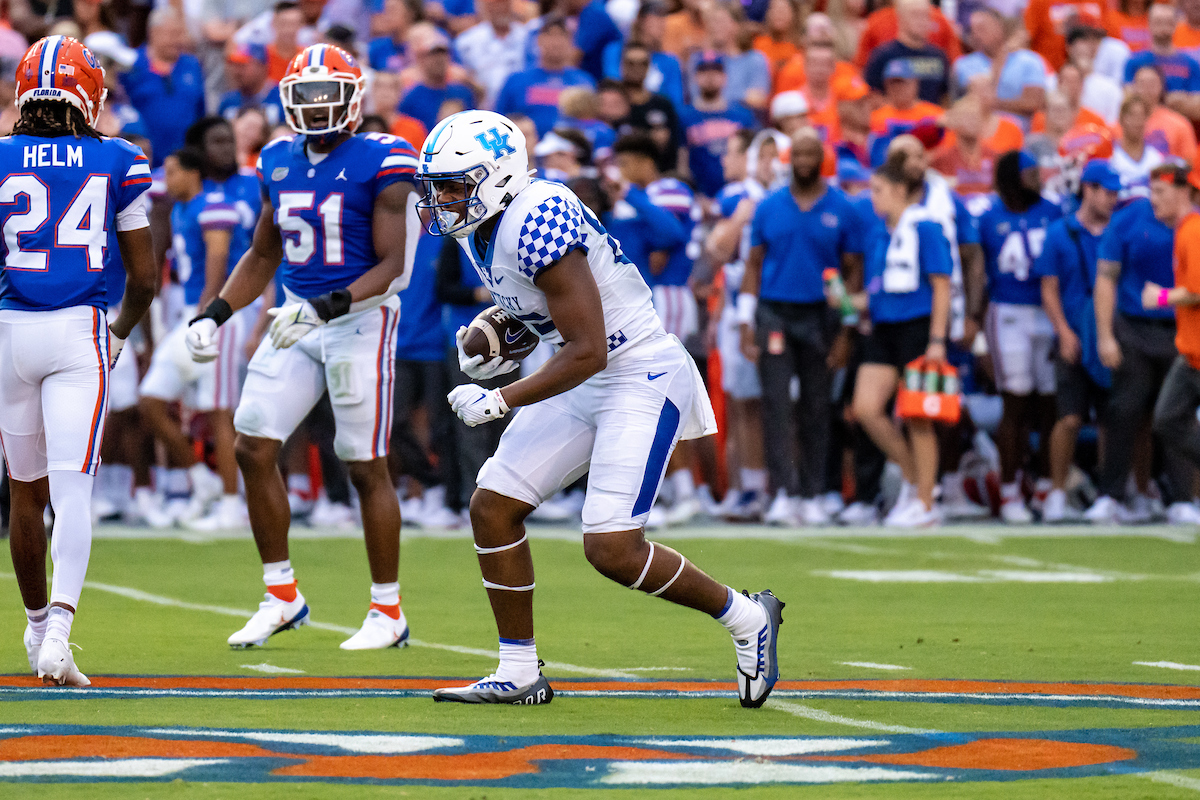 In Saturday's win at Florida, the Kentucky offense utilized the tight end more than the Cats did in the season opener. And with that, two people close to head coach Mark Stoops became very happy.
"Vince (Marrow) and my mother," Stoops said on Monday, drawing laughter from the media at his Monday news conference.
When Rich Scangarello was hired as Kentucky's offensive coordinator, the thought was that the tight end would be more involved with the new system. After all, the San Francisco 49ers, Scangarello's previous employer, made George Kittle into a Pro Bowler at that same position. The scheme often puts tight ends in motion and/or features tight ends catching the ball or lead blocking. In other words, tight ends are key in this offense.
In game one, the tight ends had limited opportunities to shine as the Cats beat Miami (Ohio). Freshman Jordan Dingle caught two passes for 11 yards. The other reception was by Brendan Bates, and it went for a touchdown.
On Saturday night, the Cats came out of the gate and immediately went to the tight ends. Keaton Upshaw caught two balls for 34 yards. Dingle caught a pair for 29 yards. And Bates hauled in one pass for 11 yards.
Stoops knew that the Cats and Scangarello were taking advantage of what the Florida defense was giving to them.
"We have good players," Stoops said of his tight ends. "(Getting the ball to the tight ends) fits really well with this offense and again, if everybody is going to play that downhill, there will be some play action in there to keep them honest."
The Cats have as many as five tight ends who could contribute this season. In addition to Bates, Dingle and Upshaw, there is Izayah Cummings, who was UK's leading returning pass catcher prior to the season. In addition, true freshman Josh Kattus drew praise from coaches and teammates in fall camp.
Stoops likes what the tight end room can provide, but he also knows that the group, as a whole, has much more to give and lots of room for improvement.
"They helped (in the run game) but they're still a work in progress," Stoops said. "We need more out of them. We need to continue to strain, continue to fundamentally play the right way in the run game and blocking schemes, target the right guys and finish blocks, things of that nature."
Kentucky is still adapting to its new offense and part of that is the larger presence that the tight ends have in this particular scheme. As the learning curve, and the season, continue, this group could grow into an even bigger part of the UK offensive attack.